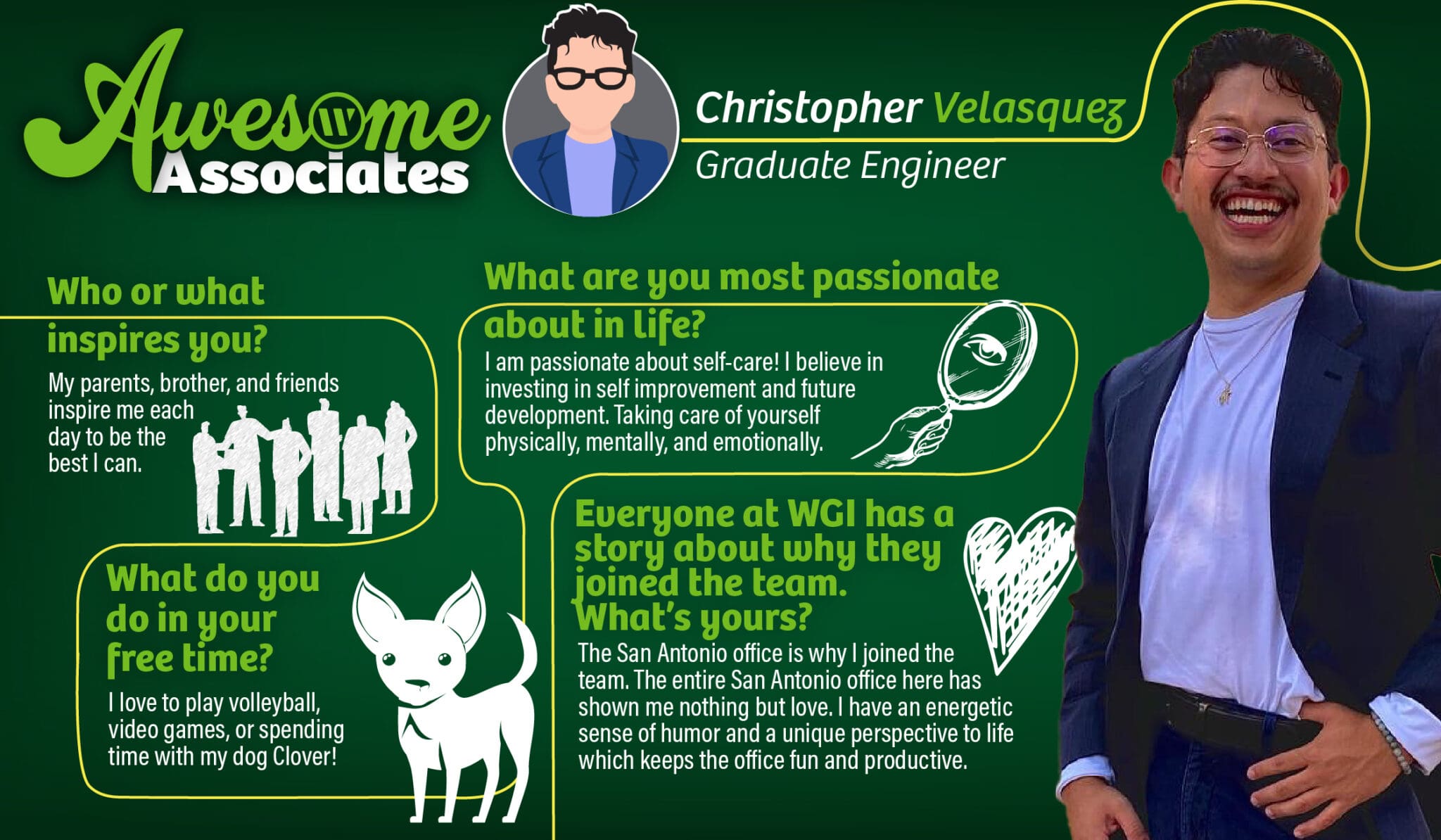 Meet our awesome associate Christopher Velasquez, Graduate Engineer, located in our San Antonio office. Chris was selected by one of our associates for being someone who,
"Chris is a top tier associate that has an amazing willingness to learn and always improve things. He's not afraid to do what's needed to do and is a true team player. Super happy to be working alongside him. He juggles handling production on several big projects and strives to take on new tasks and learn."
We were fortunate enough to get the opportunity to sit down and talk with Chris, where she answered some questions that will provide a glimpse into her background, what drives her professionally, and some fun facts that will help us get to know her better. At WGI, we know our success starts with our associates, and that's why we want to share their awesome stories with you.
Hey, Chris! Tell us a little bit about where you're from and where you went to school:
I was originally born in New Jersey but grew up in Houston, Texas. I then moved to San Antonio, where I got my Bachelor of Science in Civil Engineering from the University of Texas at San Antonio.
Love it! So, what drew you to this profession?
In high school, I was asked to pick a career to help determine my future. I chose Aerospace Engineering, which wasn't my thing, but I enjoyed the design aspect it brought. Once I attended college I found the vast opportunities that a Civil Engineering degree could offer, and since then, I've come to love the field of Civil Engineering.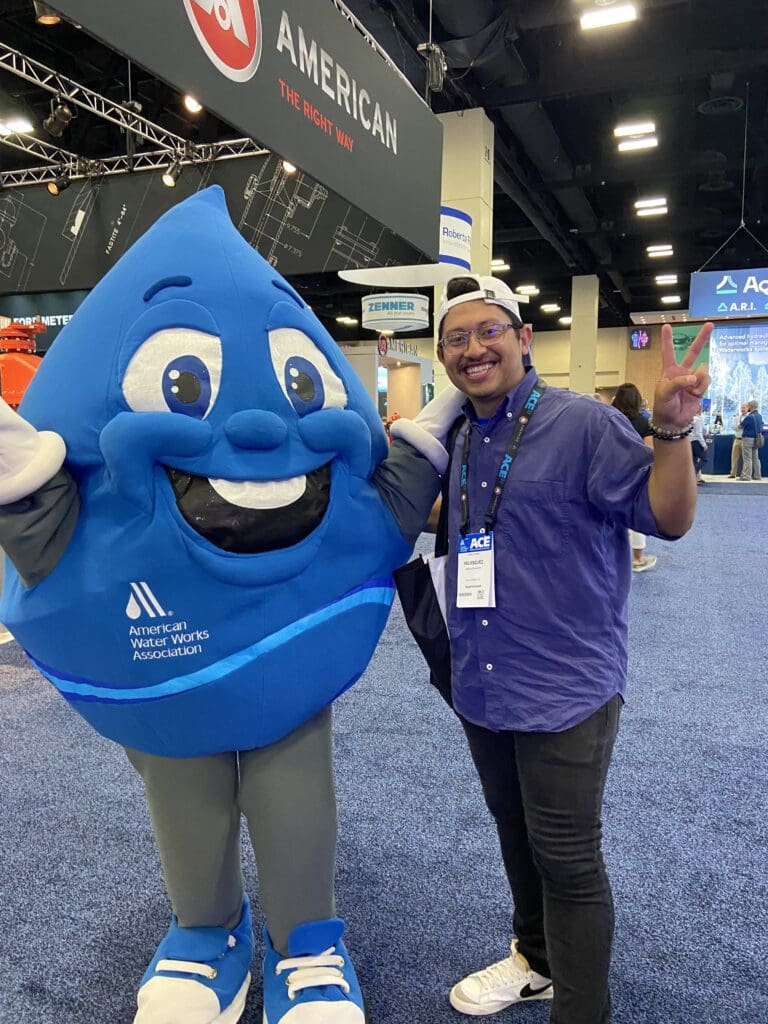 Well, we are lucky to have you! What types of projects have you worked on?
I am a Graduate Engineer for the Public Works team at the San Antonio office. Since joining the team I have gained experience in small and large-diameter Sanitary Sewer Rehabilitation. I have designed Cured-In-Place-Pipe (CIPP), Pipe-Bursting, and Open-Cut for sanitary sewer pipes for multiple San Antonio Water System (SAWS) Sanitary Sewer Overflow Response Plan (SSORP) Sewershed projects. I have also designed small diameter water main replacements due to numerous breaks, leaks, and aging pipes.
That's an impressive resume! What are you most passionate about in life?
I am passionate about self-care! I believe in investing in self-improvement and future development. Take care of yourself physically, mentally, and emotionally. Doing things that makes me feel good and surrounding myself with loved ones.
What do you like to do in your free time?
I love to play Volleyball, Video Games, or spend time with my dog Clover!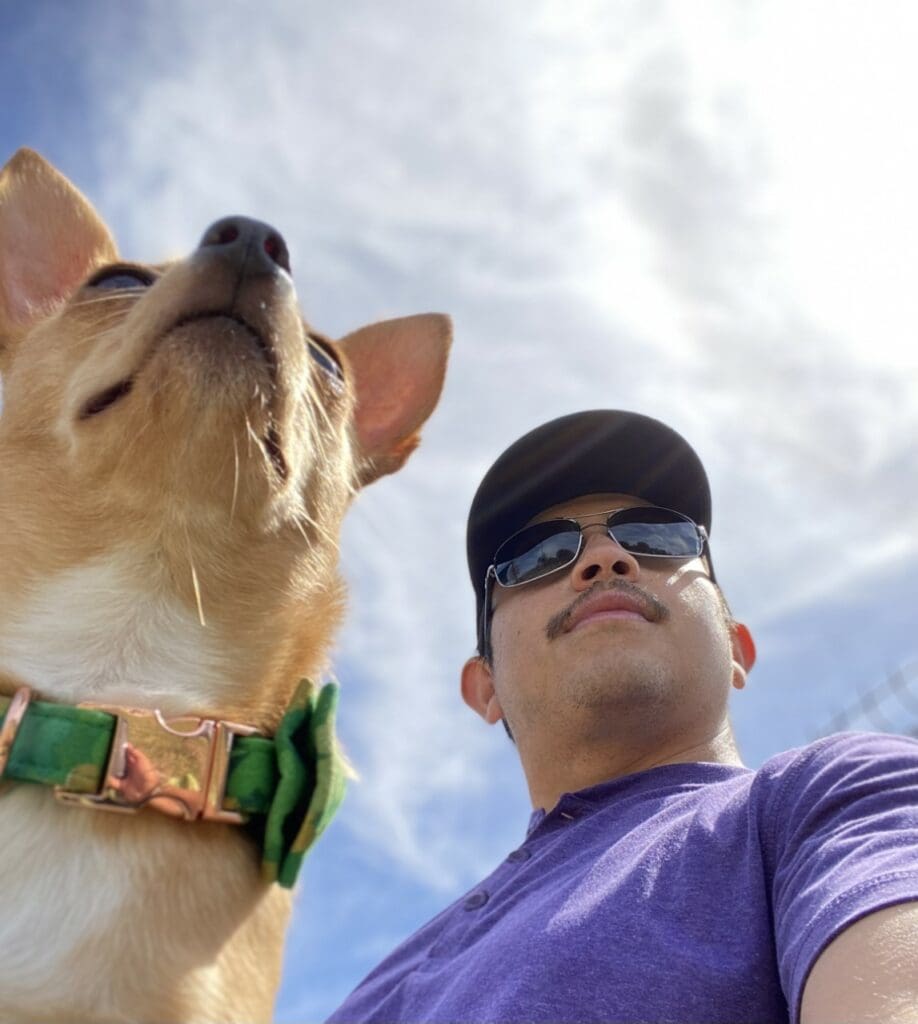 If you could have any superpower, what would it be and why?
I would love the power to be able to shape-shift into any animal. I think it would be super cool to gain the ability to transform into any animal. With the power of shape-shifting, I can become invisible (chameleon or octopus), gain strength (lion or bear) and have speed (cheetah), and be one with the animal kingdom.
What does your ideal vacation look like?
Drinking some margaritas at a beach in Costa Rica!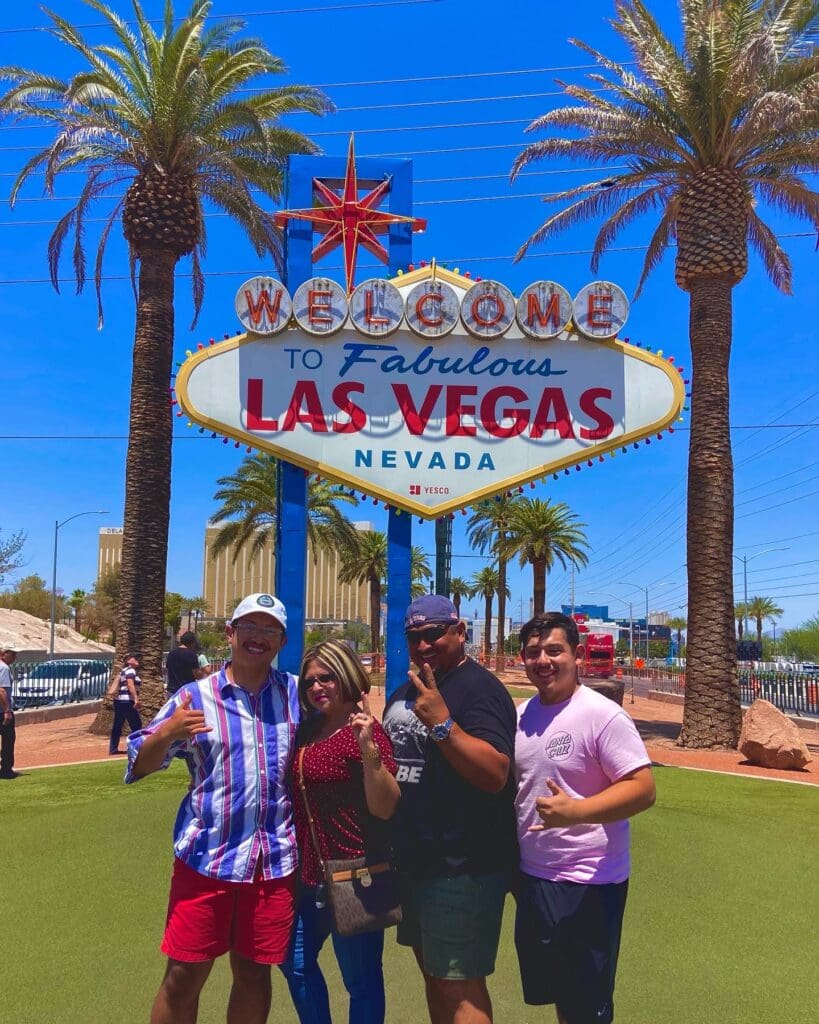 That sounds beautiful & delicious! If you could have dinner with anyone who ever lived, who would it be?
Donald Glover (Childish Gambino). This man has such a brilliant creative mind and is a successful actor, singer, rapper, writer, director, and producer. I think it would be so cool to sit down and have dinner with him to pick his brain on the different projects he has worked on and any upcoming projects.
What are two apps (on your phone) you CAN NOT live without?
Spotify and Snapchat.
What would be impossible for you to give up?
Chocolate Chip Cookies. I'm like the Cookie Monster when Chocolate Chip Cookies are around.
Any interesting facts about yourself that you'd like to share?
I love trying to keep up with the world of film and TV. Either watching the new trendy show/movie or catching up on a recommendation someone had made.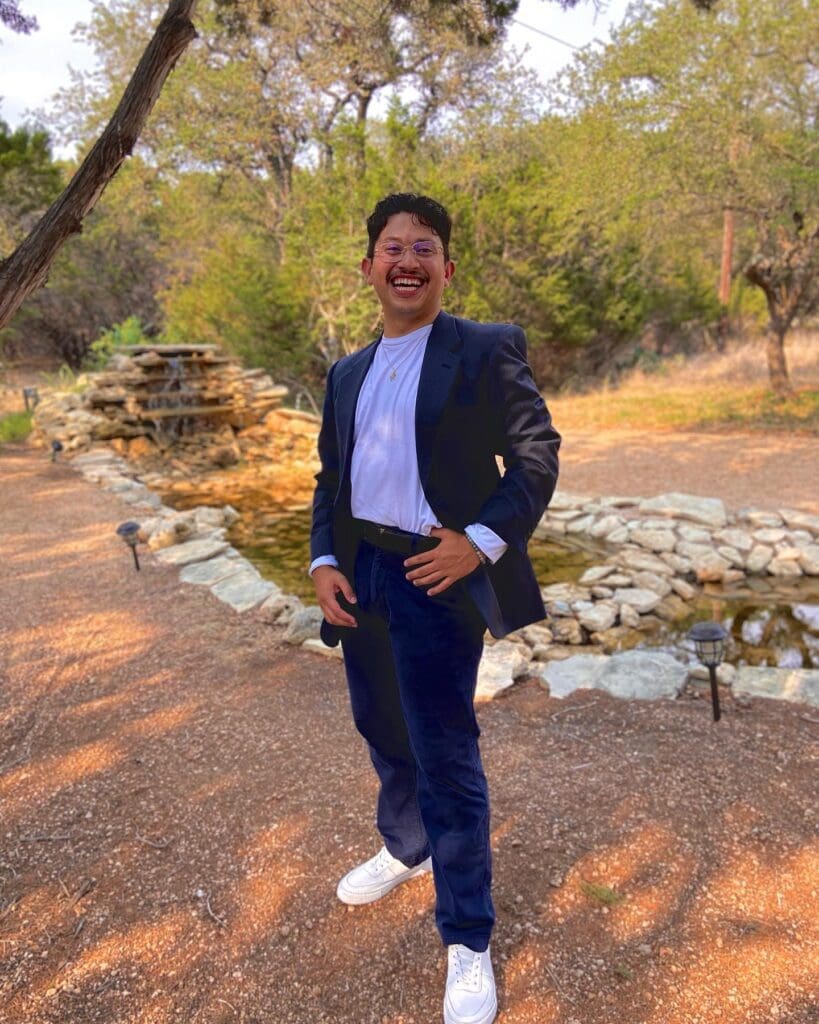 Who or what inspires you?
My parents, brother, and friends inspire me each day to be the best I can be. They have shown support to me so many times that it keeps me motivated to achieve the greatest I desire. A quote that also inspires me is the following, "Greatness from small beginnings."
Everyone at WGI has a story about why they joined the team. What's yours?
The San Antonio office is why I joined the team. The entire San Antonio office here has shown me nothing but love. I have an energetic sense of humor and a unique perspective on life which keeps the office fun and productive. I enjoy having a great relationship with everyone in the office. I believe people can have a more profound impact on life than the work itself. WGI San Antonio's culture is beyond the best!
Are you interested in working with Awesome Associates like Chris? Check out our Careers page to learn more about our company and our current openings!
Learn more
about our
services
You've been searching for a place like WGI. We look forward to meeting you soon.