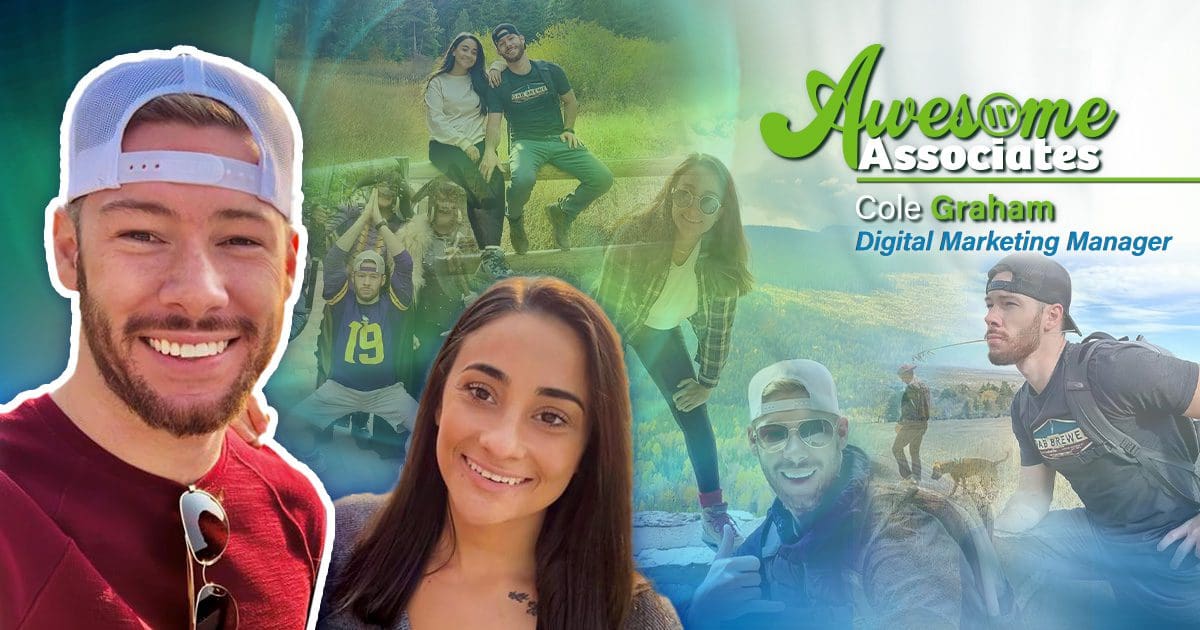 Meet our newest Awesome Associate, Cole Graham, Digital Marketing Manager, located in our West Palm Beach, FL office!
Cole was nominated as an Awesome Associate by a colleague who had this to say about him,
"Cole is a creative problem-solver, passionate leader, and positive mentor; he possesses all of the characteristics that you could hope for in a colleague and manager. With his infectiously upbeat attitude and lead-by-example mentality, he inspires the very best in all those around him to reach for even the loftiest of goals. The ultimate package of strategy, creativity, and leadership; there is no challenge too daunting for Cole to take head-on. He turns every day into an exciting challenge as opposed to an ordinary day at the office. Cole is a tremendous part of our team, and I am excited to see all that we can achieve together!"
We were fortunate enough to have the opportunity to sit down & catch up with Cole, where he answered some questions to give us a glimpse into his background and what drives him professionally. At WGI, we know that our success starts with our associates, and that's why we want to share their awesome stories with you!
Hey there, Cole! Why don't we kick this off with you telling us a little bit about where you're from and where you went to school?
I'm proud to share that I was born and raised in none other than the swamps of South Florida. Well, not actually the swamps per se, but boy, would that be a cool story to tell. Nevertheless, people often catch the itch to ditch their hometown in search of the next best thing. But I still find myself appreciating the ability to live where most people vacation.
You certainly can't beat living in a vacation destination, but let's dive a bit deeper into your professional background! What drew you to digital marketing and WGI?
Destiny. From the moment I first met a frosty white-bearded man (known by most as Bryan Peterson) in his fishing shirt and boots, I knew that I had found my home. But in all seriousness, the true answer is opportunity. As a young buck in the hospitality industry, I was presented with the chance to give marketing a shot with an internship role at WGI. I made the decision to take that opportunity and have never looked back since. Looking back now, I would say that things worked out pretty well as the bearded man mentioned earlier, ended up deciding to keep me around. I have since grown to develop a true passion for the dynamics of my digital marketing career.
It sounds like you truly love what you do, and we are certainly lucky to have you! Can you tell me a little bit more about some of the different projects that you have worked on?
Well, I guess I can say that I've worked on pretty much everything under the sun from A-Z. Being the one behind the scenes strategizing, developing, and promoting all of our project-related digital content, as well as spotlighting the awesome people at WGI, I've had my hand in just about every cookie jar you could imagine. Although I have never been to a project site personally, sometimes I put a hard hat on at my desk while I'm strategizing and developing marketing content.
Well, I can't argue with putting safety first! Beyond digital marketing & the swamps of South Florida, what do you find yourself being most passionate about in life?
I am what many would consider a super fan when it comes to my Minnesota Vikings, #SKOL! I also enjoy fostering nice dogs with my fiancé and trying to force my friends to adopt them.
When you're not busy pushing foster pups onto unsuspecting victims, how do you enjoy spending your free time?
I enjoy going on adventures with the fiancé, exploring new places, & giving my doggos some good pets. I also yearn for competition in almost everything I do, whether that be football on Sundays with my comrades, slugging it on the softball diamond, throwing down on the pickle-ball or basketball court, golfing, or even medieval-style horseback jousting with the boys, you name it – I play it. I also enjoy boating and shredding some gnar on a sunny South Florida day.
That sounds like a pretty good way to spend your time! If you could have any superpower, what would it be and why?
I think it would be cool if I could morph into an eggplant at a moment's notice. I can count a multitude of scenarios where being an eggplant would have been of great benefit to me at the time.
Well, I can't say that I've heard that one before! What would your ideal vacation look like?
Springtime rides through the valley of a vibrant national park via horseback, mountain goat, or donkey with my partner in crime sounds pretty sweet. Oh, and hang-gliding through fireworks.
If you could have dinner with anyone who has ever lived, who would it be?
Yukon Cornelius, from the 1964 Rudolph The Red-Nose Reindeer movie.
I suppose that will count, seeing as Mr. Yukon is "alive" in the imaginations of so many! What are two applications (on your phone) that you CAN NOT live without?
The Find My Friends app and my Fun Things to Do Near Me app for when I can't find my friends.
Beyond your phone, what would be impossible for you to give up?
My dog Weston. He is a good soul. And the brotherhood that bonded and formed The Digi Dawgz.
Between Weston & the Digi Dawgz, it sounds like you're surrounded by some pretty good boys! Are there any other interesting facts about yourself that you'd like to share?
I don't take naps.
As we wind down, can you share who or what inspires you?
Gandalf the White, Gandalf the Grey, my amazing family and fiancé, and Russell Crowe. The Gladiator-era Russell Crowe obviously.
And last, but certainly not least – everyone at WGI has a story about why they joined our team; what's yours?
WGI is kind of like South Florida for me. Why would you want to go anywhere else when you get to learn and work alongside the best professionals in the industry? Starting off as an intern with no marketing experience, all I could hope for was an opportunity. Now in my current role, I can look back on that time and can truly say the opportunities for growth at WGI are abundant, the way we empower each other to achieve excellence is contagious, and our habit of setting the bar in our industry has become a favorite hobby of ours.
Learn more
about our
services
You've been searching for a place like WGI. We look forward to meeting you soon.