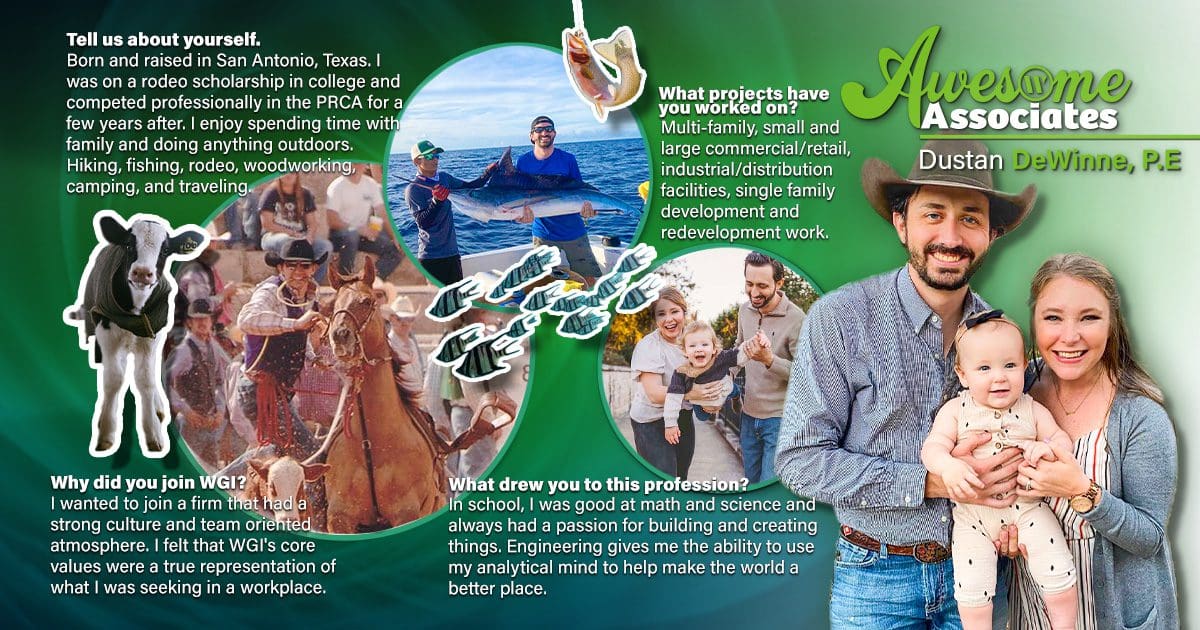 Meet our Awesome Associate Dustan DeWinne, Project Engineer, located in our San Antonio, TX office.
Dustan was selected as an Awesome Associate by a colleague who had this to say about him,
"Since joining the WGI Family, Dustan has become a key part of our Team. Not only is he a strong, technical leader – he has become an invaluable mentor for young engineers. He also has some pretty funny Dad Jokes – (Cowboy) Hats off to Dustan!"
We were fortunate enough to have the opportunity to sit down and talk with Dustan, where he answered some questions to give a glimpse into his background and what drives him professionally. At WGI, we know that our success starts with our associates, and that's why we want to share their awesome stories with you!
Hey, Dustan! Tell us a little bit about where you're from and where you went to school.
I was born and raised in San Antonio, TX. I am also proud to have earned both my Bachelor & Masters' degrees from Tarleton State University in Stephenville, TX – GO TEXANS!
That's awesome! In your time at Tarleton State University, what was it that drew you to this profession?
I was always good at math and science in school. I also possess a strong passion for creating and building things. Engineering gives me the ability to use my analytical mind to help make the world a better place.
Well, we are certainly lucky to have you! In your time at WGI, what types of projects have you worked on?
An even better question would be what types of projects haven't I worked on! In my time at WGI, I have had the pleasure of working on single-family development and redevelopment, industrial/distribution facilities, multi-family, and even small & large commercial/retail projects.
What are you most passionate about in life?
That's easy, my faith and family are the two things at the top of the list.
What do you like to do in your free time?
I always enjoy spending time with family and doing anything outdoors. I enjoy hiking, fishing, rodeos, woodworking, camping, and traveling.
What a way to spend your time! If you could have any superpower, what would it be and why?
As an avid outdoorsman and traveler, I think that teleportation would make things pretty efficient. With the ability to teleport, I could see every inch of the world at any moment.
What does your ideal vacation look like?
On my ideal vacation, you can find me relaxing on a beach with a dash of adventure mixed in.
I can hear the crash of the waves as we speak! What are two apps (on your phone) you CAN NOT live without?
There isn't a time of day that Amazon Music and the Bible app aren't running on my phone. I don't know what I would do without them.
What would be impossible for you to give up?
Music. I am always listening to a shuffle of songs throughout the day or in my truck.
Are than any other interesting facts about yourself that you'd like to share?
I was on a rodeo scholarship in college and competed professionally in the PRCA for a few years after graduation. I still compete at 10-20 rodeos a year in a hobby capacity.
I can't say that I know many people who can say that! Who or what inspires you?
My family is a constant inspiration for me. Brooke and I will hit 10 years of marriage this April and our daughter Emersyn is the light of our lives.
Everyone at WGI has a story about why they joined the team. What's yours?
I wanted to join a firm that had a strong culture and team-oriented atmosphere. I felt that WGI's core values were a true representation of what I was seeking in a workplace.
Learn more
about our
services
You've been searching for a place like WGI. We look forward to meeting you soon.