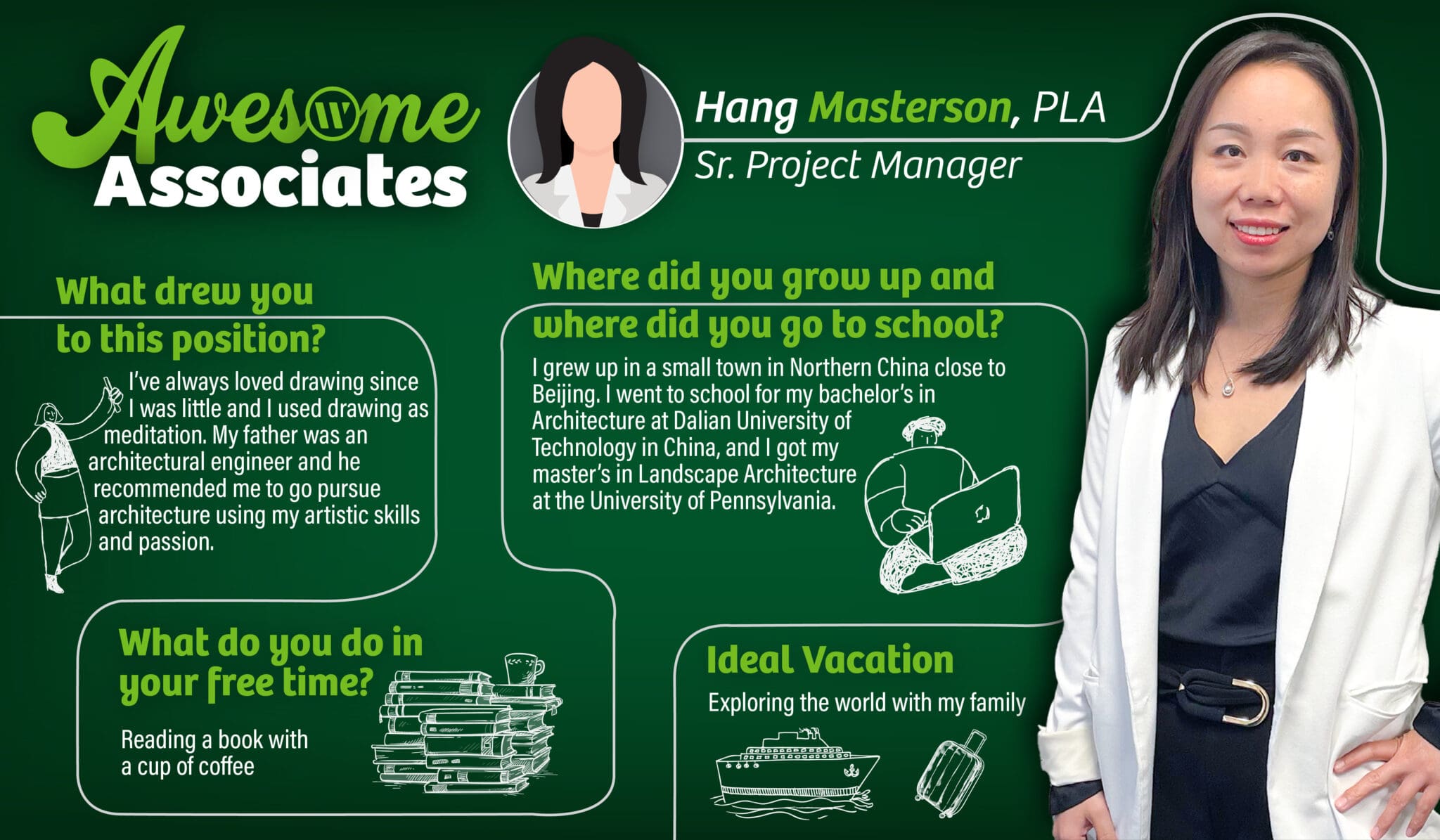 Meet our awesome associate Hang Masterson, Senior Project Manager, located in our West Palm Beach office. Hang was selected as an Awesome Associate by one of her colleagues for being "someone with a diverse set of professional skills that impresses those around her on a daily basis. Hang goes above and beyond to grow WGI's landscape architecture program while being a mentor to her entire team of associates. She is a joy to work with and a pleasure to learn from and she embodies the definition of an Awesome Associate."
We were fortunate enough to get the opportunity to sit down and do a video interview with Hang where she answered some questions that will provide a glimpse into her background, what drives her professionally, and some fun facts that will allow us to know her better. At WGI, we know our success starts with our associates and that's why we want to share their awesome stories with you!
Tell us a little bit about where you're from and where you went to school:
I grew up in a small town in northern China, very close to Beijing. I received my Bachelor's in Architecture at the Dalian University of Technology in Northern China. I then went to Philadelphia to pursue my Master's Degree in Landscape Architecture from the University of Pennsylvania.
So, what drew you to this profession?
Ever since I was a child I have always loved to draw. I employed this cathartic meditation method throughout middle and high school. My father came from an architecture/engineering background, and he recommended I use my skills to pursue architecture as a career path.
We're glad to have you! What types of projects have you worked on?
I have worked on many different projects of various scales and different locations throughout my career. At my previous company, I worked on many master-plan projects in Saudi Arabia, China, and sometimes Europe which gave me valuable knowledge to further my career. Now that I work with WGI's Landscape Architecture team, I work primarily on land development projects, and sometimes we have the privilege to work on high-end pool deck designs. 
WOW, you can do it all! What does your ideal vacation look like?
My ideal vacation is with my family. When my parents came to visit the United States for the first time, we went on a family cruise where we had the opportunity to explore many places in the Caribbean. I was pregnant at the time, so it was technically a full family trip! My husband won two lotteries on the cruise and got free excursion tickets!
If you could have dinner with anybody who has ever lived, who would it be?
I would love to have dinner with Fred Gehry, the greatest architect of all time. Learning about his creative mind and hearing about his experience as a sculptor early on in his career would be a dream.
Any interesting facts about yourself that you'd like to share?
An interesting fact about myself is that I love to change my name whenever I move to a different location or different company.
Are you interested in working with Awesome Associates like Hang? Check out our Careers page to learn more about our company and our current openings!
Learn more
about our
services
You've been searching for a place like WGI. We look forward to meeting you soon.