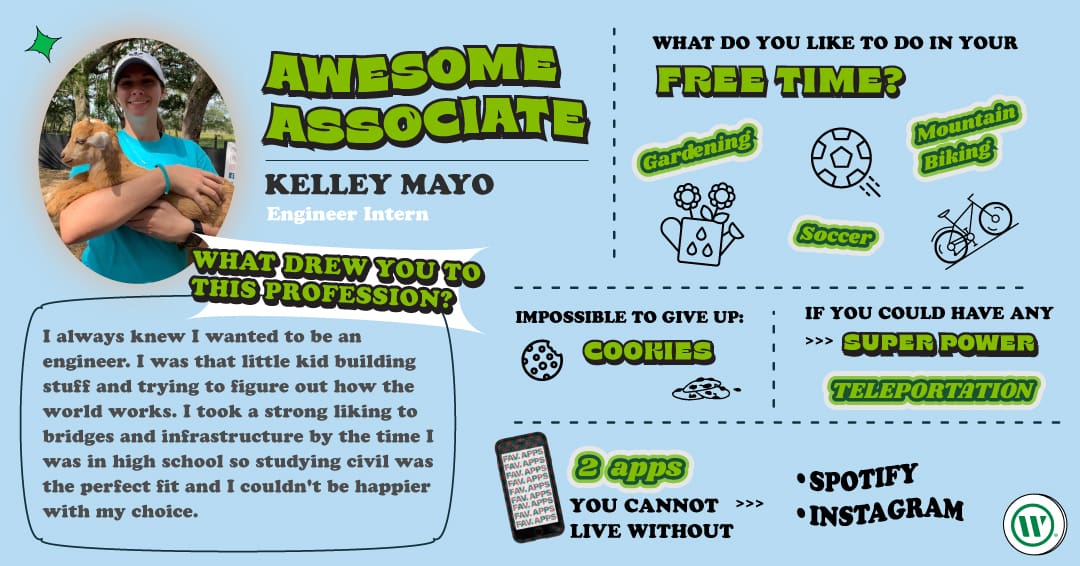 Meet our awesome associate Kelley Mayo, Engineer Intern, located in our Tallahassee office. Kelley was selected by one of our associates for being someone who is "awesome through and through. She works hard, always asks for more, looks for areas to grow, and is a pleasure to be around. She is well-rounded with hobbies outside of work and able to talk sports with the best of them. She makes coming to work more enjoyable and is a key member of the Tally team."
We were fortunate enough to get the opportunity to sit down and talk with Kelley. At WGI, we know our success starts with our associates and that's why we want to share their awesome stories with you.
Hey, Kelley! Tell us a little bit about where you're from and where you went to school:
I was originally born in New Jersey but grew up in the Sarasota area until I turned 18 and moved to Tallahassee. I got my Bachelor of Science in Civil Engineering from Florida State University and a Master of Engineering Management from Auburn University.
War Eagle! So, what drew you to this profession?
I always knew I wanted to be an engineer. I was that little kid building stuff and trying to figure out how the world works. I took a strong liking to bridges and infrastructure by the time I was in high school so studying civil was the perfect fit and I couldn't be happier with my choice.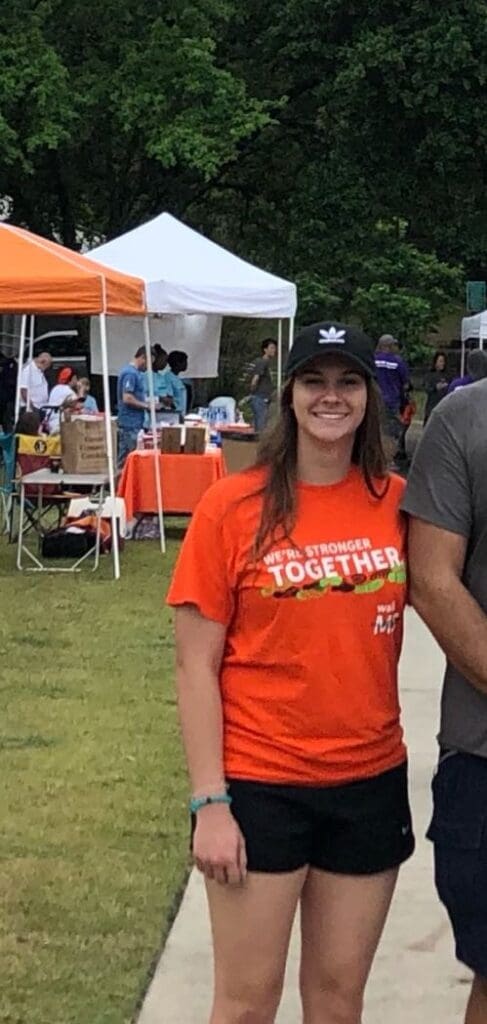 We're glad to have you! What types of projects have you worked on?
I've had the opportunity to work on all kinds of projects anywhere from resurfacing jobs to design-build jobs to anything Motor Carrier. Most recently, I've been working on Marion County Rest Area.
That sounds very exciting! What are you most passionate about in life?
I'm very passionate about learning. I love to learn new skills and pick up new hobbies. My goal for this year is to learn the basics of American Sign Language. I'm also very passionate about gardening/plants to the point that I'm sure the team in Tallahassee is tired of hearing about the plant on my desk and my vegetable garden at home.
That is truly wonderful. What do you like to do in your free time?
Gardening, playing soccer, mountain biking, house projects.
If you could have any superpower, what would it be and why?
Teleportation. My family lives quite a few hours away and it would be nice to snap my fingers and be there. There are also so many places I'd love to go see and it would be amazing to be there in an instant.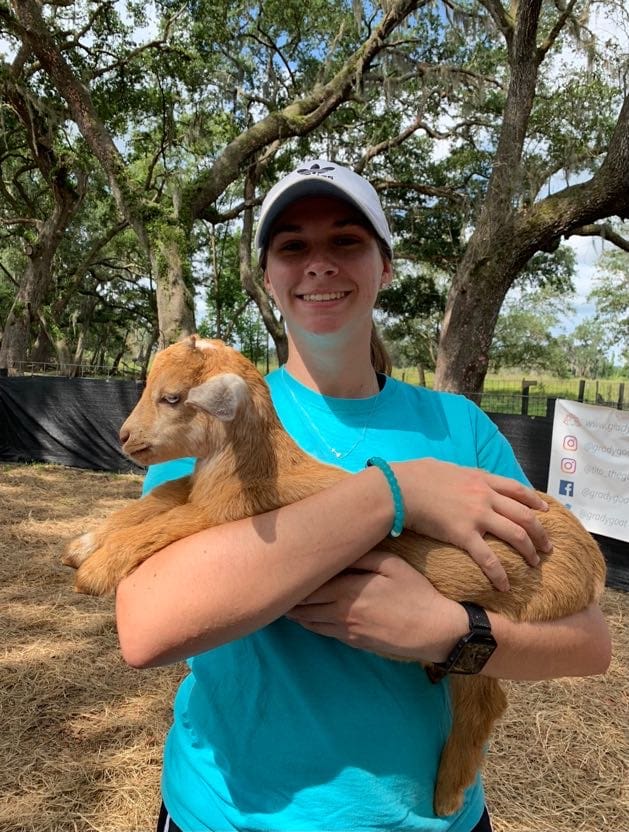 That would be really cool! What does your ideal vacation look like?
My ideal vacation is visiting any National Park with good company. Next on my list is Yellowstone, Grand Teton, or maybe Acadia.
If you could have dinner with anybody who has ever lived, who would it be?
If I could have dinner with anyone in the world, it would be the 2015 US women's soccer team that won the world cup. I looked up to everyone on that team when I was growing up and even had the opportunity to go to a few games throughout the years. They all seem like stand-up people and I think it would be interesting to talk to them.
Very good choice! What are two apps (on your phone) you CAN NOT live without?
Spotify and Instagram.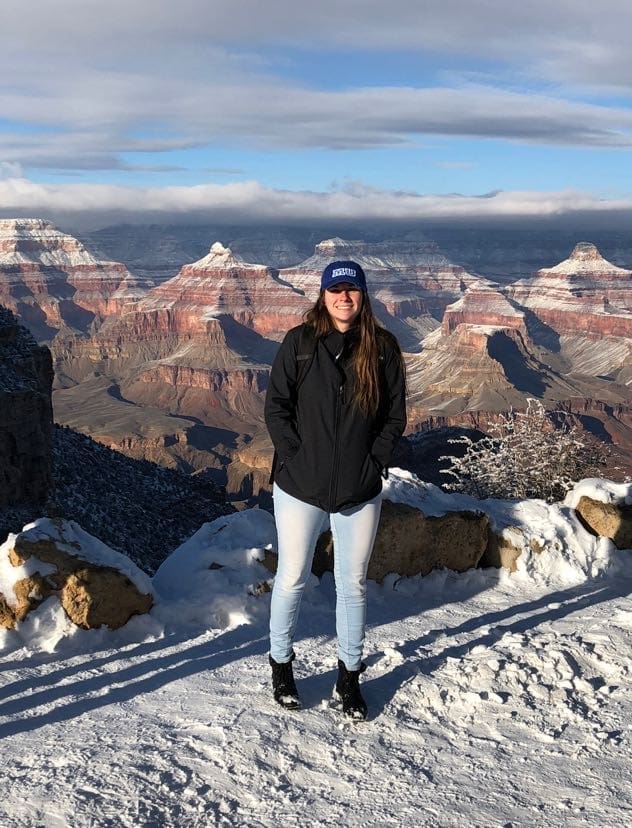 What would be impossible for you to give up?
Cookies. 
Any interesting facts about yourself that you'd like to share?
I have a cat named Bennie, who I named from the song "Bennie and the Jets".
Who or what inspires you?
My friends and family inspire me daily to be the best version of myself.
Everyone at WGI has a story about why they joined the team. What's yours?
I previously worked in geotechnical engineering and focused on roadway soil surveys and pavement surveys. I knew Geotech wasn't for me but having learned so much already about roads, I was very interested in trying out something in the transportation field. I had seen some WGI trucks around town, decided to look into the company, and there ended up being an open position that I applied for. When I came in for the interview, it just felt right. Everyone was so nice and friendly and the office seemed like one big family. I got the call a few weeks later and the rest is history.
Learn more
about our
services
You've been searching for a place like WGI. We look forward to meeting you soon.