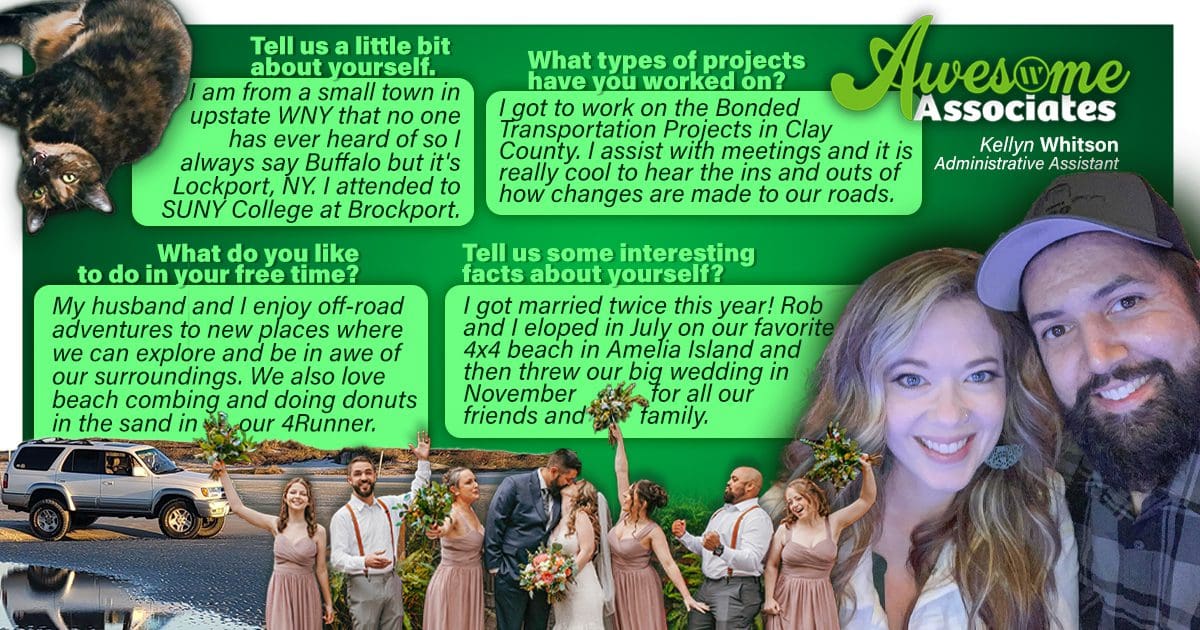 Meet our Awesome Associate Kellyn Whitson, Administrative Assistant, located in our Jacksonville, FL office.
Kellyn was selected as an Awesome Associate by a colleague who had to say this about her,
"Kellyn is always going above and beyond to come up with new, fun and creative things to do for her office to get everyone involved and help get to know each other. We appreciate that she then shares these events and activities on the Greenroom so we can all get in on some of the fun they are having over there in Jacksonville. We love her enthusiasm, positive attitude, creativity, and go-get 'em attitude. If we continue to support her, Kellyn is going to go on to do great things here at WGI!"
We were fortunate enough to get the opportunity to sit down and talk with Kellyn, where she answered some questions to give a glimpse into her background and what drives her professionally. At WGI, we know that our success starts with our associates, and that's why we want to share their awesome stories with you!
Hey, Kellyn! Tell us a little bit about where you're from and where you went to school.
I am from a small town in upstate New York that no one has ever heard of, so I always say Buffalo, but technically it's Lockport, NY. I attended SUNY College at Brockport.
Sounds cold! So, what drew you to this profession?
I have an affinity for supporting others. I genuinely enjoy helping others succeed.
We are certainly lucky to have you! What types of projects have you worked on?
I have had the opportunity to work on the Bonded Transportation Projects in Clay County. I assist with meetings and really enjoy learning and hearing about the ins and outs of how changes are made to our roads.

What are you most passionate about in life?
I am passionate about new ideas, creativity, adventure, and my faith.
What do you like to do in your free time?
My husband and I enjoy off-road adventures to new places where we can explore and be in awe of our surroundings. (If it's a good adventure, it might involve a little fear on my end.) We also love beach combing and doing donuts in the sand in our 4Runner.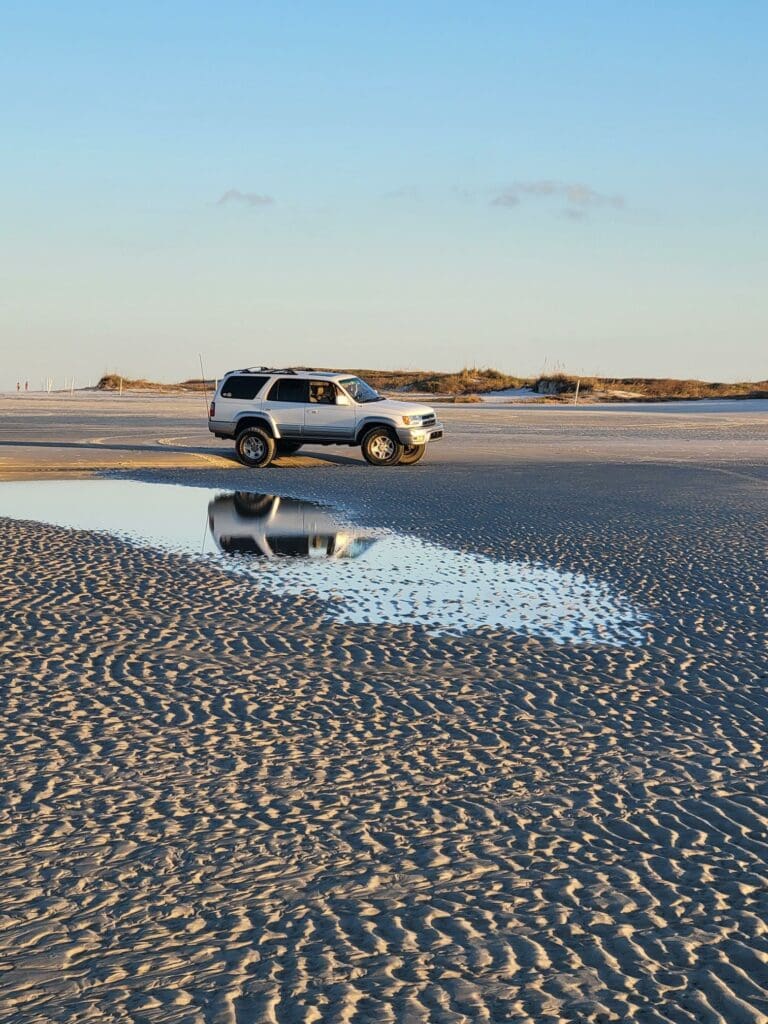 That sounds like a blast! If you could have any superpower, what would it be and why?
I decided on this long ago. I have always been small, so I want super strength because it's fun to be underestimated if you can back it up.
What does your ideal vacation look like?
New places to see and explore, including outdoors and city shops, time to unwind and relax and take my time seeing and doing new things! There are so many places I would love to see, like Ireland, Italy, & Iceland.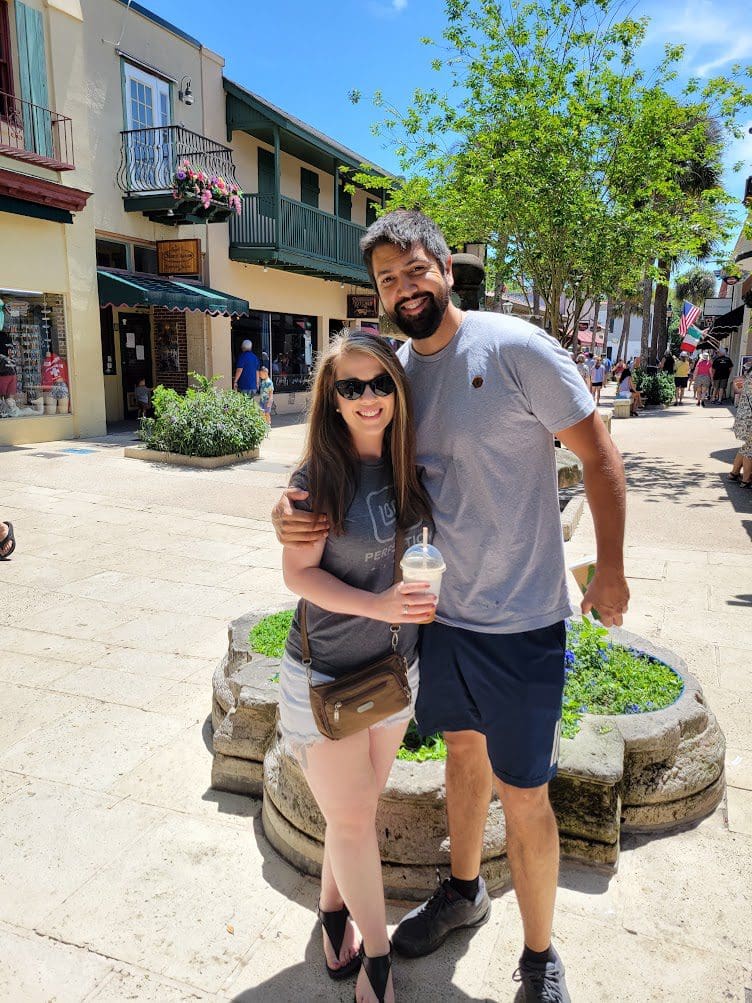 That sounds like a ton of fun! If you could have dinner with anyone who has ever lived, who would it be?
My paternal grandmother who passed away before I was born. From the photos and stories, Betty was quite the baddie, and it would be so insightful to be able to interview her as an adult.
What are two apps (on your phone) you CAN NOT live without?
There's really just one; I am unabashedly addicted to Pinterest. It was my favorite from the time it came out, and I have learned and created and found new ideas there for ALL areas of life, from cooking to cleaning to clothing ideas and even planning my wedding!
What would be impossible for you to give up?
Writing and creating. I think it's one of those things I HAVE to do sometimes.
It would be impossible to give up my kitty friend too. Her name is Tortie Pie and she is my baby. I would never leave her behind.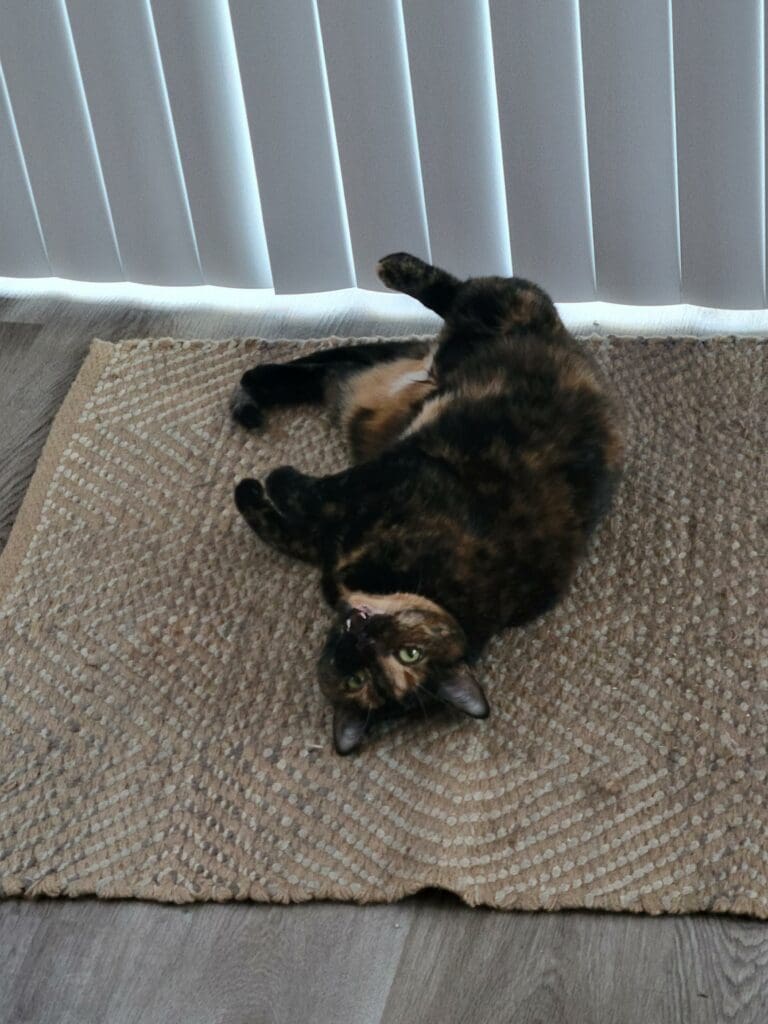 Any interesting facts about yourself that you'd like to share?
I got married twice this year! My husband Rob and I eloped in July on our favorite 4×4 beach in Amelia Island and then threw our big wedding in November for all of our friends and family. The loss of my dad in 2020 was the real reason to elope before the actual wedding because the idea of the lonely walk down the aisle was too much to bear. However, both versions ended up being so perfect I am wildly happy. Many members of my family reminded me that I have wanted this for a long time and God really does make you wait until it's right, and now I am so thankful that He did.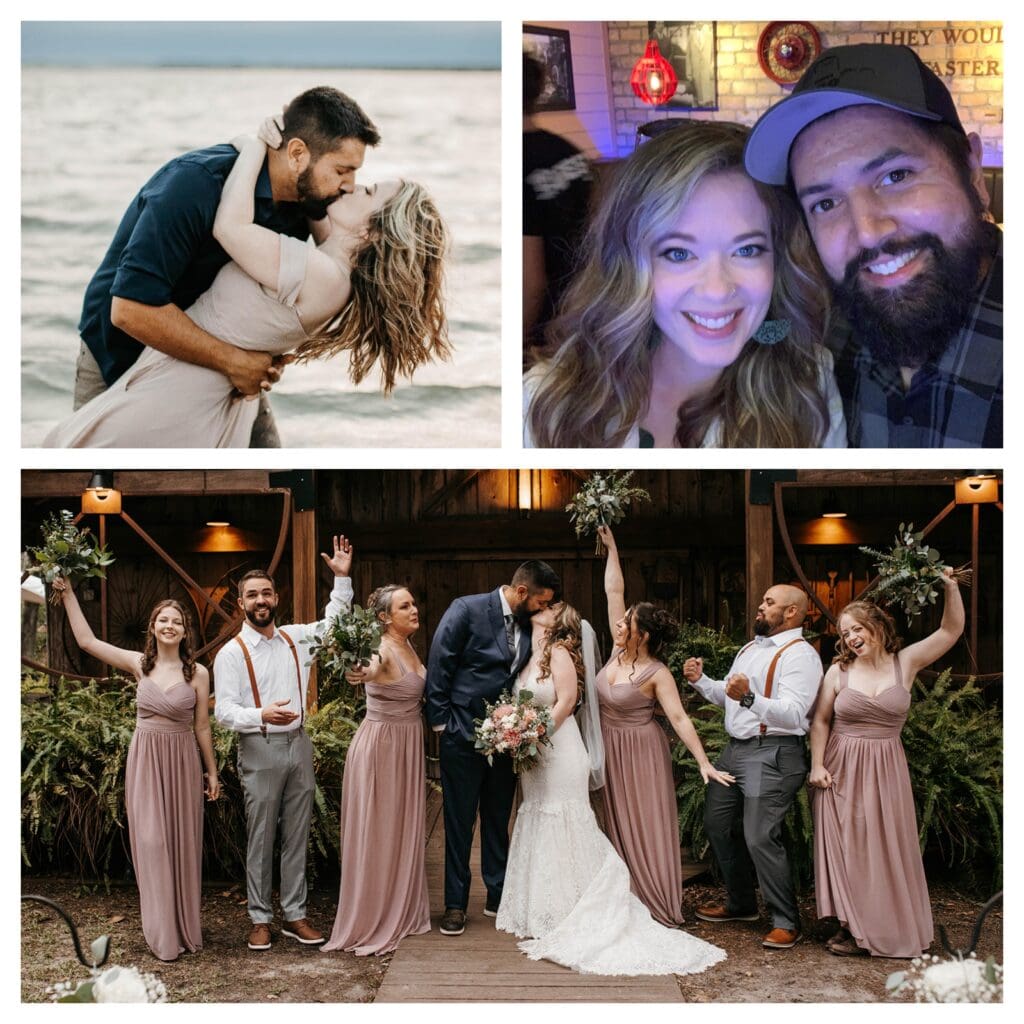 Who or what inspires you?
So many people, including my mom, my husband, my friends, my mentors, my pastors…
Everyone at WGI has a story about why they joined the team. What's yours?
I met Eliza Partington on the gun range in 2020 during a women's shooting event, and we became fast friends. She let me know about the admin here being promoted and her position being available. I was at a place where I was ready for a change, so I jumped at the opportunity because of how highly she spoke of WGI as a company and the people she worked with. I am ever so grateful that I did.
Are you interested in working alongside Awesome Associates like Kellyn? Check out our Careers Page to learn more about WGI and explore some of our current openings!
Learn more
about our
services
You've been searching for a place like WGI. We look forward to meeting you soon.