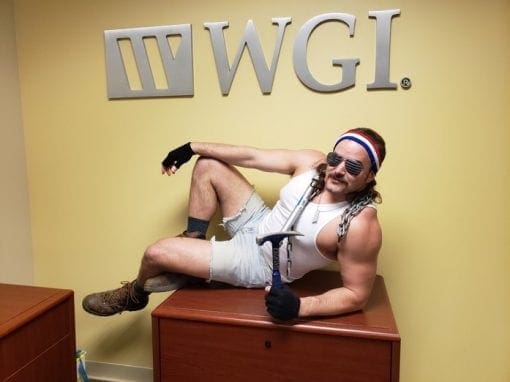 Meet our Awesome Associate Matt Blankenberger, a Senior Engineer Intern in our Indianapolis, IN office. Matt joined the WGI team 7 years ago and is part of our Parking Solutions Division. At WGI, we know our success starts with our associates and that's why we want to share their awesome stories with you.
Hi Matt! Tell us a little bit about where you're from and where you went to school. I was born & raised in southern Illinois in a small agriculture, oil, & mining town called Carmi. I went to school at the University of Illinois at Urbana-Champaign and studied civil engineering with a primary focus on structural engineering and obtained my bachelor's degree and master's degree in 5 years. (I-L-L…)
What drew you to the engineering profession? I LOVE SCIENCE!!! (Shout-out to math!) I am a very analytical personality type and have always had a creative mindset. I have always built, tinkered, tested, solved, and tried to understand how things work so it was almost a seamless transition from LEGOs & K'NEX into concrete and steel!
What type of projects have you worked on here at WGI? I have worked on a lot of new design projects for the Parking Solutions Division with single/mixed use occupancies including plazas, residential, office, retail, etc. with my focus being on the structural design and building stability. I have also dabbled in few restoration jobs including conditional assessments, concrete slab repairs & replacements and incorporating new stair/elevator towers into existing facilities.
What's your get-pumped song? Post Malone – Congratulations (BKAYE x TELYKast Remix). Give it a listen!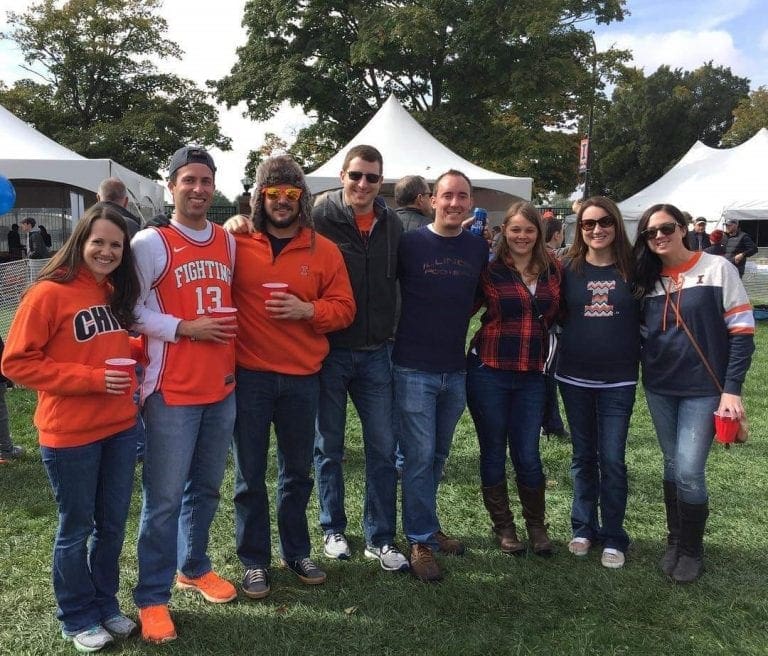 What do you like to do in your free time? Travel, work out/weightlift, visit breweries/sample beer, compile music (mainly EDM), watch NFL and UFC.
What does your ideal vacation look like? Something active, outdoorsy, and recreational. Camping, hiking, kayaking, target shooting, snorkeling, skiing/snowboarding/wakeboarding, biking, ATVing, etc. Put me on a mountain or near freshwater and I'm pretty happy.
What was your first job? I grew up on a farm, so naturally my first job was as a farmhand. One of my friends always kids me it wasn't a farm since we didn't have animals, but I have dealt with the lion's share of agriculture other than livestock. One of the perks… I've been driving since the age of 10!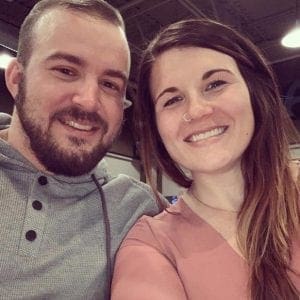 Finish this statement. When I'm creatively stuck, I… Table my thoughts and do something to clear my mind (work out, listen to music, sleep, booze!). I find it helpful to get a fresh perspective when I'm spinning my wheels.
What would be impossible for you to give up? The internet!!! Can you imagine a world without information instantly at your fingertips!?
Any interesting facts about yourself that you'd like to share? I am red-green colorblind of the type deuteranomaly (green-weak). I frequently learn that my clothes are not the color I anticipated them to be.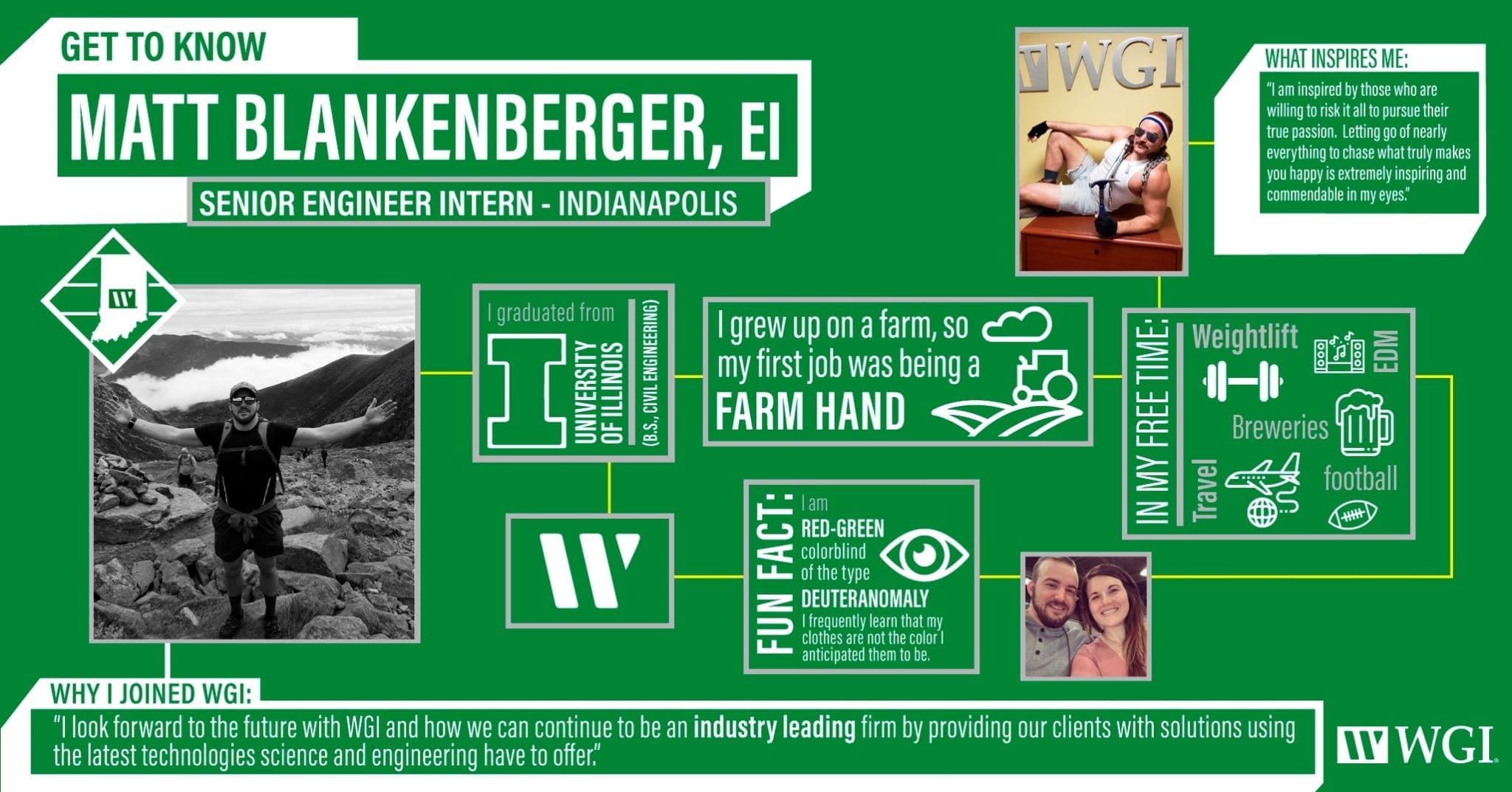 Who or what inspires you? I am inspired by those who are willing to risk it all to pursue their true passion. Letting go of nearly everything to chase what truly makes you happy is extremely inspiring and commendable in my eyes. With great risk may come great reward.
Everyone at WGI has a story about why they joined the team. What's yours? I had been with Carl Walker for about 5 years and came on-board with WGI as part of the merger into the Parking Solutions Division. Talk about a slam dunk! It has been exciting to meet and work with the other great talented professionals across the company and expand our services into new markets. I look forward to the future with WGI and how we can continue to be an industry-leading firm by providing our clients with solutions using the latest technologies science and engineering have to offer.­­­­­­­­
Thanks for your time, Matt. We're happy to have you on the WGI team!
WGI is always looking for exceptional candidates to join our team. For an opportunity to work on exciting projects like Matt, be sure to visit our careers page to learn more.
Learn more
about our
services
You've been searching for a place like WGI. We look forward to meeting you soon.