Jon Coe – Technical Support Specialist (Kalamazoo)
WGI consistently wins awards — business, industry, trade, and more. Browse
who we serve
and
what we do
, and learn more about this rapidly growing consulting firm.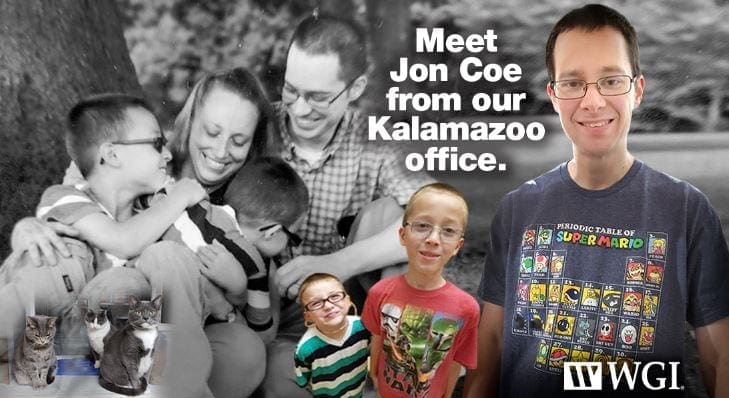 Meet Jon Coe, from our Kalamazoo office! With his signature gray hoodie and stealthy footsteps, Jon is an IT support ninja roaming the halls of the Kalamazoo office. Jon started working at WGI in October 2017 and provides day-to-day IT support, primarily to the Parking Solutions Division.
Originally from the thriving midwestern metropolis of Paulding, OH (population 3,600) Jon comes to Kalamazoo via a stint in Fort Wayne, IN, where he received his associate degree in Computer Networking Systems. Jon currently lives in Kalamazoo with his wife Marie, two sons Charlie (10) and Joey (6), a dog, and four cats. That's two more cats than intended: one bonus kitty came to the family after being abandoned at the clinic in which Marie works as a veterinary technician, the other was an inheritance from a friend's deceased mother (who had 16 cats!).
When not poring over a computer, Jon enjoys reading Sci-Fi and fantasy-genre books and playing classic video games; Nintendo's Legend of Zelda is his current favorite.
Learn more
about our
services
You've been searching for a place like WGI. We look forward to meeting you soon.