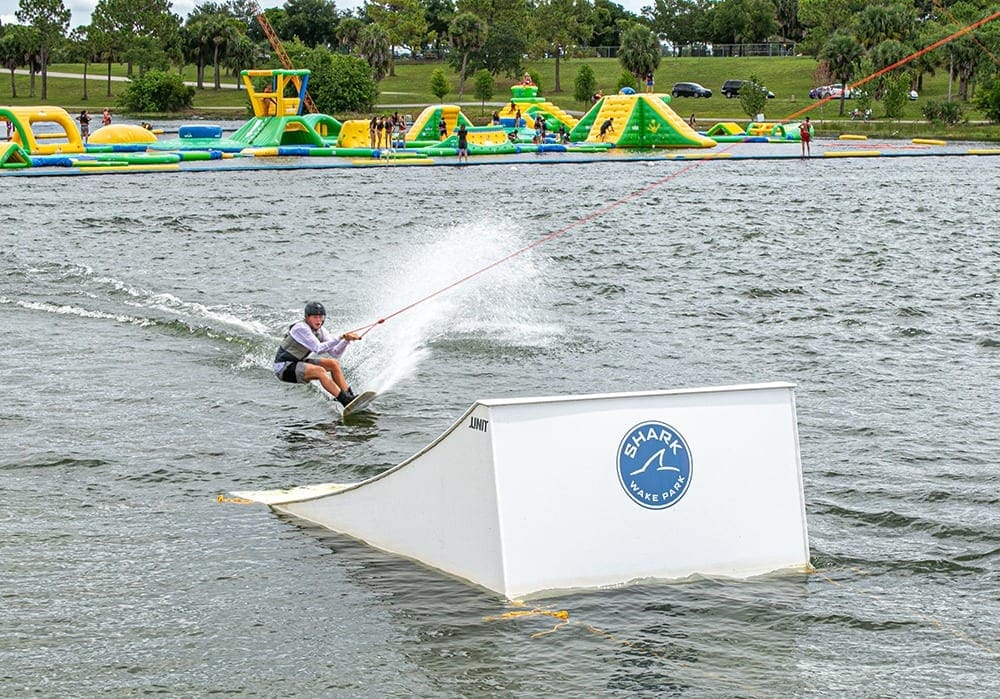 Shark Wake Park 561
Project Spotlight
On Saturday, June 15th, 2019 the Shark Wake Park 561 celebrated its grand opening! WGI's Structural Solutions Division is proud to have provided multiple engineering services during the design and construction of this project.
Shark Wake Park 561 was established by Greg Norman Jr. and is the second Shark Wake Park location to be completed. The park features the largest floating obstacle course on the East Coast, two full-size cable wake parks, a Shark Shack, and pro shop.
Shark Wake Park 561 is a cable tow assisted wakeboard and water ski facility in Palm Beach County, Florida. The facility consists of a series of cable-stayed compression towers and an interior tensioned cable loop which is driven through a series of sheaves (pulleys) mounted to the towers. Through the interior cable loop, the wakeboarder (or water skier) is towed. Shark Wake Park utilizes Alta CableSki Tower and Cable systems, (A Norwegian Company) to provide the primary towing equipment and dock. WGI's Structural Solutions Division adapted the European design to fit U.S Standards and the Florida Building Code. WGI designed the cable-stayed foundation anchors and permitted the facility with Palm Beach County.
WGI also provided resident inspector services for the reinforcing and concrete placement of the cable-stayed anchor foundations, observation of the tower erection and cable placement, observation of the cable tensioning, observation of the dock construction, observation of the operator stand shelter, and the final construction certification of the cable system, dock, and operator booth.
WGI's Structural Solutions Division has provided engineering and design services for hundreds of piers, bridges, docks, and marina structures across Florida. Contact us today to get more information on how we can help with your next project!