Shaun Theriot-Smith – Senior Graduate Engineer (Houston)
WGI consistently wins awards — business, industry, trade, and more. Browse
who we serve
and
what we do
, and learn more about this rapidly growing consulting firm.
Meet Shaun Theriot-Smith, a senior graduate engineer from our Houston office! As an Army veteran of both Iraq and Afghanistan, he first became passionate about building communities at home by helping to build those abroad.
Shaun's engineering and land development consulting experience spans several markets including retail, multifamily, industrial, education, and residential. He was appointed by the Mayor of Houston to serve as a city representative on the board of the Harris-Galveston Subsidence District, advocating for Houston residents in the regulation of groundwater withdrawal and subsidence in the area.
Shaun is a proud alumnus of the University of Houston where he earned a Bachelor of Science degree in Civil and Environmental Engineering and served as the Student Body President.
In his free time, Shaun enjoys spending time with his spouse, Paige, and three children: Jadzia, Mei, and Rumi. He likes camping and hiking (or just generally being off the grid) with his family, Star Trek marathons, and brewing beer.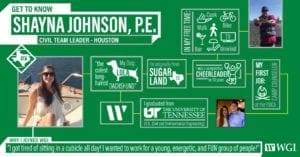 Awesome Associates
Shayna has a longhaired dachshund named Lola, and was drawn to Civil Engineering because it requires continuous learning.