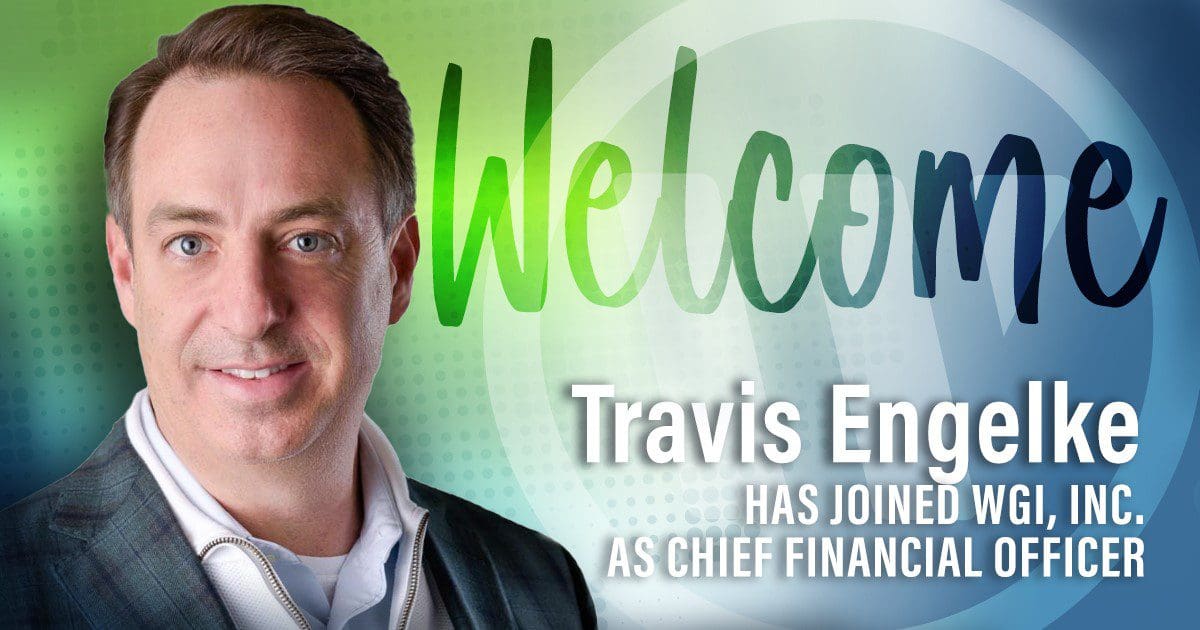 WEST PALM BEACH, FL / ACCESSWIRE / May 2, 2023
Chief Executive Officer David Wantman proudly announces that Travis Engelke joined WGI, Inc. as its Chief Financial Officer.
The addition of Travis to the leadership suite solidifies WGI's senior leadership team, positioning the company to continue as a standout among the country's national design and professional services firms. WGI is a market leader in technology-based engineering and design solutions for the construction of public infrastructure and real estate development.
"Travis Engelke is a high-impact executive. His extensive experience with mergers and acquisitions and capital formation will serve WGI very well, as we continue to execute our ambitious growth plans. Adding Travis to our senior leadership team is part of our strategic blueprint and consistent with our core values, especially our principle of 'Committing to Greatness'," says David Wantman, PE.
Travis is well acquainted with expectations and deliverables associated with all WGI's business lines. Prior to joining WGI in April 2023, Travis was the CFO and Treasurer for peer ENR 500 firms. In those roles, Travis was responsible for spearheading financial management and fiscal reporting of fast-growing firms. His significant experience also includes mergers and acquisitions – a key component of WGI's growth initiatives.
Travis holds a Bachelor of Science degree in Accounting from Northern Kentucky University and an Executive Leadership Program certificate from the University of Michigan. He spent his entire professional career in the engineering, architecture, and construction profession.
"WGI is one of the nation's fastest-growing firms and has a very aspirational and aggressive strategic plan. It is clearly dedicated to ensuring the success of its associates, clients, and to helping communities improve infrastructure through innovative infrastructure design solutions," says Travis. "I am incredibly excited to join the WGI team, where I can match my experience and my passion for building financially strong and resilient companies with such a talented group of equally ambitious and entrepreneurial-minded professionals."
WGI's clients are aware of both the potential, and challenges, associated with disruption and change as the United States embarks upon the largest infrastructure investment in generations. As a national leader in the planning and design of such infrastructure, WGI looks forward to providing innovative solutions to transportation, water, real estate development, and climate-related challenges.
Travis will lead the WGI finance and accounting team, primarily based in the company's West Palm Beach, Florida headquarters, while dividing his time between West Palm Beach and the company's second-largest office in Austin, Texas, during his full-time transition to Florida.
ABOUT WGI
As a multidisciplinary solutions-providing consulting firm, WGI has 25 offices in eight states, serving an active client base in over 40 states, specializing in the following disciplines: geospatial and land surveying, subsurface utility engineering, land development/municipal engineering, mobility planning, traffic and transportation engineering, parking solutions, restoration and structural engineering, landscape architecture, environmental sciences and water resources, architecture, land planning, and MEP engineering. In 2022, ENR ranked WGI #167 – up eight places — on its list of the Top 500 Design Firms in the United States. ENR Magazine also named WGI its 2021 Design Firm of the Year in the southeast United States. For more information, please visit www.wginc.com.
WGI Company Contacts:
WGI Contact:
Carl Cores-Oritz
Chief Human Resources Officer
Carl.Cores-Ortiz@WGInc.com
561.687.2220
Media Contact:
Kelly Owens
Alchemy Communications Group
ko@alchemycommgroup.com
O: 561.935.9953 x.101
M: 561.222.4958
SOURCE: WGI Inc.
Click here to read the original press release from Accesswire.
Interested in joining the WGI family and having the opportunity to work alongside professionals like Travis? Check out our Careers Page NOW to browse our opportunities! 
Learn more
about our
services
You've been searching for a place like WGI. We look forward to meeting you soon.