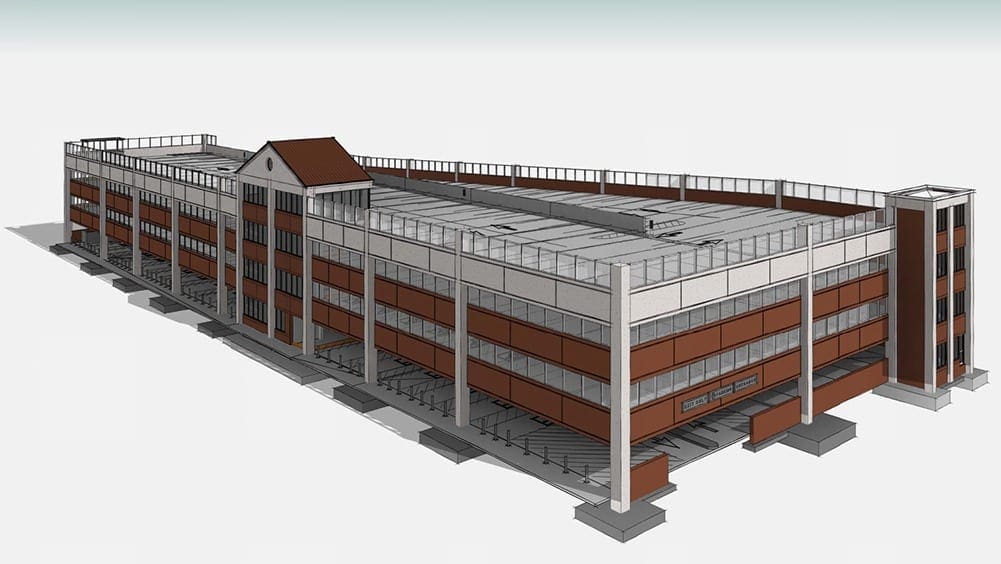 William Jennings Bryan Dorn VA Medical Center Parking Garage, Columbia, SC
Construction Update
In March, Jarrett Construction and Tindall wrapped up precast erection of the new parking structure at Wm. Jennings Bryan Dorn VA Medical Center in Columbia, SC.  The project, designed by WGI, Guidon Design, and Apogee Consulting Group, consists of a three-level, 283-space parking facility with site improvements including a rain garden and realigned campus ring road.
The $8M garage borrows architectural cues from the campus' Georgian Colonial Revival style buildings that date back to the 1930's.  In particular, the gabled roof and roundel window of the main stair and elevator core capture some of the historic flavor, blending it with the modern lines and materials. The garage is also designed for both future vertical and horizontal expansion.
WGI's Rob McConnell, the project principal and EOR, and Greg Ehmke, the project manager and lead structural engineer, are providing construction administration services to Guidon and the Army Corps of Engineers. The next construction activity is the cast-in-place concrete flatwork, followed by the installation of sealants and other waterproofing systems. Stair and elevator installation is also ongoing. The garage project will be complete later this summer.
WGI's Parking Solutions Division has provided engineering and design services for dozens of parking structures across the country.
Contact us today to get more information on how we can help with your next project!