10 Strategic Tech Trends For The Infrastructure Industry In 2022
The time has come for digital transformation in the architecture, engineering, and construction industry. Here are 10 technology trends that will shape the future of infrastructure.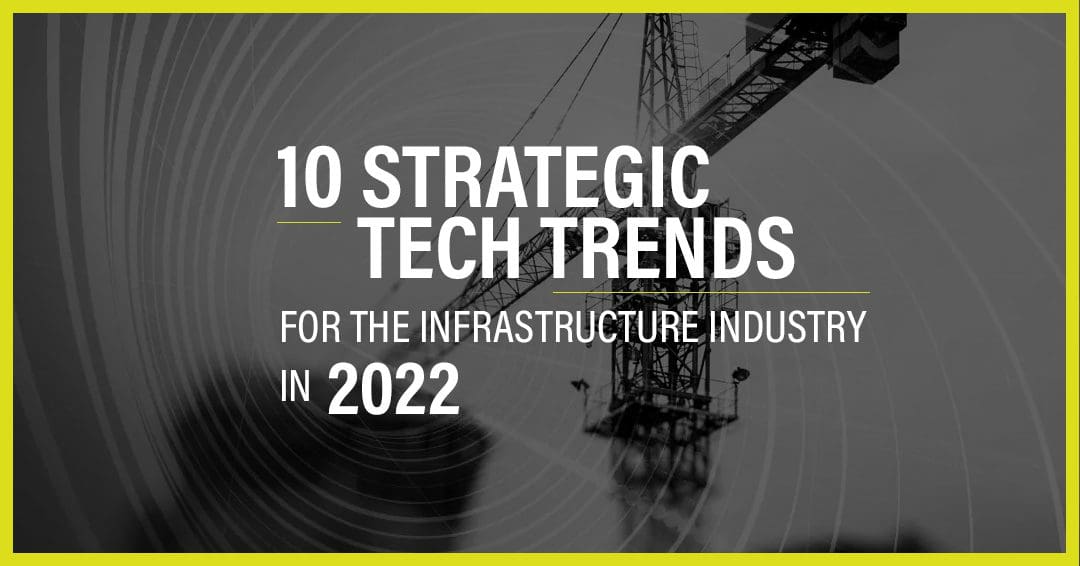 This article originally appeared in the Managing Innovation & Disruptive Technology column on CIO.com. Click here to view the article on CIO.com.
Compared to early adopters on the road to digital transformation, the infrastructure industry, meaning the "built environment" consisting of the human-made places and spaces in which we live, work, and play, could be considered a laggard. But it is a laggard with enormous market opportunity—to the tune of $21T annually worldwide and an annual spend of $1.4T in the U.S., representing 4% of US GDP.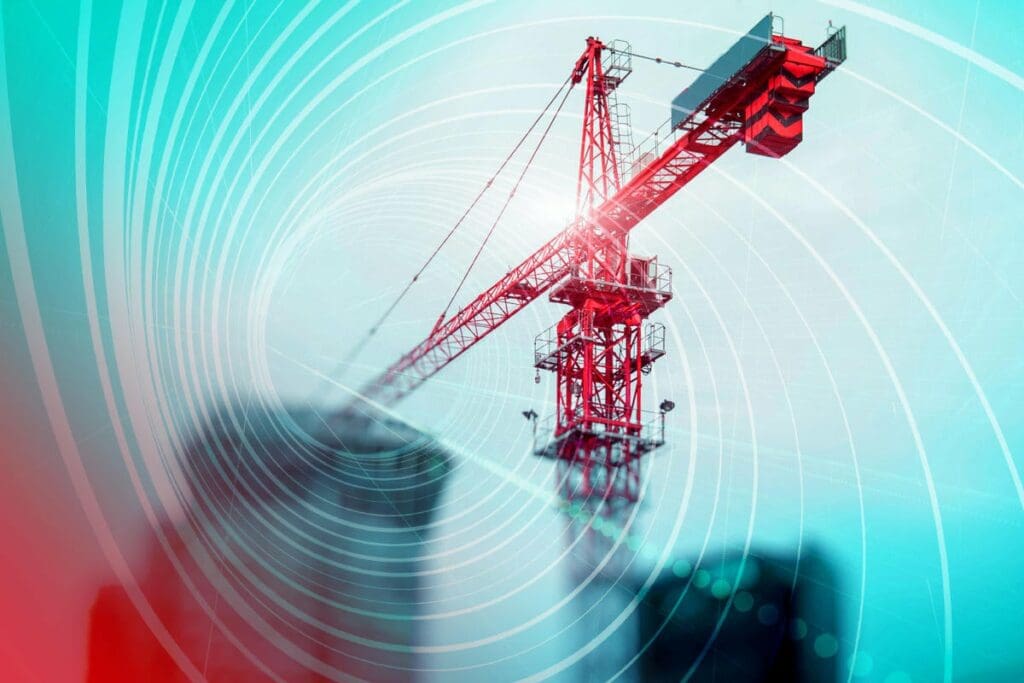 Many of the strategic technologies that we know well from deployments in high-tech, finance, and other industries, such as AI/ML and data analytics, are now permeating the infrastructure industry, as are other unique technology enablers specific to architecture, engineering, and construction (AEC).
There's a conversation and a convergence occurring whereby startups are becoming more educated about the industry and AEC firms are getting more digitally savvy. AEC firms are doing this both to take the grit out of the system across their internal processes and to innovate how they deliver services to clients. And venture capital firms are funding infrastructure-specific startups in construction and real estate tech who are tackling hard problems in the industry.
As this conversation and digitization continues, here are ten strategic technology trends that I believe will be transformative for the infrastructure and AEC industry in 2022:
AI/ML – As with most other industries, AI/ML is one of the most transformational technologies for the infrastructure industry, featuring at the top of many organizations' emerging technology heat maps. In 2022, use cases will continue to expand into transportation, urban planning, and building information modeling (BIM) and across a wide range of corporate functions from sales and marketing, to finance and HR. In the BIM space, ClearEdge3D, for example, employs AI to help automate tedious scan-to-BIM workflows such as as-built pipes and other structural elements. For internal corporate processes, AI/ML will be applied to use cases as diverse as win-loss analysis, work order tracking, contract workflows, and MarTech.
Data analytics – The opportunity for data analytics in engineering and construction to deliver insights and to be monetized by service providers is immense. In 2022, in addition to solving for pressing issues such as transportation planning and traffic operations, we can expect data analytics to play a key role in helping organizations and agencies understand and plan for the effects of climate change and other natural disasters. They will use these analytics to determine insights in support of their sustainability, resilience, and adaptability strategies, particularly in coastal areas. Specialty vendors will play a key role due to their understanding of stormwater modeling and prediction using highly specific and time-proven algorithms.
Hyperautomation – According to Gartner, organizations utilizing hyperautomation across core internal and client-delivery processes will see up to 30% enterprise-wide operational cost savings by 2025. For AEC firms, this will provide a powerful means to improve efficiencies and reduce costs across their often manually intensive workflows. In 2022, we'll see AEC firms use both specialty automation tools as well as the built-in automation features of their core tools such as Autodesk and Bentley design suites as well as CRM and ERP tools, to advance their hyperautomation strategies. By taking a holistic approach across all tools and processes, these organizations will go far beyond quick wins and point solutions and enable enterprise-wide returns on their automation investments.
AR/VR – Beyond its initial traction in the consumer space as well as within inspection, maintenance, and repair functions, AR/VR is now evolving towards engineering-grade accuracy and GPS-level positioning and placement within the physical world so that architects and engineers can provide clients with on-site visualizations of their projects. In this manner, they can explore how their projects fit into the physical environment and its surroundings and evaluate from multiple perspectives. In 2022, these 3D visualizations will be utilized more and more frequently to improve the customer experience, analyze project alternatives, minimize conflicts, and communicate project information.
lidar – Beyond being a staple for autonomous vehicle navigation, lidar (Light Detection and Ranging) has long been used for surveys of physical infrastructure to capture a 3D point cloud of the environment such as a building, bridge, or street, as well as for inspections of assets such as pipelines, telegraph poles, and railcars. In 2022, the use of lidar will evolve to fill in harder to access areas such as the near-shore environment where traditional lidar cannot penetrate. Green laser lidar is a more recent technology that enables surveyors to scan the shoreline with the lidar able to penetrate and fill in the zero to ten meter "depth gap" in coastal mapping revealing the submerged topography. The technology has use cases for government agencies such as the USGS for fluvial channel and floodplain mapping, mapping barrier islands for storm response studies, and so on.
Platform business models – Due to the size of the industry, in recent years, we've seen several attempts to pursue platform business models for smart cities and smart infrastructure as well as for process innovations such as offsite and modular construction. Many recent attempts have stalled such as GE Predix (which was perhaps too early for its time), Alphabet-backed Sidewalk Labs (who pulled out of a billion-dollar smart city contract in Toronto), and Katerra (who received $865M in venture capital investment in 2018 to target offsite and modular construction and is currently in bankruptcy). While the industry has yet to become "Uberized," in 2022, we can expect to see continued efforts by major players as well as startups to become a go-to platform for the industry, with each coming at the problem from a different perspective.
Digital twins – For many years, digital twins were the realm of vendors such as Microsoft (Azure Digital Twins) and GE (Predix) and the target audience was software developers. Engineers were busy using their own 2D and 3D software such as CAD, GIS, and BIM tools. We're now seeing partnerships across the divide with players such as Microsoft and Bentley coming together to offer city-scale digital twin solutions for urban planning and smart cities. Autodesk Tandem is also offering APIs and developer tools with the same objective of creating a broader ecosystem. In 2022, partnerships like this will continue to evolve into broader, multi-partner ecosystems that offer rich forms of visualization and integration with the digital twin at the heart of the model. The challenge for owner/operators and AEC firms will be how to support multiple platforms and where to invest as the market matures.
Autonomous vehicles and robotics – Autonomous vehicles have been the poster child of the built environment for quite some time and production deployments are gaining traction in areas that can be carefully controlled such as planned communities. Move Nona's creation of the largest and longest autonomous vehicle network at one location in the U.S. with five routes and eight shuttles connecting nearly 10 key destinations is just one example. In 2022, we can expect further refinements to AV deployments, providing additional levels of safety and security as well as more practical operating speeds. Drones and robotics will continue their widespread adoption for performing surveys and inspections and automating repetitive and often dangerous tasks.
3D printing – In the construction industry, 3D printing is picking up significant traction as a go-to construction methodology, including off-world design and construction projects in conjunction with NASA. Gantry systems such as those of ICON can print a home of up to 3,000 square feet with a print speed of 5-10 inches per second. 3D printing is faster, produces less waste, combats future supply chain and construction labor shortages, and accommodates more design freedom than traditional construction techniques. In 2022, we'll see the industrialization of 3D printing for the built environment as it moves from predominantly single home projects to community projects. ICON, for example, plans to build a 100-home community in the Austin Area in 2022. We'll also see greater leverage of this technology in fulfilling societal objectives of sustainability, resiliency, and energy-efficiency as well as support for under-served communities such as the homeless.
Blockchain – In the built environment, blockchain is probably the least understood in terms of industry use cases and is therefore often overlooked. There are however some bright spots with companies such as DigiBuild aiming to bring blockchain use cases specifically to the construction industry for additional risk management and visibility. 2022 will be an important year for continued learnings, proof of concepts, and a cadence of case studies showing solid business benefits.
Overall, these strategic technology trends will be key ingredients as city planners, contractors, consultants, and CIOs prepare their future visions and purposefully architect and design their communities to support common goals such as economic growth, quality of life, health and wellness, diversity, equity and inclusion, safety and security, mobility, efficiency and resilience, and sustainability.
When applied in combination with one another, these technologies will create a digital infrastructure enabling the adaptability that's needed for cities and communities to be ever responsive to continuous waves of both digital and physical disruption.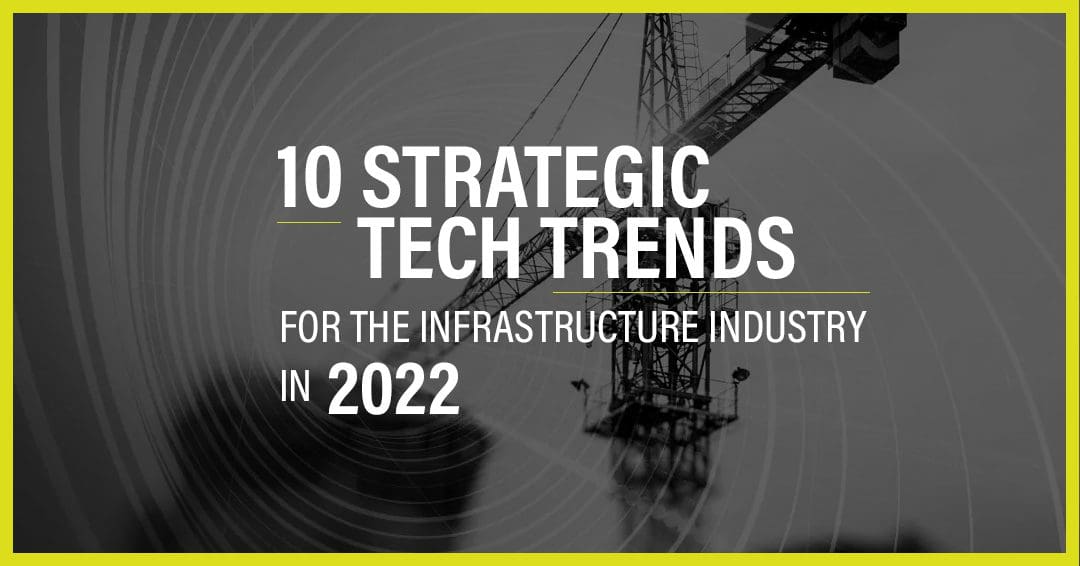 WGI
WGI is a national design and professional services firm leading in technology-based solutions for the construction of public infrastructure and real estate development. At WGI, we're providing Tomorrow's Infrastructure Solutions Today.
Learn more
about our
services
You've been searching for a place like WGI. We look forward to meeting you soon.