Download this publication as a PDF 
Each year, WGI looks at the 10 strategic technology trends we believe will be transformative to the infrastructure and AEC industry in the coming year.
To provide more rigor to our analysis of the strategic technology trends shaping the infrastructure industry in 2023, we conducted additional primary research to learn first-hand from industry leaders and practitioners — and received 570 responses.
Working in conjunction with Columbia University's Global Leaders in Construction Management (GLCM), we asked the GLCM Network, as well as WGI's own client base, which trend would have the most business impact in 2023.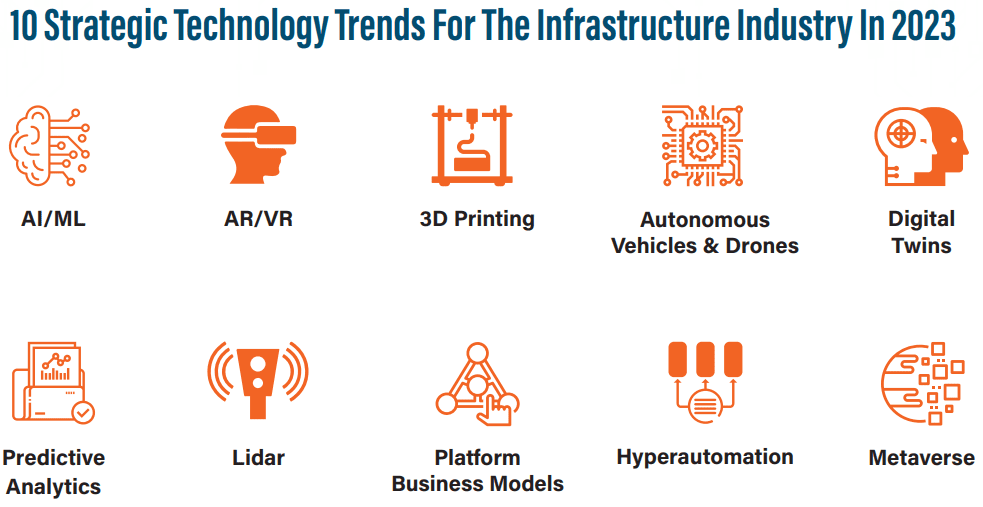 We found that the most impactful trends cited were artificial intelligence and machine learning (AI/ML) at 32%, augmented and virtual reality (AR/VR) at 13%, and 3D printing at 12% (see page 3). This makes sense due to the broad spectrum of use cases for AI, the same for AR/VR, and the popularity of 3D printing in our industry (e.g., ICON's printed housing).
While autonomous vehicles and drones, as well as digital twins, are more nascent in our industry, coming in 4th (10%) and 5th place (8%), it's a promising sign that those industry leaders and practitioners consider these trends "most impactful" to the business as we commence 2023.
Some of the trends seen as less impactful, in relation to others, were platform business models (5%), hyperautomation (4%), and the metaverse (3%). This makes sense due to platform business models and the metaverse still in the early adopter stages in our industry, while hyperautomation was likely seen as more of an internal enabler for process improvement and operational efficiency compared to an external enabler.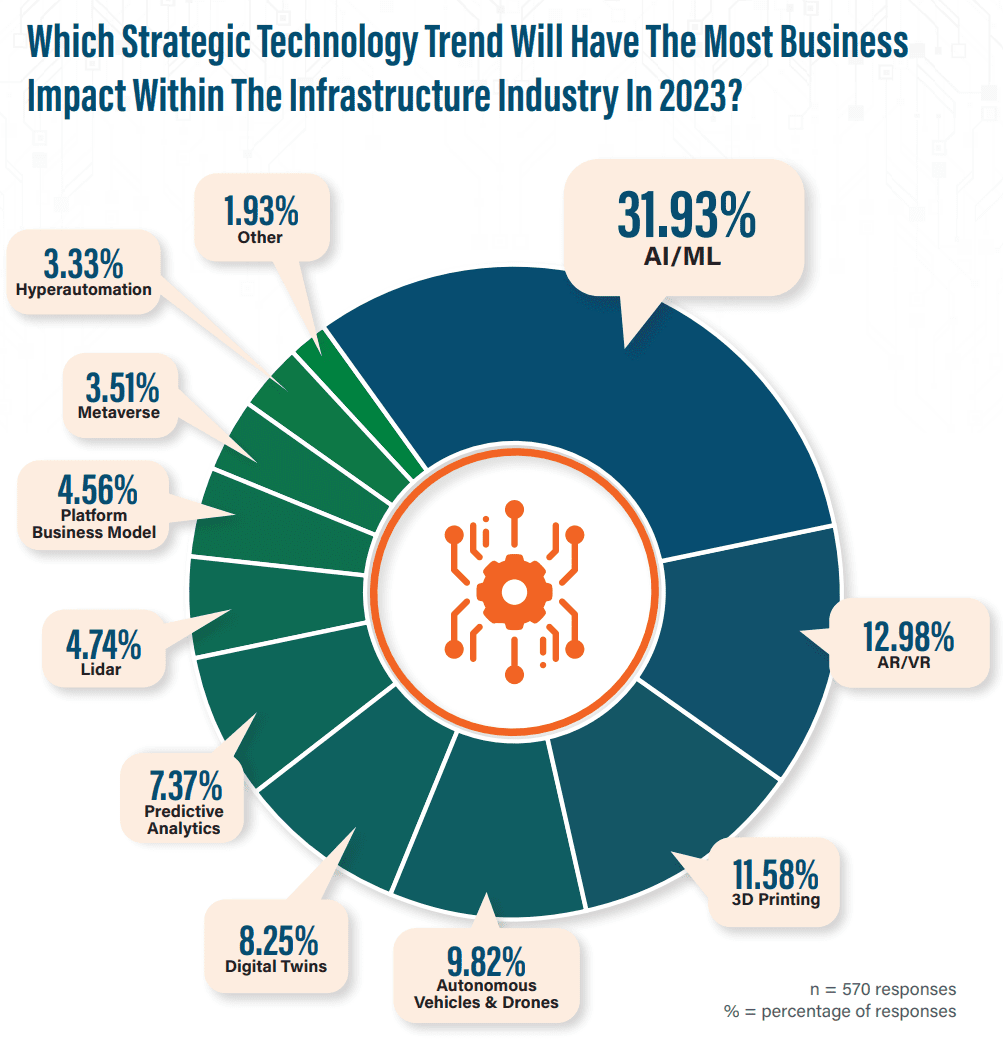 As you'll see in the various 2023 predictions from WGI and industry subject-matter experts, many of these trends are coming together in unique ways.
We explored this in WGI's 2023 Predictions for the Infrastructure Industry, where we found these trends and technologies are combined and fused together to deliver innovative outcomes that aid industry insights and decision-making.
Beyond the trends and technologies, the industry is also morphing rapidly to incorporate requisite skill sets and acquire talent to further automate the design space.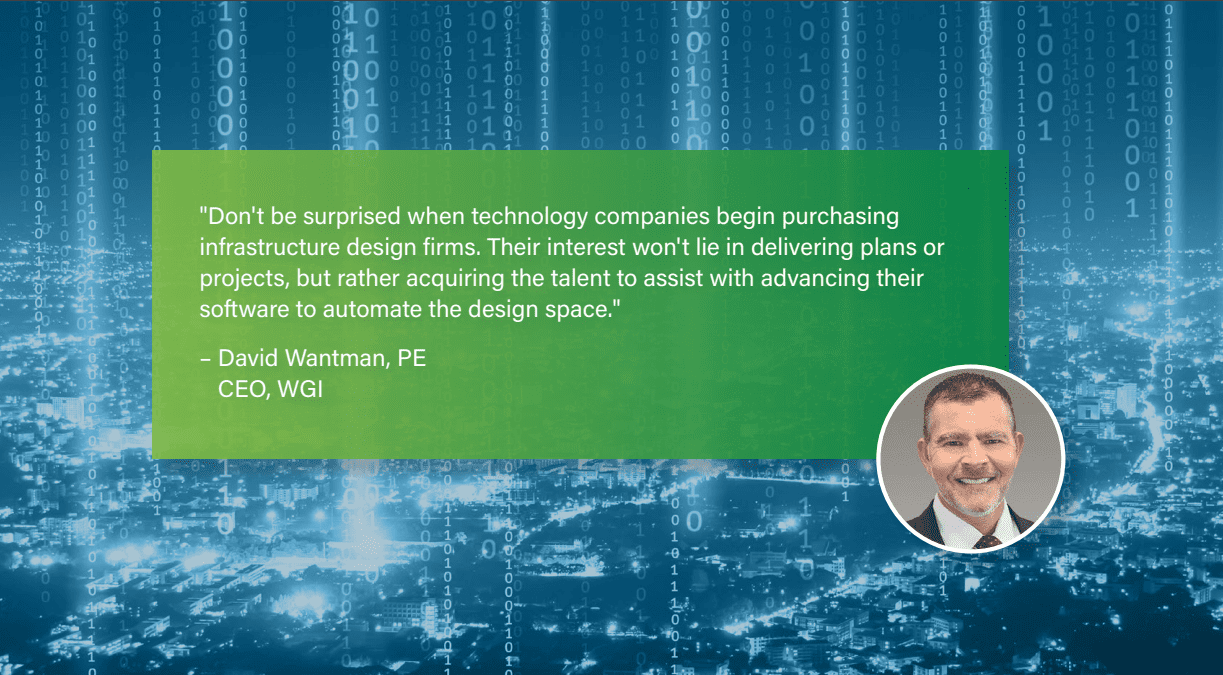 Overall, the strategic technology trends we identified in our research, and actively use in our current work, are enabling the industry to advance its capabilities along four strategic themes:
Digital Infrastructure:
Where digital twins, AR/VR, and the metaverse are helping engineers and practitioners
plan, design, build, and manage physical infrastructure with far greater accuracy,
collaboration, and efficiency
Automation Everywhere:
Where autonomous vehicles and drones, 3D printing, and hyperautomation are helping
engineers and practitioners reduce costs and cycle times, improve processes and
efficiencies, and improve convenience for end users
Intelligent Insights:
Where AI/ML, lidar, and predictive analytics are helping engineers and practitioners tap
into massive amounts of information, such as lidar and photogrammetry data, and make
intelligent decisions related to asset performance including predictive maintenance and
defect analysis, and emergency preparedness like real-time flood forecasting
Innovative Ecosystems:
Where platform business models, innovation hubs, and ecosystems are helping engineers
and practitioners come together and combine their IP and value propositions for internal
efficiencies, and the benefit of entire cities and communities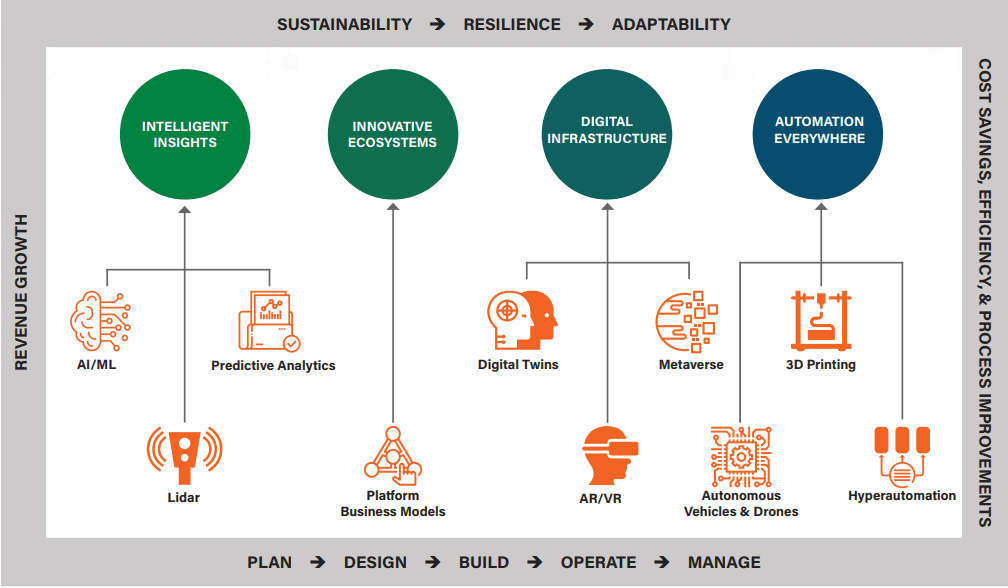 These strategic themes help AEC firms and their clients manage projects throughout the full project lifecycle — something quite novel for an industry with a traditional handoff at project completion after the "Build" phase — address core business goals of revenue growth, cost savings, efficiency, and process improvement, and forward societal goals of sustainability, resilience, adaptability, and more.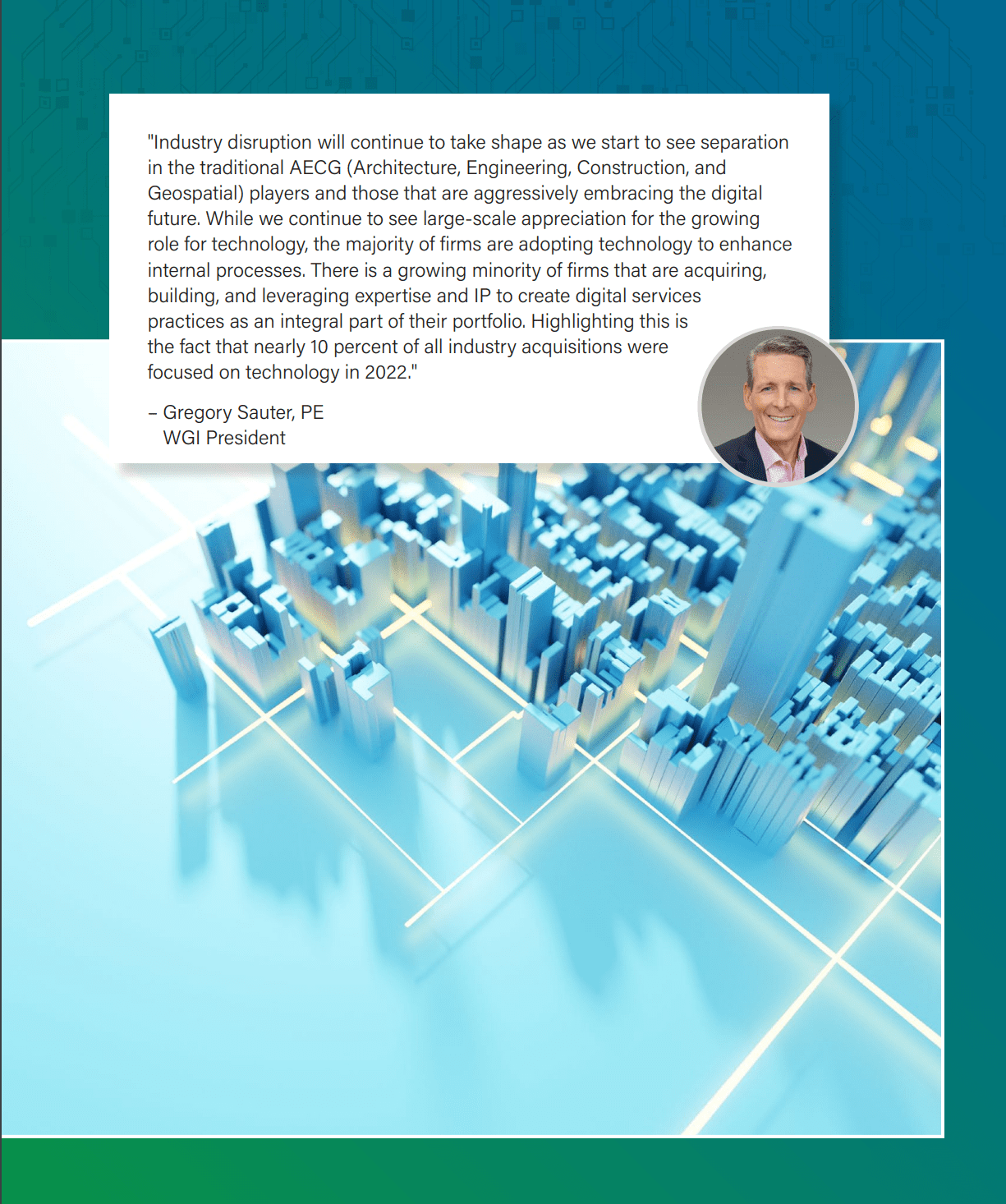 Artificial Intelligence and Machine Learning (AI/ML)
Use of AI/ML is becoming ubiquitous across most industries — and the infrastructure industry is no exception. It will soon be as embedded, and as expected, within industry apps as cloud and mobile computing is today.
In 2023, use cases for AI/ML will continue to expand across both external (e.g., transportation, active traffic management, urban planning, BIM, and digital twins) and internal (e.g., sales, marketing, operations, HR, and finance) applications. From uncovering insights like bridge defects through automated analysis of drone-based photogrammetry housed within digital twin platforms, to helping automate scan-to-BIM workflows, to finding optimal solutions to typical design problems – AI/ML is here to stay.
As always, the key challenge is implementing appropriate change management processes, knowing the suitable extent to "trust" the AI's (often black box) recommendations, and in determining the optimal human-machine points of handoff.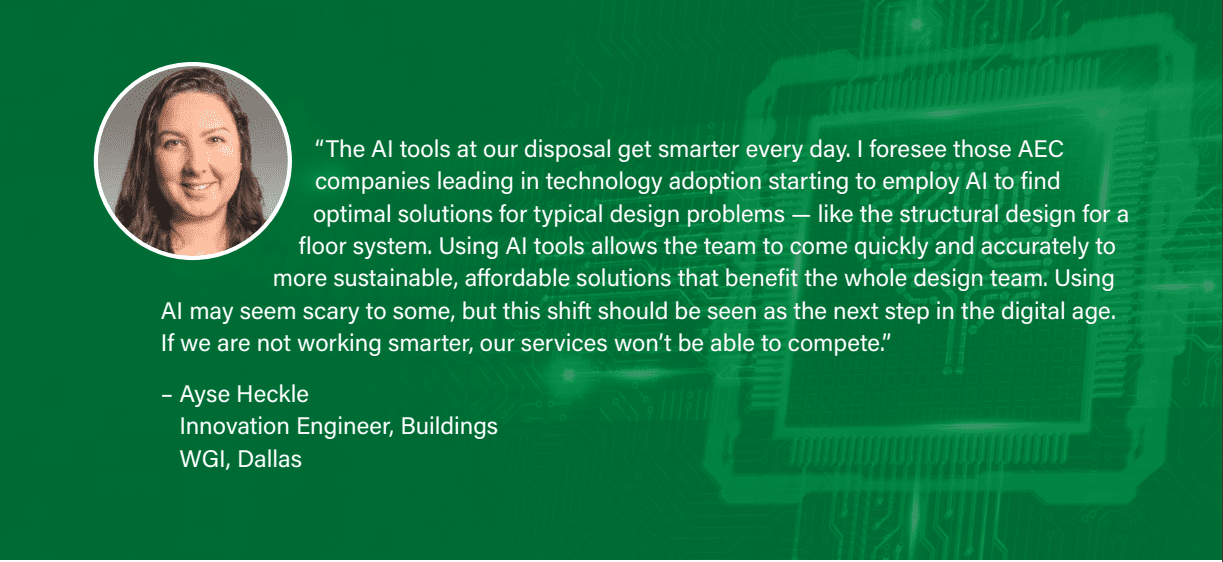 Augmented and Virtual Reality (AR/VR)
In last year's report, we highlighted how AR/VR is evolving towards engineering-grade accuracy and GPS-level positioning and placement within the physical world, so that architects and engineers can provide their clients with on-site project visualizations.
In 2023, AR/VR will continue to make a strong business impact both for standalone purposes (e.g., to analyze project alternatives, minimize conflicts, and communicate project information to the public), and as an essential component in the digital twin ecosystem (part of our "Digital Infrastructure" theme).
In digital twin solutions, AR/VR will be essential for collaboration and help all parties visualize and compare "to-be" plans and "as-built" assets. We expect AEC firms' AR/VR associates to be vital contributors and heavily engaged in digital twin related-projects going forward.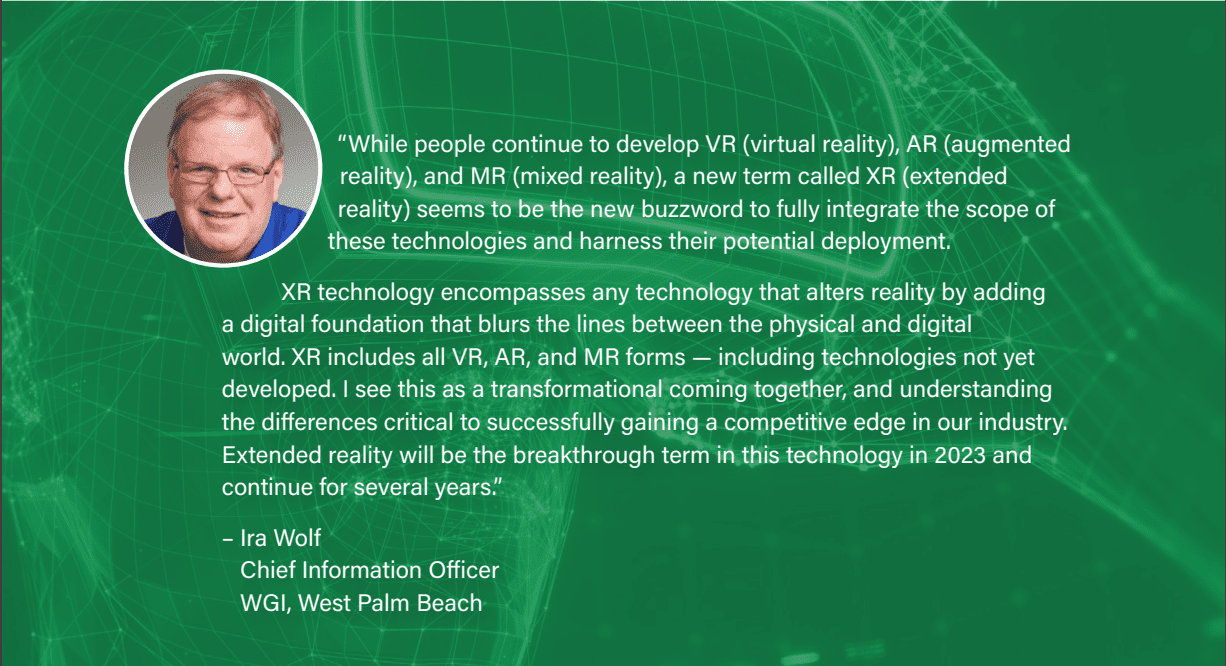 3D Printing
3D printing is a process to utilize data directly from BIM to robotically construct resilient structures faster, more economically, and using less raw material than traditional construction methods. In last year's report, we discussed the industrialization of 3D printing for the built environment as it moves from predominantly single-home projects to community projects.
That 3D printing landed in the top three within our survey illustrates it arrived in 2023 and is having an immediate business impact. This is already in evidence, for example, as ICON begins offering reservations for its 100-home, 3D-printed community in the Texas Hill Country. Built by ICON and Lennar (a leading national homebuilder), and codesigned by BIG-Bjarke Ingels Group, the single-family residential community features eight floorplans, 24 elevations, and will be powered by rooftop solar panels.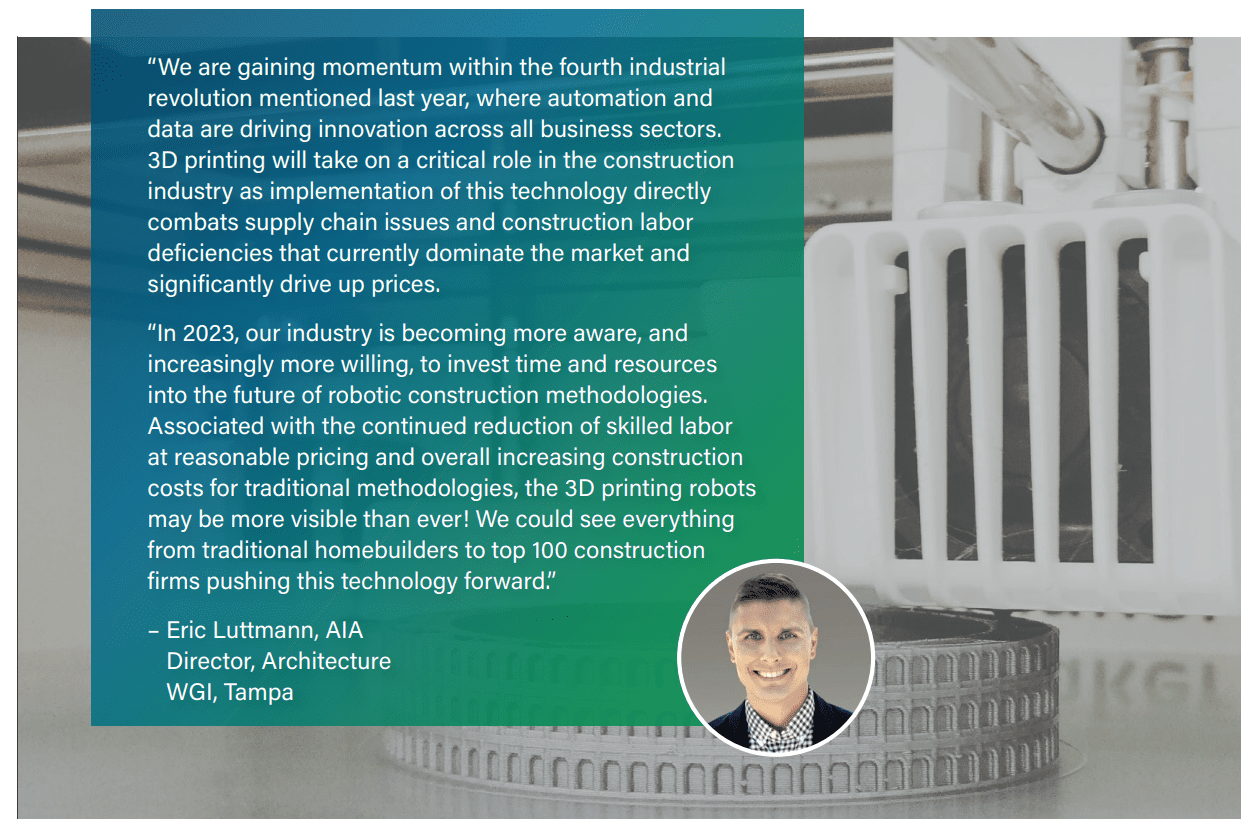 Autonomous Vehicles and Drones
In 2023, autonomous vehicles will still find their best use cases in controlled environments where there are less unknowns, and partial autonomy will still be the name of the game. The space continues to advance, however, with over 1,000 startups incorporating technical innovations such as advanced driver-assistance systems (ADAS), lidar, computer vision, deep-learning algorithms, neural networks, IoT, XR, and vehicle-to-everything (V2X) that improve safety, security, navigation, and reliability.
Drones will increasingly become part of the engineering workflow for use cases like bridge inspections and construction progress monitoring, particularly on large projects where there are economies of scale. Of course, bridge inspectors will still want and need to bring their hammers and perform in-person inspections, but drone technology (often coupled with digital twins) will increasingly become a necessity in the toolkit to improve safety and speed inspection times.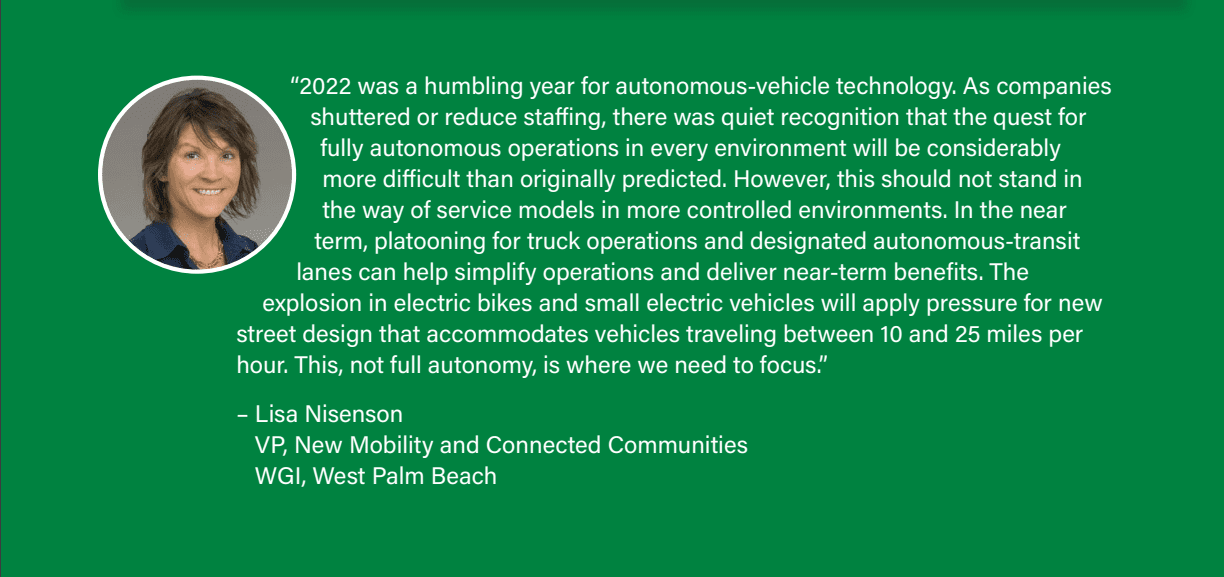 Digital Twins
Digital twins serve as a bridge between the physical and digital domains. They rely on historical and real-time data, as well as machine-learning models, to provide a virtual representation of physical objects, processes, and systems.
By 2026, the global digital twin market is expected to reach $48.2 billion, and the AEC industries are integral to this growth. Everything from buildings, bridges, and parking structures to water and sewer lines, roadways, and entire cities, are ripe for reaping the value of digital twins. For owners and operators, the digital twin provides an up-to-date virtual model they can view anytime from anywhere, with visibility into how their assets are performing including past, present, and future indicators.
In 2023, due to their cloud-based, platform business model, possibilities will open up not only for operations and maintenance services around core digital twin models, but for value-added digital services wrapped around these twins such as visualization, collaboration, physical and cybersecurity, data analytics, and AI-enabled preventative maintenance.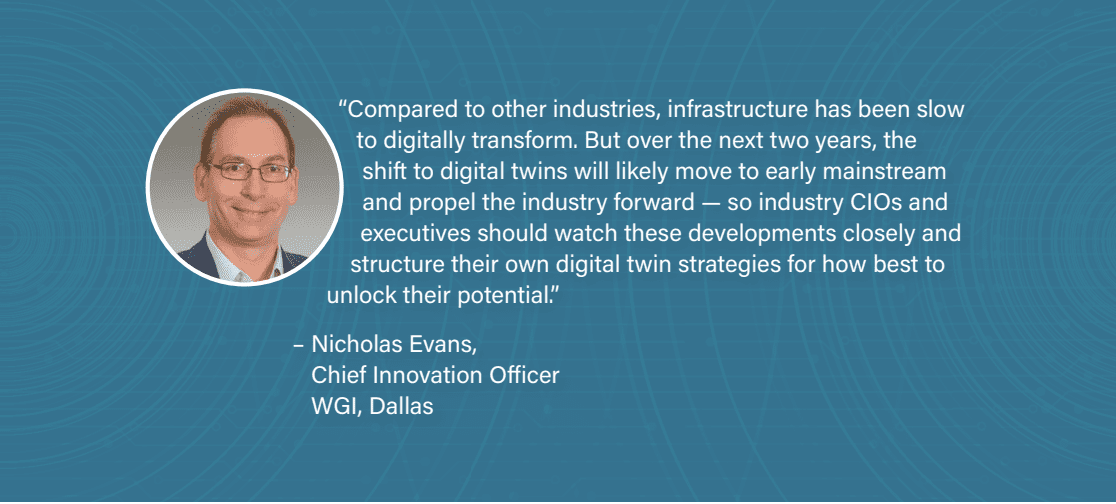 Predictive Analysis
With disruption moving from the exception to the norm, predictive analytics becomes increasingly important for cities and communities to prepare and react quickly to whatever comes their way — whether opportunities, or challenges, or even catastrophic events. It enables them to make faster, more accurate decisions, reduce the latency for response, and optimize operations in real-time.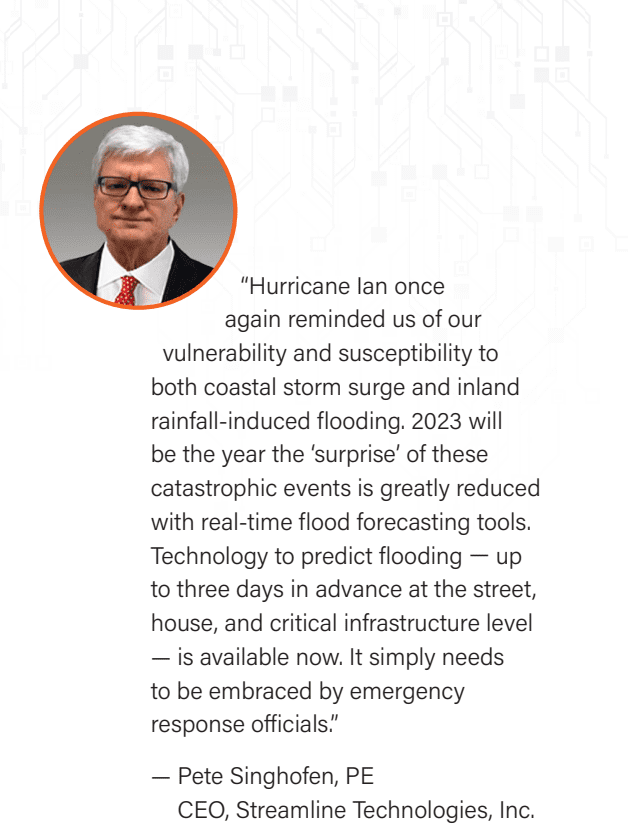 In 2023, per our "Intelligent Insights" theme, we expect leading organizations will utilize predictive analytics, often in combination with AI/ML and data acquisition techniques such as lidar and
photogrammetry, to make intelligent decisions related to asset performance like predictive maintenance and defect analysis, and emergency preparedness such as real-time flood forecasting.
Lidar (Light Detection & Ranging)
Lidar (light detection and ranging) doesn't appear in typical strategic technology trend reports, but for the infrastructure industry, it's a powerful weapon in the arsenal of AEC firms and their clients for surveys of physical Infrastructure. It captures a 3D point cloud of the environment, such as a building, bridge, or street, and for inspections of assets like pipelines, telegraph poles, and railcars.
In 2023, lidar data will be used in innovative ways to feed and train AI models so that features of interest can be quickly and accurately extracted. Spending on lidar is expected to reach $2.8B by 2025, fed by environment, corridor mapping, meteorology, urban-planning applications, and the more recent quest for lidar to provide a digital copy of the physical world for digital twins.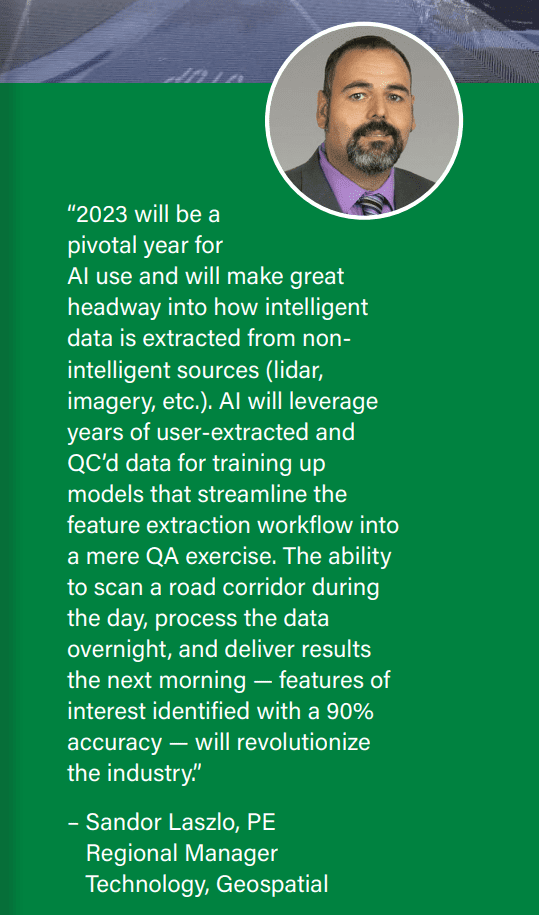 Platform Business Models
Platform business models go by a variety of names but are essentially business models underpinned by a software platform helping connect buyers and sellers, or helping aggregate a variety of services from a number of third-parties into an innovation ecosystem.
For decades in the AEC industry, work was performed on a project-by-project basis using CAD and BIM software to create specific 2D and 3D deliverables for clients. With advances from major software providers such as Autodesk and Bentley, the industry is now moving further towards integrated suites of tools and industry clouds, opening the door to new business models and more collaborative ways of working.
In 2023, we believe that digital twins will help to further popularize platform business models — i.e. industry clouds — and benefit all stakeholders in terms of far greater coordination and collaboration. The parties who govern these platforms will stand to benefit the most by establishing the platform's ground rules for operation.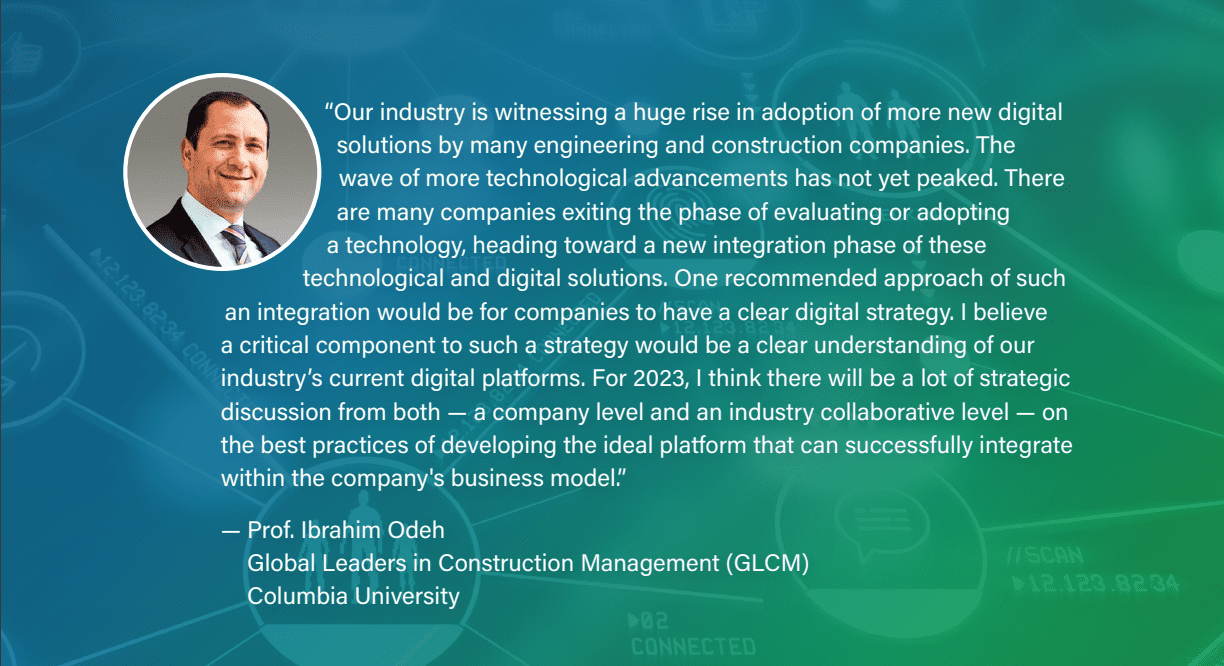 Hyperautomation
According to Gartner, organizations utilizing hyperautomation (i.e., a holistic approach to automation across all tools and processes) across core internal and client-delivery processes will see up to 30% enterprise-wide operational cost savings by 2025.
For AEC firms, this will provide a powerful means to improve efficiencies and reduce costs across their often manually intensive workflows.
In 2023, we'll continue to see most organizations deploying automation solutions in a piecemeal fashion. Those that take a hyperautomation approach will reap the most benefits by
exploiting and orchestrating the full spectrum of techniques from simple scripts, to chatbots, to robotic process automation, and AI. Most importantly, rather than simply automating an existing inefficient process, they will simultaneously re-design their business processes to take the grit out of the system and maximize their human capital.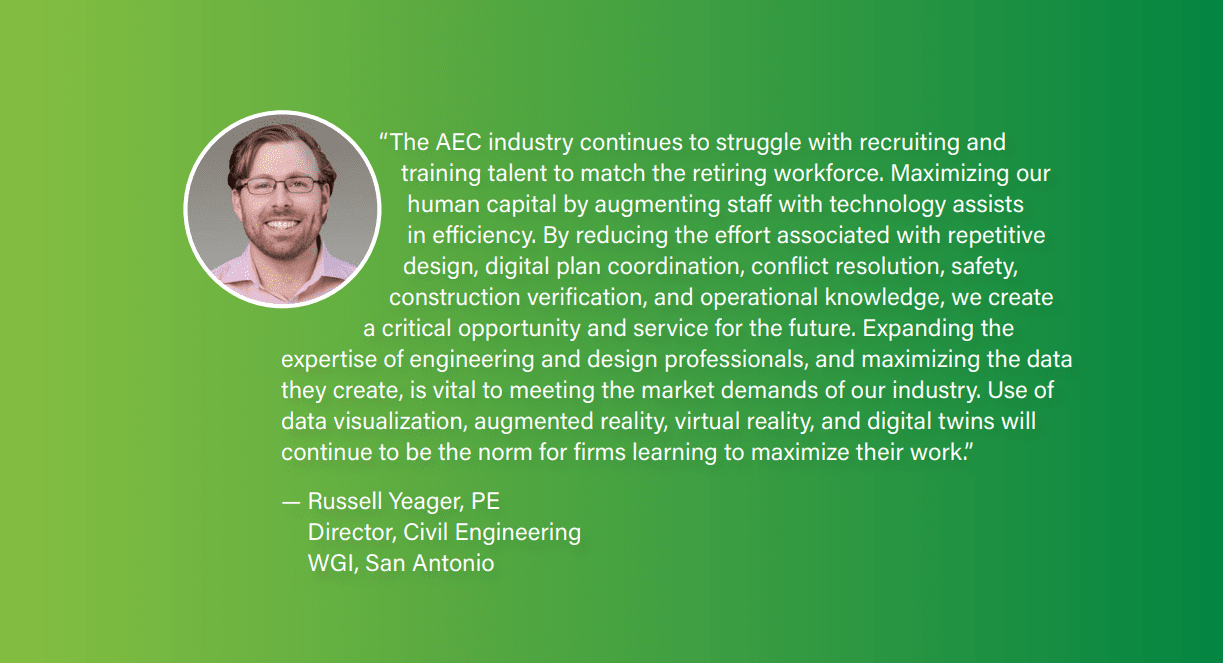 Metaverse
Despite being one of the hottest buzzwords, only 3% of our survey participants cited it as having the most business impact in 2023. Even with promising market activity, such as Autodesk partnering with Epic Games to bring more real-time, immersive collaboration to the industry, the technology as a whole is still in the early adopter stage — especially in the AEC industry.
According to Autodesk CEO, Andrew Anagnost, one of the key barriers to adoption has been on the hardware side, in terms of the current iterations of AR and VR headsets. In 2023, as this barrier comes down, it will help industrial metaverse applications and use cases start to climb out of the trough of disillusionment and into productive use on a massive scale.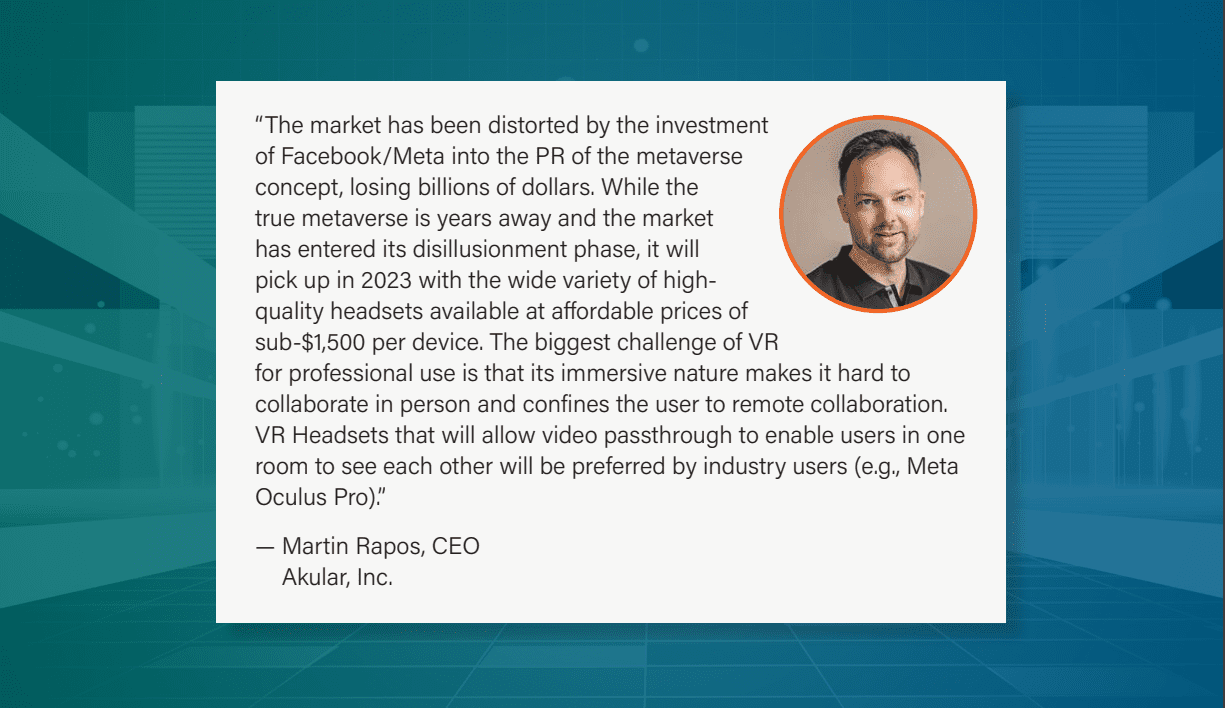 Conclusion: Enabling Adaptability for Cities and Communities
Overall, these strategic technology trends will be key ingredients as city planners, contractors, consultants, and CXOs prepare their future visions. They must purposefully architect and design their communities to support common goals such as economic growth, quality of life, health and wellness, diversity, equity and inclusion, safety and security, mobility, efficiency and resilience, and sustainability.
While we've listed our picks for the 10 Strategic Technology Trends for the Infrastructure Industry in 2023 in this report, there is no hard cutoff, and there are many other technology trends we're excited about, and we have not discussed.
These continue to mature and evolve rapidly, and may well appear in next year's report. Some technologies (and otherwise) worth keeping in mind include staples such as BIM and "client relationships," as well as more nascent technology trends like blockchain, ChatGPT, sustainable technology, and quantum computing.
By working on the strategic themes of "Digital Infrastructure," "Automation Everywhere," "Intelligent Insights," and "Innovative Ecosystems," we believe that organizations can incorporate intrinsic agility in their designs and operations — so future solutions can adapt in real-time to ever-changing goals.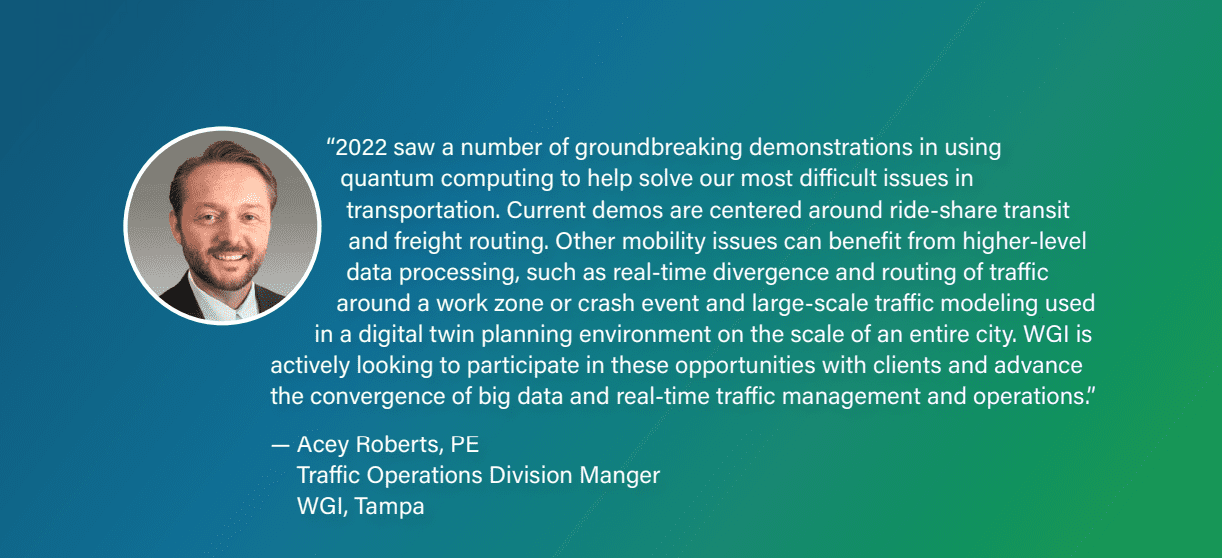 This is exactly where these strategic technology trends fit in. When applied in combination with one another, they are creating a digital infrastructure enabling the adaptability that's needed for cities and communities to be ever-responsive to opportunities, as well as to challenges such as continuous waves of both digital and physical disruption.
We are confident that these 10 strategic technology trends will reshape and transform the Infrastructure and AEC landscape in 2023 and beyond
Are you ready to embrace disruption?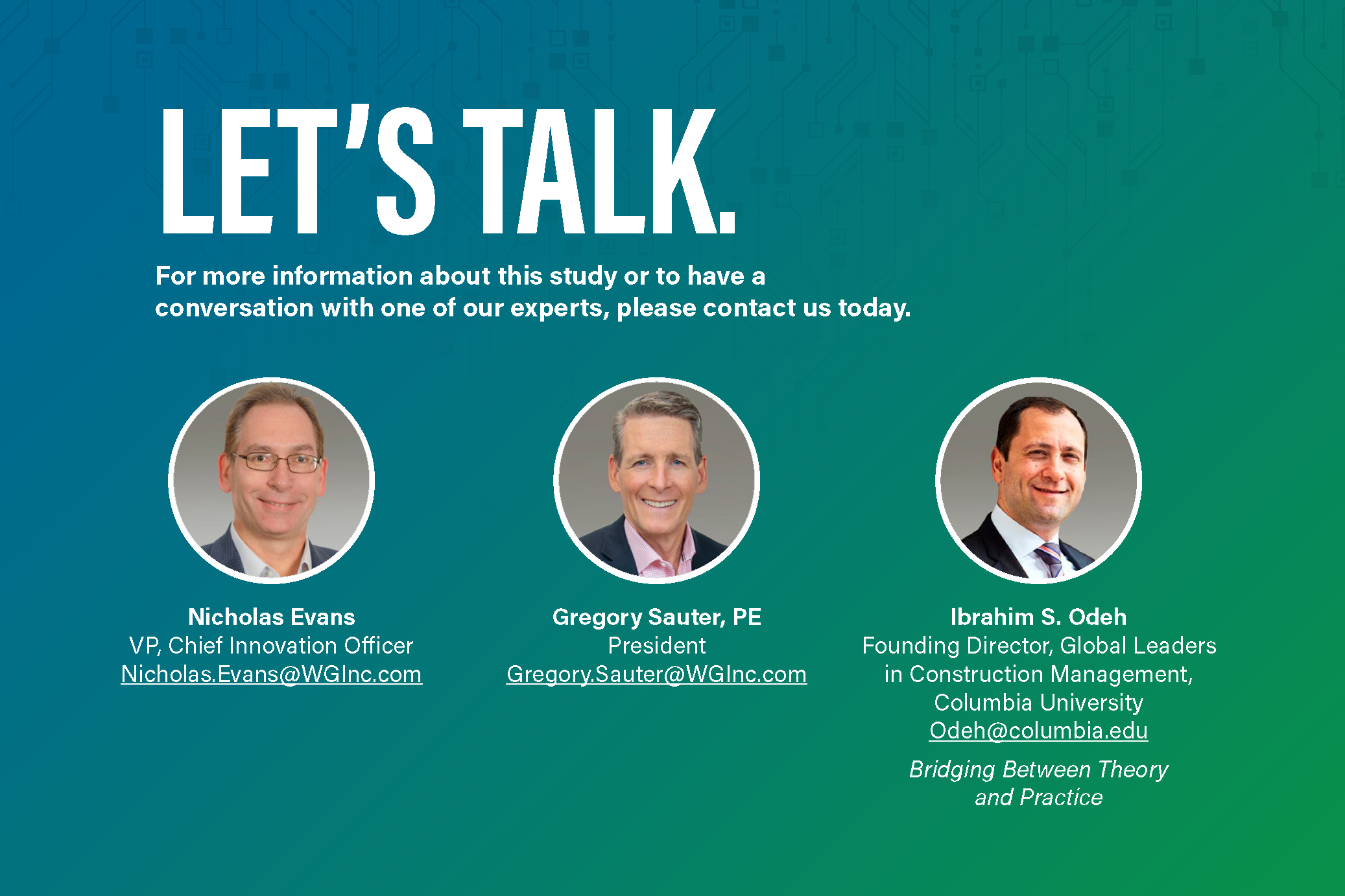 Contact our Experts today, and let's discuss how we can integrate these revolutionary trends into your business model.
Learn more
about our
services
You've been searching for a place like WGI. We look forward to meeting you soon.