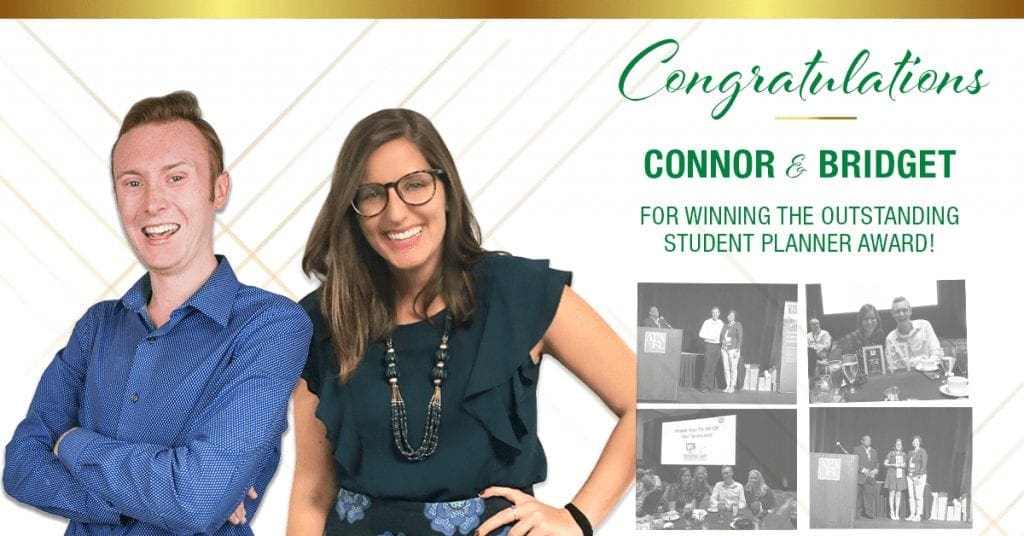 WGI proudly announces that two of its summer 2017 interns – now full-time planner associates with the firm – won the American Planning Association (APA) Florida's, "Outstanding Student of the Year" awards at its recent annual conference.
Bridget Callea, a graduate of Florida State University (FSU) who joined us full-time in May 2018 in the Land Design Services Division of our Tallahassee location, even wrote a blog post in WGI's Journal about transitioning from intern to employee. She was nominated by Jeff Brown, professor and chairperson, Department of Urban and Regional Planning at FSU.
Connor Bailey, a graduate of Florida Atlantic University (FAU) also joined WGI full-time in May 2018. He is working as a planner in our West Palm Beach Land Design Services Division. Connor was nominated by the School of Urban and Regional Planning with strong letters of support from WGI's Lynn Zolezzi and Ali Palmer, representing the Treasure Coast APA Section.
The Student Planner of the Year recognizes a graduate student of a Planning Accreditation Board-approved planning program for outstanding achievement during the nominee's academic career in planning. In addition to requiring a nomination from an approved planning program (and they may not self-nominate), these students are already members of APA Florida and attended graduate school at least a year prior to their nomination.
The comprehensive review criteria include, among other things, demonstrated support of their chosen profession; academic achievement proving comprehension of planning principles and processes; and participation/leadership validating their effectiveness, potential, and enthusiasm for excellence.
Learn more
about our
services
You've been searching for a place like WGI. We look forward to meeting you soon.