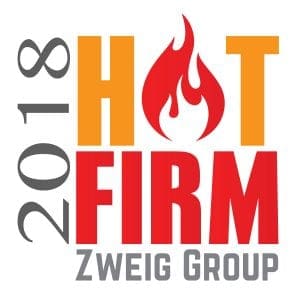 FAYETTEVILLE, Ark. (May 23, 2018) –Zweig Group is proud to announce the release of the 2018 Best Firms To Work For Awards, a prestigious list honoring the creation of outstanding workplaces at architecture, engineering, and environmental consulting firms.  These firms have been recognized for their ability to inspire their teams to perform at the highest levels and create an environment where their people feel valued, can make a difference, and can clearly see their contribution to the overall mission and success of the firm.
The winners will be celebrated at the Hot Firm and A/E Industry Awards Conference held this year in Dallas at the Fairmont Hotel.  Firms who applied for this prestigious ranking were evaluated comprehensively on firm culture, workplace practices, employee benefits, employee retention rates, professional development, and more – both from the management and staff's perspectives. Awards were given in the categories of architecture, civil engineering, environmental, multidiscipline, surveying, and structural engineering.
"This year was the most competitive year we have had for Best Firms To Work For! With both first-timers and legacy firms in the mix, participation in this award increased for the third year in a row. This is such an important designation right now because the hiring market is so competitive and these firms really stand out from the rest of the industry," said Kyle Ahern, Awards Manager, Zweig Group.
The Zweig Group ranked WGI #11 on its 2018 Hot Firms list and #23 on the 2018 Best Firms to Work For list.
The complete list of winners can be accessed here: https://zweiggroup.com/best-firms-to-work-for/
More information on the Hot Firm & A/E Industry Awards Conference here: https://zweiggroup.com/conference/
Learn more
about our
services
You've been searching for a place like WGI. We look forward to meeting you soon.