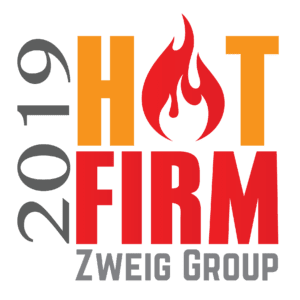 FAYETTEVILLE, Ark. (May 31, 2019) – Zweig Group is proud to announce the winners of the 2019 Best Firms To Work For Awards, which honor outstanding workplaces at AEC firms. These firms have been recognized for their ability to inspire their teams to perform at the highest levels. They've created an environment where their people feel valued, can make a difference, and can clearly see where their contribution fits into the overall mission and success of the firm.
Firms were evaluated comprehensively on firm culture, workplace practices, employee benefits, employee retention rates, professional development, and more – from both management and staff perspective. Awards were given in multiple categories based on firm size and discipline. This is the first year Zweig Group has categorized by firm size.
Winners will be honored at the 2019 Elevate AEC Conference in Las Vegas, NV, October 2-4 and will be featured in Zweig Group's weekly management newsletter, The Zweig Letter, and Zweig Group's other marketing channels.
"Being named as a national Best Firm To Work For is a powerful statement," said Zweig Group CEO Chad Clinehens. "With recruiting and retention being the number one challenge for AEC firms, this award provides a great platform to promote culture and employee experience, offering these firms a strong competitive advantage."
The Zweig Group ranked WGI #76 on its 2019 Hot Firms list and #23 on the 2019 Best Firms to Work For list. WGI has been awarded placement on both lists for six consecutive years (2014-2019).
The complete list of winners can be accessed here: bit.ly/2019ZGAWARDS
More information on the Hot Firm & A/E Industry Awards Conference here: bit.ly/ELEVATEAEC
Learn more
about our
services
You've been searching for a place like WGI. We look forward to meeting you soon.