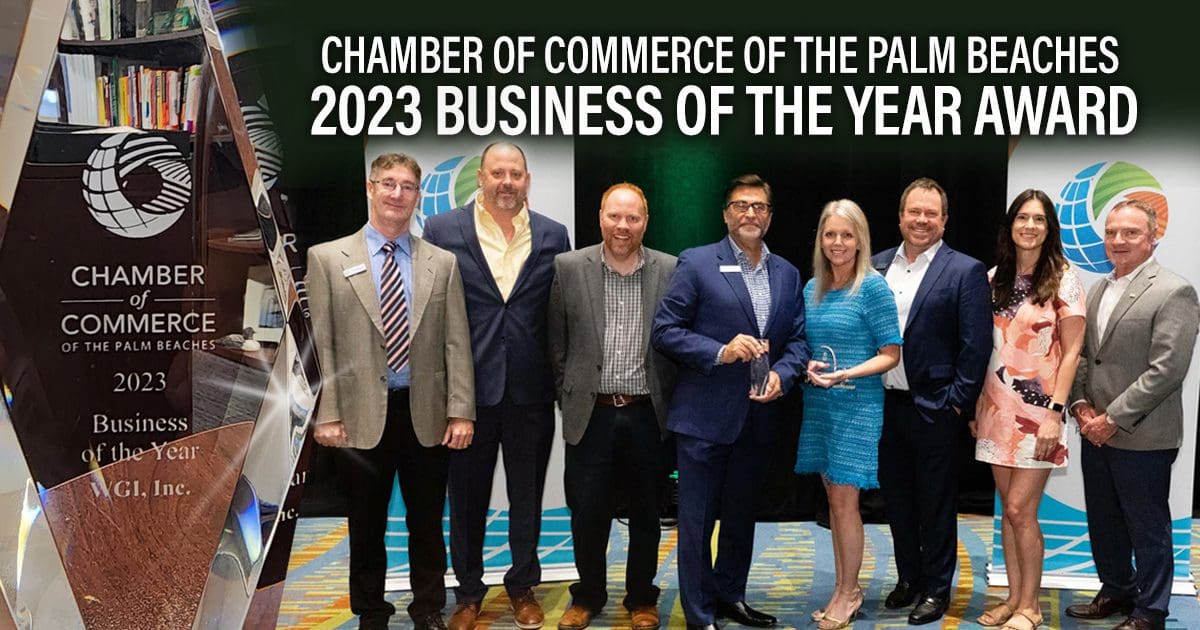 Held at the Palm Beach County Convention Center on Friday, March 19th, the Chamber of Commerce of the Palm Beaches acknowledged the accomplishments of businesses and the impacts they make on their community at the 2023 Business Awards Ceremony. With over 400 people in attendance, businesses and individuals who consistently demonstrate an unwavering commitment to their organizations and professional goals, their employees, and local communities were recognized.
WGI, in attendance with eight associates, was honored to be named the 2023  "Business of the Year," recognizing businesses that:
Have achieved remarkable results and accomplishments within their industry and have moved their company forward.
Exemplifies excellent corporate citizenship by giving back to the local community.
Possesses a corporate culture that enhances the lives of its employees.
The award & recognition acts as yet another testament to WGI's commitment to its core values: Passion for People, Be the Change You Seek, and Commit to Greatness. You can learn more about the Chamber of Commerce of the Palm Beaches and the full suite of business awards categories announced at the 2023 Business Awards Ceremony here.
Let's Transform the World Together
Contact us today, and let's discuss how our passionate team of professionals can apply our commitment to greatness to your next project to help you be a part of the change you seek!
Learn more
about our
services
You've been searching for a place like WGI. We look forward to meeting you soon.