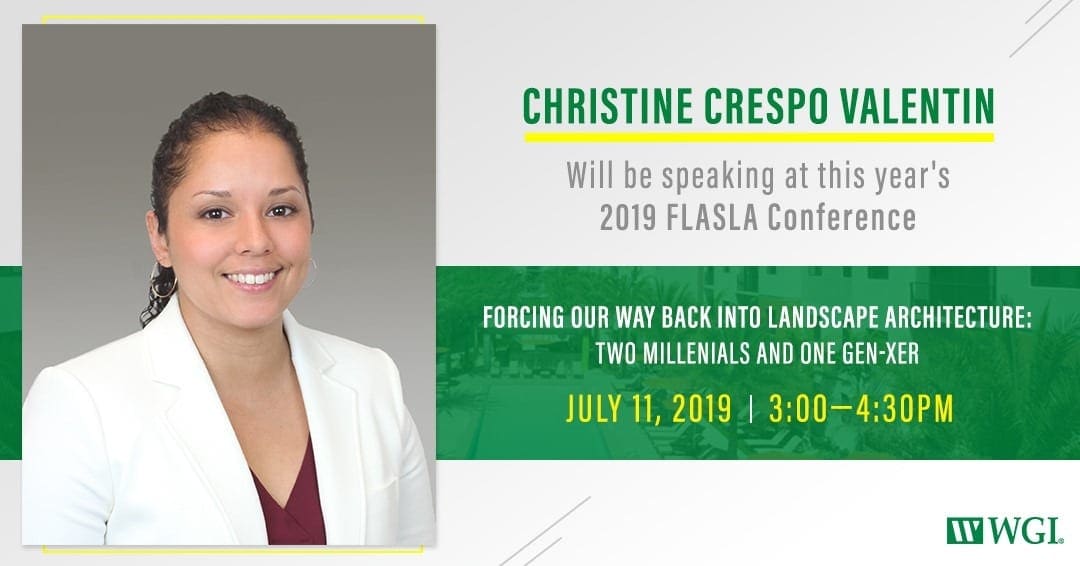 On Thursday, July 11th WGI's Senior Designer, Christine Crespo Valentin will be speaking at the 2019 FLASLA Conference in Orlando, Florida.
The 2008 recession affected young landscape architects in very fundamental ways. Beyond the obvious job loss and financial struggles that come with recessions, WGI's Christine Crespo, along with two other landscape architect colleagues, will share her approach towards obtaining employment, licensure, and the lessons learned along the way. Each persevered towards staying in the profession of landscape architecture by redefining their career trajectory, transferring the skills they learned into other professions and picking up some unique perspectives along the way. These experiences define the young generation of our profession and have parallels to anyone managing employees. Come join the conversation!
Presentation Team Includes:
Emily Henke, PLA, ASLA, Stantec
Christine Crespo Valentin, PLA, ASLA, WGI
John DelVitto, PLA, FLASLA, ASLA, Tampa Chapter Chair, Clearview Design
Learn more
about our
services
You've been searching for a place like WGI. We look forward to meeting you soon.