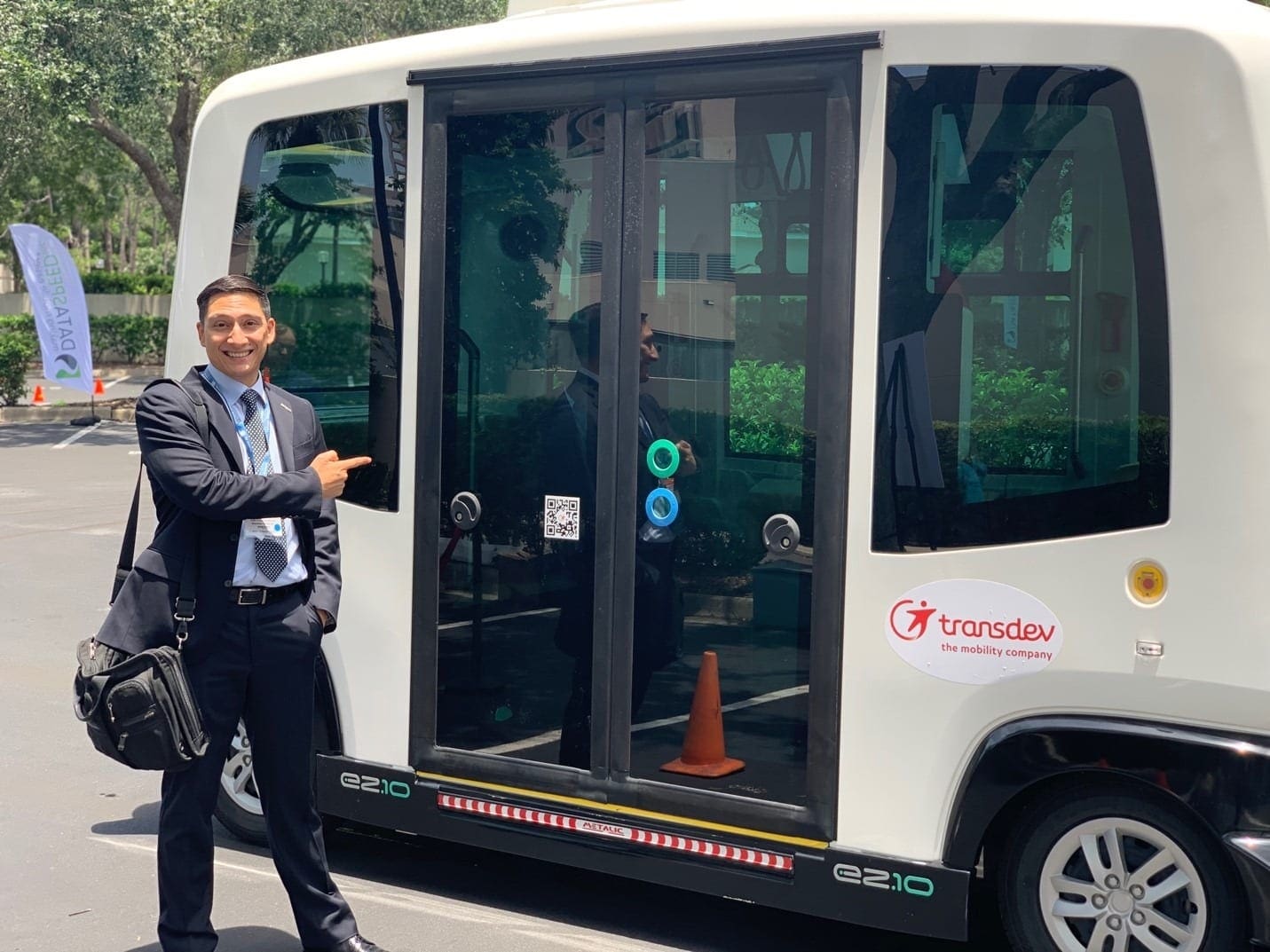 The Marriott World Center Orlando was the site for the 6th Automated Vehicles Symposium co-hosted by the Association for Unmanned Vehicle Systems International (AUVSI) and the Transportation Research Board (TRB). Approximately 1,200 people were in attendance and it was the first symposium since 2015 not to be held in San Francisco. The previous year's "Silicon Valley flavor" was replaced by the "East Coast" public sector flavor, albeit with several private sector sponsors and exhibitors including, automated shuttle vendors and operators.
WGI's Glenn Havinoviski and Valerio Oricchio were also in attendance. Glenn organized a breakout session on the use of dedicated lanes for automated vehicle testing.
The AVS has increasingly become the signature event addressing the state of connected and automated vehicle (CAV) activities in the US. Numerous speakers from the US Department of Transportation gave the event a policy-oriented flavor, as opposed to one that highlighted technology and widgets.
Salient Discussion Topics
The following were the salient discussion topics that recurred throughout the meeting:
The major theme in the plenary sessions was safety. This was emphasized by USDOT speakers as well as by the Uber Advanced Technologies Group (ATG) who discussed their interest in transparency and working with other partners in promoting common standards for operations and safety. This is of particular interest following several well-publicized crashes involving automated Uber demonstration vehicles as well as Teslas with autopilot in operation.
USDOT is heavily promoting their CARMA initiative, involving the development of open-source software for use in automated driving  systems to support cooperative vehicle functions, including vehicle platooning (longitudinal vehicle movements) and collision/intersection warning messages using vehicle-to-vehicle (V2V) communications as well as communication to roadside traffic management systems and devices (vehicle-to-infrastructure or V2I). The newly-developed "CARMA Cloud" will enable AV developers to utilize standardized open-source software that enables vehicles to communicate with pedestrians, bicyclists, and information service providers using vehicle-to-everything, or V2X communications and will enable SAE level three operations (permitting start-to-finish automation for steering, speed, braking, and navigation).
Most automated driving systems at this time continue to be developed independently by the private sector, with little emphasis on cooperative automation between vehicles, particularly vehicles that are developed with automation systems from other vendors.

The majority of demonstrations at the symposium and operational discussions focused on the current "low-hanging fruit", consisting of low-speed (15 mph or less) autonomous shuttles and microtransit services. These involve the use of small electric enclosed vehicles (8-15 passengers) that typically do not include provisions for a vehicle operator or for human intervention. Technically these operate at SAE "level four" (full automation under most conditions) and many of the services utilize dedicated lanes or routes, or travel on a short mixed-flow traffic route where there are few other vehicles to cause interference. Most utilize their on-board sensor technologies to sense pedestrians, bicycles, or other conflicting movements, allowing the vehicles to stop quickly.
Freight platooning (the close spacing of trucks using automation and V2V communications) has become an important area of interest with several states already allowing platoons of two truck. Longer term, the interest is to provide multiple vehicle platoons, and the next iteration of CARMA will include equipping several trucks to operate in a multiple vehicle platoon. With truck driver shortages numbering approximately 150,000 industry-wide, USDOT believes automated freight platooning could be an "early winner" as truckers retire and early implementation may be combined with worker retraining into other areas of logistics.
AV's are also being looked at as part of a larger picture for providing micromobility within contained urban districts as well as first-mile/last-mile connectivity to key transit corridors, including fixed-guideway rail transit, bus rapid transit, and express bus services. Automation of private vehicles is of less interest than specialized applications, and due to costs and the continuing development needed for artificial intelligence, the market penetration for AV's beyond autonomous shuttles, truck platooning, and automated ride services is likely going to be well under half the fleet for the foreseeable future. As such, emphasis on communications between automated and non-automated vehicles and continuing emphasis on traffic signal control systems will be essential. However, many types of real-time displays such as dynamic message signs, variable speed limit displays, and lane control signage may become redundant in the coming decades as such information becomes available through V2I communication to vehicle displays and vehicle control systems.
A major issue in recent years has been the emergence of competing technologies for V2V and V2I communications. One of these, Dedicated Short-Range Communications (DSRC), was largely initiated by the public sector. The other, C-V2X (built around the emerging 5G standards) is mainly being developed by the private sector. An accompanying issue has involved maintaining the dedicated safety-oriented communications frequency in the 5.9 GHz range, in place since the early 2000s as the basis for DSRC. FCC has proposed that the public sector divest itself of the dedicated frequency to address bandwidth and frequency limitations being claimed by telecommunications companies. However, in a keynote speech by FHWA Administrator Nicole Nason, and in presentations by other USDOT officials, the department clearly stated it strongly supports and will fight for continued use of 5.9 GHz as a dedicated transportation communications band devoted to immediate, low-latency safety messaging between vehicles and the roadside infrastructure. However, USDOT will not favor either DSRC or C-V2X, preferring to let the automobile industry and the states determine the way forward.
Breakout Sessions and Areas of Interest
Both Glenn and Valerio attended several breakout sessions that highlighted current activities and emerging practices. In addition to a session devoted to CARMA, other sessions of interest attended by WGI included the following:
CAV Activities in Florida
Florida trails only California and Michigan in the number of CAV initiatives in the state. One of the most notable activities is the Tampa-area Connected Vehicle Pilot (CVP) led by Tampa-Hillsborough Expressway Authority (THEA) in partnership with other local agencies, involving a combination of expressway, express lane, arterial and transit applications, and installation of roadside DSRC equipment and on-board units on ten buses, eight streetcars, and over 1000 vehicles driven by volunteers. Traffic advisory, vehicle conflict, pedestrian warning, and wrong-way warning messages are being communicated to vehicles. Transit priority functions are also being implemented.
Another major activity, led by the Florida's Turnpike Enterprise (FTE) within Florida DOT, involved development of one of the largest test track facilities in the world for testing of CAV technologies, SunTrax. Located between Orlando and Tampa, the $42 million SunTrax complex includes a high-speed test oval that opened this summer, and a 200-acre technology center on its infield along with additional urban and rural road testbeds.
Several other statewide activities are underway, with a focus on implementation as opposed to testing or demonstrations. These include the following:
Florida's Regional Advanced Mobility Elements (FRAME), include freeway parallel arterial routes, include various traffic management and connected vehicle communications elements including transit, freight and signal operations along with pedestrian, drawbridge, signal priority, signal performance measures, integrated corridor management and multi-modal operations and travel demand:

I-75 corridor (Ocala to Marion) – underway
I-4 corridor (Orlando to Tampa, 74 miles, FTE, D1, D5 and D7 involved)
US 41 corridor (34 mile corridor, mainly arterial, in D1)
US 1 coast (113 miles between Key West and Key Largo)

Gainesville Signal Phase and Timing (SpaT) Trapezium (procurement completed, operational in 2020)
SR 434 Connected Vehicle Deployment (contractor selected)
PedSafe Greenways Deployment (contractor selected)
Connected Freight Priority System Deployment (planned)

SR 710 (Bee Line Highway) between SR 706 and the Port of Palm Beach
Combination of V2I and V2V
Partnership between FDOT D4 and Palm Beach County
Utilize basic safety message (BSM) Part 1 and Part 2 to support freight signal priority, cooperative adaptive cruise control, speed harmonization, queue warning, TSP, and incident/work alerts

Palm Beach County North (Including PB Gardens) has developed a CAV master plan involving strategically located hubs for mobility services (CAV, bikeshare, smart sensors, carshare, package delivery, EV charging, smart parking, micromobility, etc.). Starting with existing and planned tri-rail stations
Presentation on Autonomous Florida Working Group, addressing statewide initiatives and activities to promote CAV across the state
Ultimate Urban Circulator (U2C) in Jacksonville – automated transportation services
Connected Infrastructure Initiatives
This breakout served to address potential areas of research and development for tying CAV operation into a regional TSMO structure. Examples include the following:
Integrating vehicle data and system information for traffic control and management on arterials and freeways, expressways, toll roads, road weather data, transit and freight signal priority, and work zone operations
Integrating vehicle data and system information for traffic incident management, emergency operations, connectivity to first responders (including vehicle location and emergency request needs), coordination with healthcare providers for particular injuries, and patient delivery needs for those with particular conditions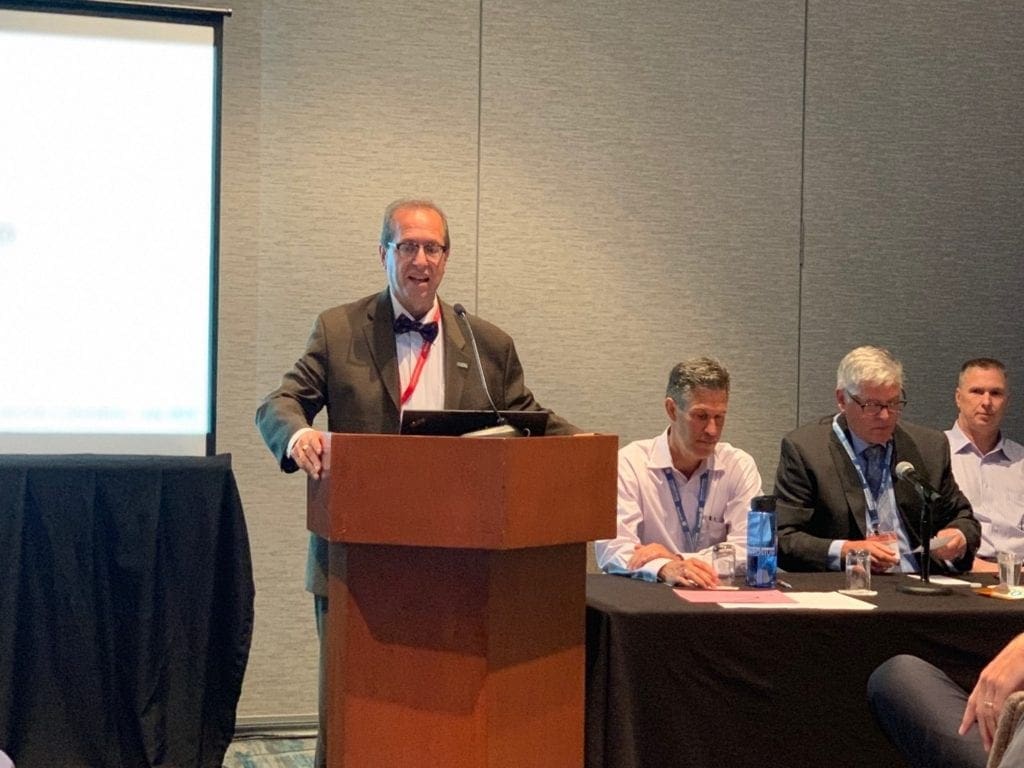 Using Dedicated Lanes for Automated Vehicle Testing and Deployment
Glenn served as one of the organizers for this breakout session serving as a facilitator during the breakout discussions and as a moderator for the last panel which addressed "next steps" and involved several industry practitioners. The panel addressed the examples of where CAV testing took place on both freeway and arterial routes, and their effectiveness as a test bed during off-peak periods when certain facilities like reversible express lanes, are not in service
Additional discussion points included the following:

For actual AV operations (as opposed to testing), it is critical to make sure that their market penetration doesn't have unintended consequences with regard to traffic volumes.
Because the technologies for V2V/V2I are still up in the air, many agencies have postponed making investments in this area. It is critical to make the importance of TSMO and communication network investments to provide enough flexibility to accommodate either DSRC or C-V2X technology.
Additionally, outreach to the public is crucial.
Next steps in the deployment of AV include:

Preparation to collect substantial amounts of data in the future from vehicles as AV's become more common. This will be needed to understand their impacts based on fleet penetration, but will also be critical in order to remotely manage data and strategies for AV operation, especially since AV sensors often cannot assess situational awareness information further downstream, as well as other conditions impacting capacity.
Although future systems may not require as many electronic displays, investments in transportation systems management and operations technologies will be critical in order to provide situational awareness that will benefit CAV's.
Impacts of Automated Vehicles on Highway Infrastructure
This last topic was actually a workshop held following the symposium at the same venue by USDOT, but provided a significant opportunity to understand and comment on what agencies see as the greatest needs and risks associated with supporting automated vehicle operations. In short, the following are key areas and their needs:
Traffic Control Devices

While states and regions may be "compliant" with the MUTCD, the MUTCD itself does not assure uniformity of pavement marking width, contrasts, or use of hash markings, spacing between longitudinal lane markings, raised pavement markers etc., to not guarantee the shade of green used for sign backdrops, nor level/type of retro reflectivity or the type of signal displays and configurations.
Automated vehicles need to understand a broad array of signing standards and displays and the different markings. Providing less "wiggle room" for standards shown in the MUTCD would facilitate development of automated driving systems and reduce crash potential.
Standardizing the design, contrast, and reflectivity for center median barriers, guard rails, concrete walls or steel-rope barriers.
Resolving the issue of ambiguity for work zone markings.

Transportation Systems Management and Operations / Intelligent Transportation Systems

Many technology applications using LED displays such as dynamic message signs, variable speed limits, and other displays are not visible to AVs, nor are the messages always standardized enough to eliminate ambiguity for the automated driving system.
Demand management (including curb management) may be critical due to the potential for increased traffic volumes if personal vehicle movements are replaced in part by circulating automated ride services.
To address changes in traffic flows and patterns, data will need to be collected and utilized. Identifying data requirements, privacy and cybersecurity issues (especially for toll and pricing data), and accessibility to the data will require considerations with respect to data governance, as well as determining the level of advisory messaging and control strategies that are required for an automated vehicle fleet.
Most critically, it is expected that human-driven vehicles and AVs will likely be part of the same fleet for decades to come, even as automated driving systems become more proven and common, and as such traffic signals, traffic management systems, and automated driving systems will need wireless communication capabilities (V2I and V2V) regardless the level of automation. The main differences may be that one type of vehicle requires human reactions while AVs may require a similar reaction from the automated vehicle.
New performance measures may be needed to reflect changes to overall mobility.
Automated vehicles, roundabouts, and pedestrians may not mix!
Parking management – compatibility with AV self-parking systems, provision of real-time parking data – display VS. transmitting of V2I data to AV
Demand management – consideration of preferential treatment for AVs, shared AVs, freight vehicles for parking, lane use, and access into specific zones

Multi-modal (including transit, bicycles, and pedestrians)

Automated driving systems have not standardized their responses/reactions to bicycles and pedestrians. Outside pedestrian/bicycle crossing zones, AVs may not be sufficiently "trained" to recognize the vulnerable road user (for example, a pedestrian stepping out into the street)
Sensors that enable communication of bicycle/pedestrian information, either from the roadside (V2I) or directly from bicyclist/pedestrian smartphones (V2X), would be essential to augment the on-board vehicle sensor data to minimize the risk for vehicle-bicycle or vehicle-pedestrian incidents
Address impacts of curb-related changes for pick-up/drop-off zones and freight access on bicycles and pedestrians
Data collection and simulation activities to address pick-up/drop-off and accessibility are needed in order to determine the feasibility of a consolidated "mobility hub" (which consolidates pick-ups, drop-offs, and interfaces with public transit and micromobility.
Address maintenance costs for strict separation of modes – the complete street concept would require AVs to be in segregated lanes from other modes/parking

Physical Infrastructure/pavement

Address pot holes, rutting, edge wear
In-set of manholes within pavement
Pavement color and grade uniformity
Finally, per AASHTO's survey of 54 agencies, 61% of agencies consider themselves either "unready" or "very unready" for automated vehicles. Only 15% consider themselves "somewhat ready". Nobody considers themselves "very ready".
Learn more
about our
services
You've been searching for a place like WGI. We look forward to meeting you soon.