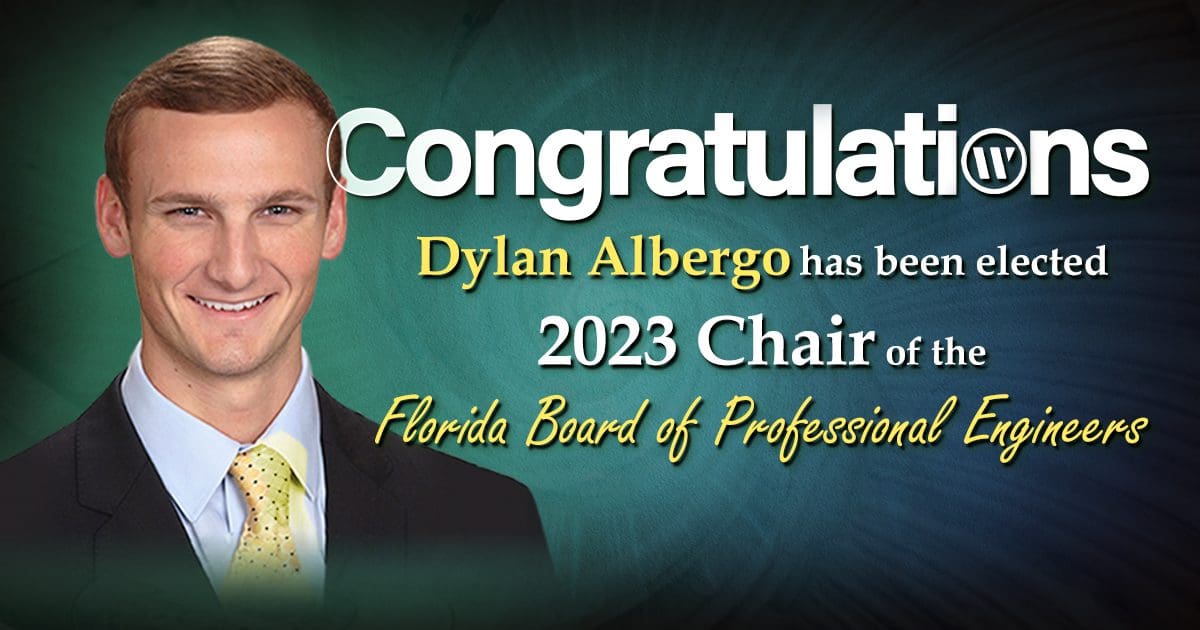 Read this article as it originally appeared on fbpe.org here
Dylan Albergo, PE
The Florida Board of Professional Engineers elected WGI's Dylan Albergo, PE, as its chair for 2023, and Pankaj (P.J.) Shah, PE, as its vice chair. Mr. Albergo succeeds Scott Drury, PE, who served as chair in 2022.
As a part of WGI, Mr. Albergo specializes in bridge design and is responsible for providing project management, technical expertise, and delivering on complex infrastructure projects.
Appointed to the Board in 2018, Mr. Albergo is chair of the special inspector rules committee and serves on the application review and the FEMC operations committees.
He holds a Bachelor of Science degree in civil engineering from Florida State University and a master's in civil engineering (with a structural emphasis) from the University of Florida.
Dylan lives in Tampa with his wife and newborn daughter and is an active member of the First Baptist Church of Tampa. He sits on the boards of Walking With Warriors, supporting high-risk public servants, and the Faith Action Ministry Alliance, serving the local community.
With almost 44,000 active licensed engineers in the state of Florida, FBPE is committed to protecting the interest of public health and safety by properly regulating the practice of engineering in the state.
Albergo earned his bachelor's degree in civil engineering from Florida State University and his master's degree in structural engineering from the University of Florida.
His position on the board has provided great exposure for WGI and has been a valuable resource for the company in terms of updates for new rules and guidance for licensure. Congratulations Dylan!
Learn more
about our
services
You've been searching for a place like WGI. We look forward to meeting you soon.