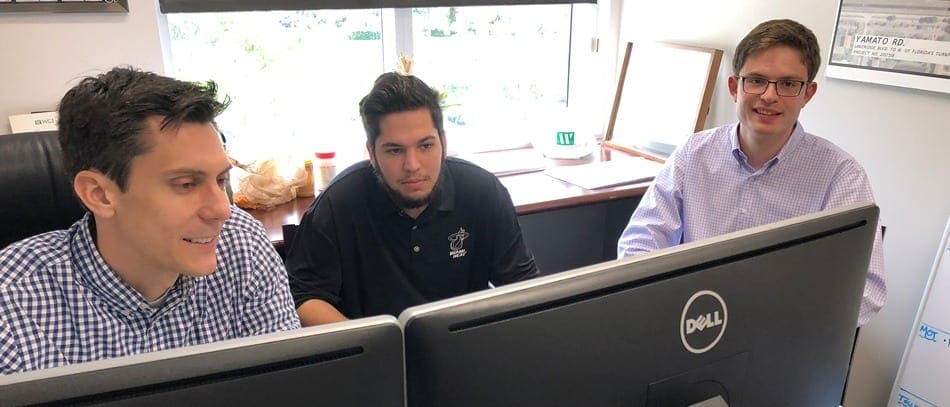 WGI has a robust and competitive paid internship program for college students. Our summer program provides a well-rounded learning environment that enhances classroom education with hands-on experience, working alongside leaders in a variety of disciplines, including civil engineering, environmental services, survey, planning, landscape architecture, structural engineering, and creative services.
William Tillman and Michael Hunter, interns working in WGI's Transportation Division, shared their experience in the everyday life of a WGI intern.
William Tillman – Roadway Intern
"From the first day at WGI, I was exposed to the Homestead Extension of Florida's Turnpike (HEFT) project. By helping with various bits and pieces of this massive project, I learned that reconstructing a major highway requires a vast amount of time, skill, and detail.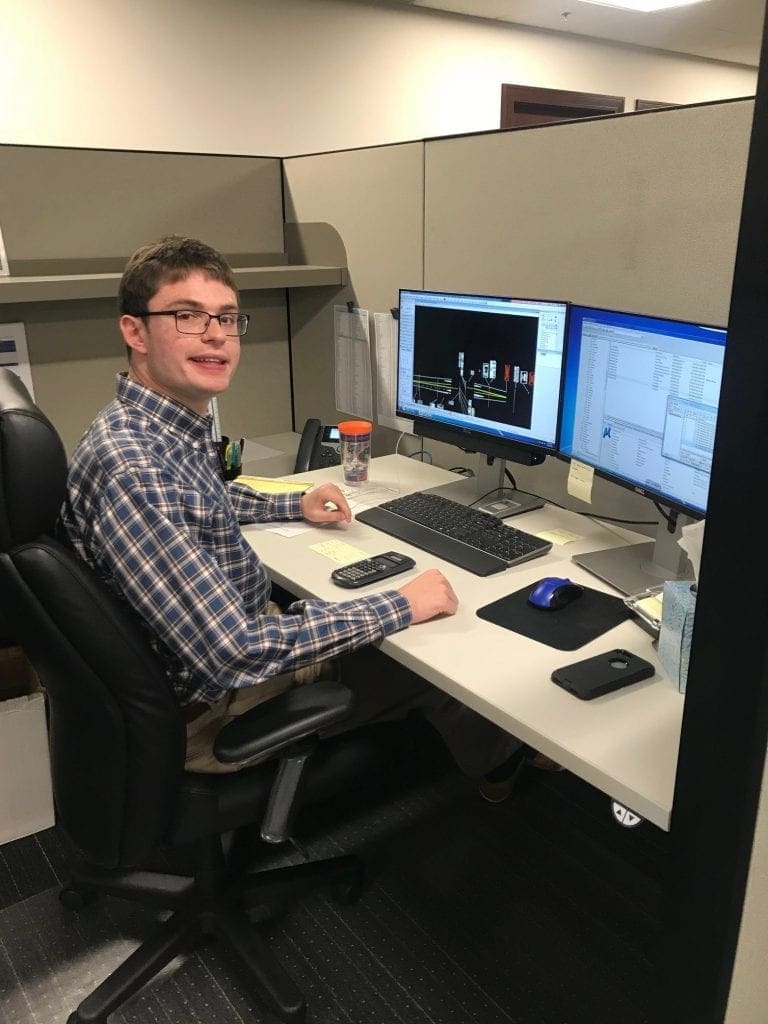 "My first major assignment related to the HEFT project involved editing cross sections for the entire six-mile stretch of highway. These cross sections were created at every station (or 100 feet) along the proposed highway, showing what the road would look like if someone cut through it with a giant knife. The entire project featured over 300 cross sections, containing everything from cables to pavement superelevations. Prior to WGI, I assumed that someone simply flattened the ground, smacked asphalt on top of it, and opened the road to traffic. Looking over hundreds of cross sections made me realize that designing a major highway involves extreme detail.
"Personally, the most interesting assignment I've worked on so far consisted of calculating the quantities of materials required to construct the redesigned HEFT. To do this, I used a MicroStation model of the entire stretch of road. I then created polygons and lines in order to represent where specific materials would be placed. The values I calculated show that the HEFT project will require over nine million square feet of fresh pavement and miles of concrete barrier.
"As I continue my summer internship with WGI, I expect to remain involved with the HEFT project in a variety of ways and am excited to see how it turns out once construction is complete."
Michael Hunter – Roadway Intern
"I take my internship seriously, as it gives me the opportunity to learn while doing important work. Coming into this internship, I had no MicroStation experience and found the program to be extremely intimidating. However, I now use it every day, so I am comfortable with the software and have a better understanding of how it works. It is incredible to see how far I have come and how much I have learned in such a short period of time. The majority of my time I have spent on the HEFT project.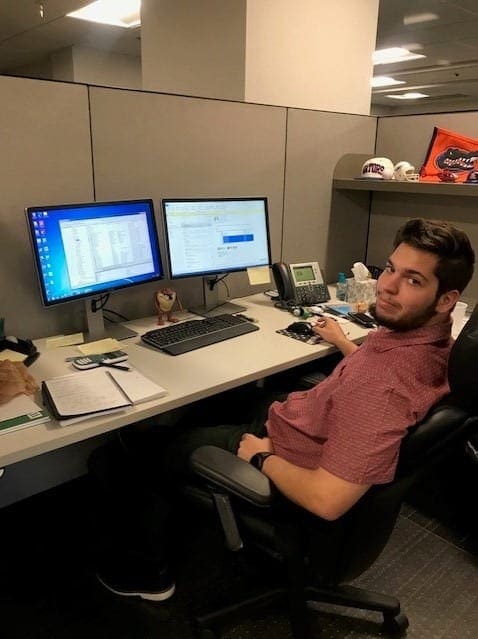 "I began by learning about the horizontal and vertical geometry of the road during the quality control process, continuing onto superelevation, cross sections, cross slopes, and quantities for roadway, signing, and traffic control. I find everything that I do here to be fascinating, as it really makes me think about how the slope of the road affects drainage and how everything must follow a certain procedure to ensure all requirements are met.
"The opportunity to get a full picture of the process on such a large project is amazing because you really get an idea of what goes into each aspect of it. I was surprised to find out that over nine million square feet of asphalt will be used on the HEFT job in just a six-mile range. I am amazed by the things that other people in the office see as normal everyday office work. There is so much work that goes into making a road and most people don't realize what needs to be done.
"My internship is a lot of intensive work, but I find it fascinating to the point that it doesn't feel like work. The office environment is so comfortable I can ask anyone for help if I need it. Even if I am not working on the same project as someone else, they will still take the time to look at what I'm doing and make sure that it's correct. I also enjoy looking over the shoulder of people working on other projects to learn what they are doing.
"To learn as much as possible about WGI, I read the notifications sent out by the company, such as when we win a bid on a major project. It keeps me up to date with what the company and the people within the company are doing. It is exciting to see so many young engineers doing such great work. I am happy to assist in the process as much as possible because I realize there is so much to learn.
"After learning so much from this internship, I cannot look at Google Maps without thinking about creating cross sections, project layout sheets, plan sheets, profile sheets, signing and pavement sheets, etc. Overall, I would say that having this internship will help me focus on what topics are important when I go back to the University of Florida. I could not be happier gaining this invaluable experience with WGI."
Learn more
about our
services
You've been searching for a place like WGI. We look forward to meeting you soon.