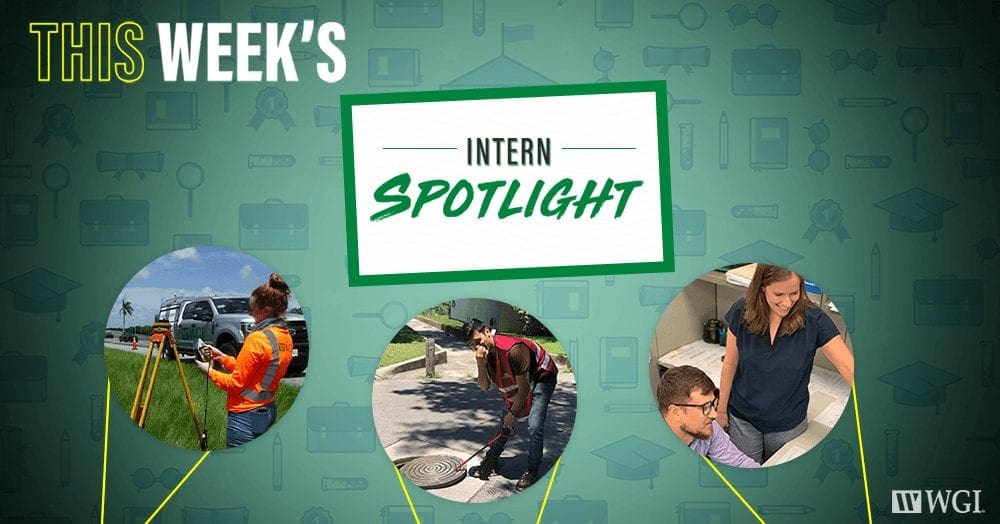 Our college internship program provides a well-rounded learning environment that serves to enhance classroom education with hands-on experience. Our program offers interns the opportunity to obtain valuable experience working on real projects for WGI's private and public clients.
In this week's spotlight, we check in on three of our interns who are gaining experience in the field and learning from their peers in the office.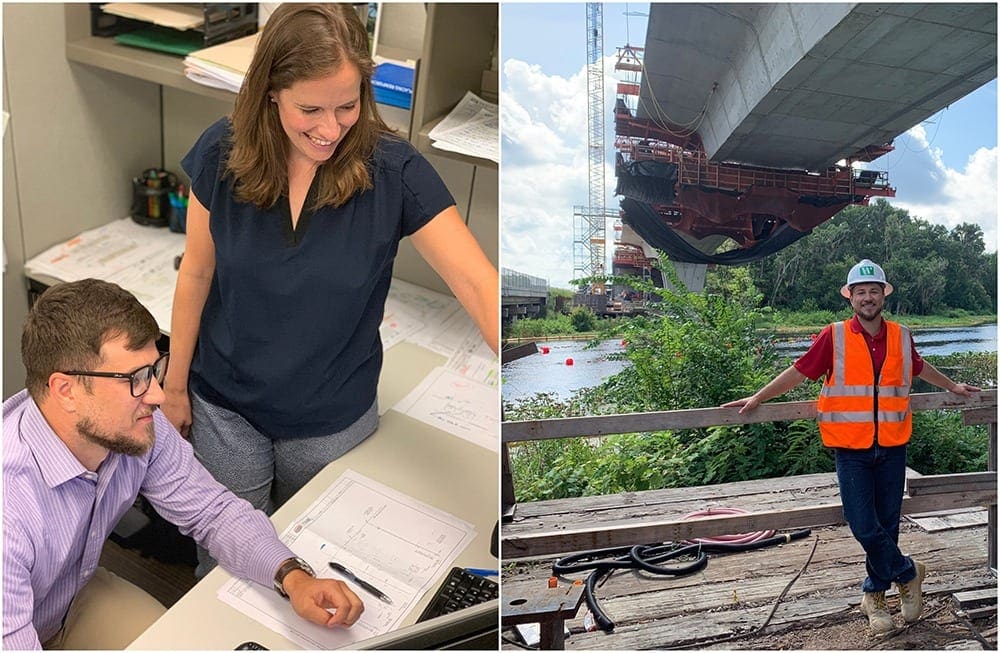 Meet Thomas Lutza. Thomas is currently attending the University of Florida and is spending the summer with our Structural Solutions Division in Jacksonville, Florida. Thomas is receiving guidance from Project Engineer, Sarah Moore relating to footing, pile, and pier alignments for a proposed interstate bridge expansion in Jacksonville. Thomas also visited the site of the Wekiva 6 design-build project that is currently under construction.
"Already in my first month at WGI I have been exposed to a diverse array of engineering and design applications. I have been actively involved with preparing plans for a series of bridge widenings that are located along a route I frequently travelled in my commute from Gainesville to Jacksonville, FL. There is a lot of knowledge at WGI and it's exciting to feel a part of the team." – Thomas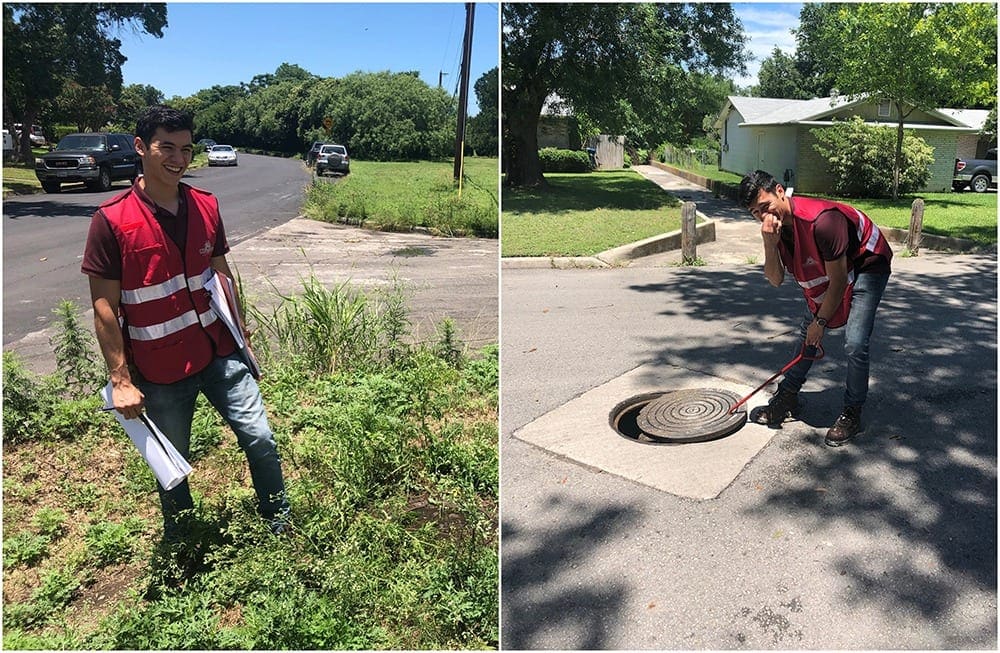 Meet Joshua Allen. Joshua is currently attending the University of Texas at San Antonio and is spending his internship with the Civil Team in our San Antonio, TX office. Joshua was on a site visit where he was responsible for inspecting multiple sidewalks and manholes.
"I've had the pleasure to learn from and work alongside great individuals to see what really goes on in our municipal sewer pipes. As a part of the team overseeing a project of the Sanitary Sewer Overflow Reduction Program, given to us by the San Antonio Water System, I've had an eye opening experience to see and be a part of the solution to our older sewer segments. It's been a great summer working alongside lively people in such an inviting work place!" – Joshua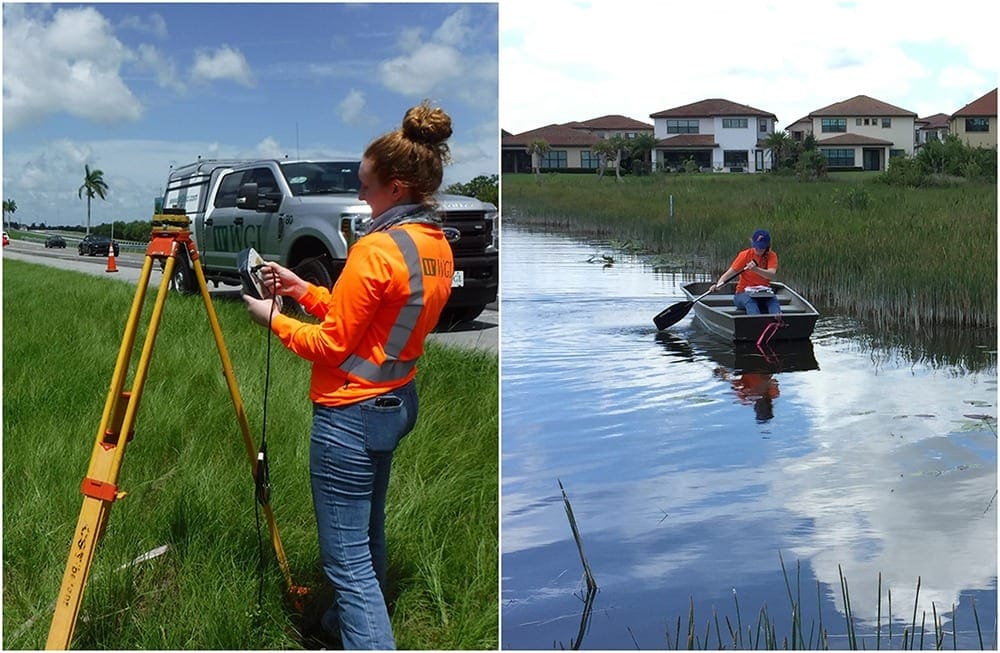 Meet Georgia Brooks. Georgia is currently attending the University of Florida and has returned to WGI for her 2nd consecutive summer internship. Georgia has been spending each week of her internship with a different division in order to discover the career path she has the most passion for. Georgia spent this past week with our Geospatial Team and got some first-hand survey experience.
"Through my experiences at WGI I've been able to set clear goals and gain clarity on how to surpass them." – Georgia
Have you recently graduated or are you looking to gain real-world experience before you graduate? Then WGI is the right place for you. Visit our intern website to get a better idea for what our interns are doing on a daily basis here.
Read more about our college internship opportunities and recruiting here.
Learn more
about our
services
You've been searching for a place like WGI. We look forward to meeting you soon.