Webinar Recap: 2022 Parking Study and Commentary
Our latest webinar session featured a record-setting number of attendees who were all eager to hear our parking experts discuss the in-depth methods used for the collection and compiling of the data that goes into WGI's Annual Parking Structure Construction Cost Study

In the latest session of our Webinar Series, Rob McConnell, PE, and Raymond Smith, PE, discussed the methods by which they collected, compiled, and analyzed the parking construction cost data from hundreds of parking structures of different sizes, scopes, and locations.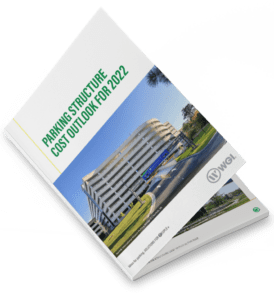 A record number of participants from across the country tuned in to this informative webinar to gain insight into the process of collecting, analyzing, and compiling the crucial data that goes into WGI's annual in-depth parking economic forecast and cost outlook.
During this webinar, Rob and Ray answered a multitude of questions from attendees. A developer who is planning to build a parking structure in 2022 or beyond is going to want to hear what they had to say regarding:
How much does it cost to build a parking garage in 2022?

Does geography play a role in parking garage costs?

What are cost drivers, and how do they impact the costs when building a parking structure?

How will inflation and infrastructure spending affect the cost of building a parking garage?
Check out the full webinar video recap below:
With over 30 years of experience in parking structure planning and design, WGI has a team of specialists ready to assist you. Contact our team today before you embark on your next parking project!
Learn more
about our
services
You've been searching for a place like WGI. We look forward to meeting you soon.