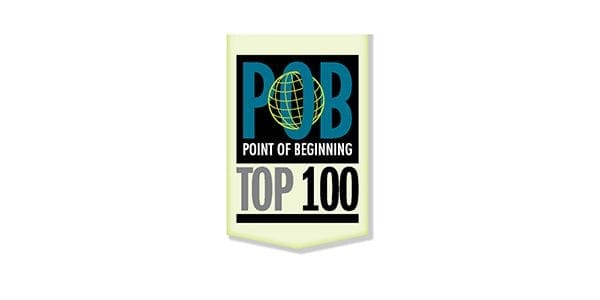 WGI is pleased to announce it won a placement on the Point of Beginning Magazine's "Top 100 Firm Awards 2015 for Surveying, Mapping and Geospatial Revenue." POB ranked the firm #23, honoring WGI as one of the biggest and best geospatial firms in the nation.
Through its research of private-sector firms, the publication rated the award on the basis of geospatial revenue, employee licensing, educational support provided to employees, geographic location, menu of services, current equipment, and projected equipment needed in the next five years.
"We are extremely proud of the recognition of our survey personnel and the scope of work we can accomplish for our clients, often ahead of schedule," said David Wantman, PE, president of WGI. "It is our goal to keep ourselves light years ahead of the pack utilizing innovative methodology and equipment."
WGI offers state-of-the-art surveying technology to clients, optimizing the latest in mobile and terrestrial LiDAR, UAS, and hydrographic survey technology to provide the most accurate and efficient deliverables possible. These unique technology approaches allow WGI to survey complex geometric surfaces with extreme detail in locations that are difficult to access, while maintaining a safe environment for all personnel.
WGI's Survey Division brings in 30% of the total gross revenue for the company and has grown to over 80 of the firm's nearly 300 professionals working out of eight offices throughout the State of Florida. All of the firm's team members are either certified in their field or registered as professionals under Florida licensure, and bring extensive work resumes. WGI's corporate culture encourages employees to maintain active memberships with professional affiliations and associations in order to keep a focus on innovative thought and design whilst approaching new projects with a forward-thinking, problem-solving mindset. WGI currently offers a full menu of services that include: transportation and structural design; landscape architecture; environmental services including assessment, evaluation and impact statements; graphic design; land planning and project development; and land development, providing clients in both the public and private sectors with a one-stop consulting and service experience.
Learn more
about our
services
You've been searching for a place like WGI. We look forward to meeting you soon.