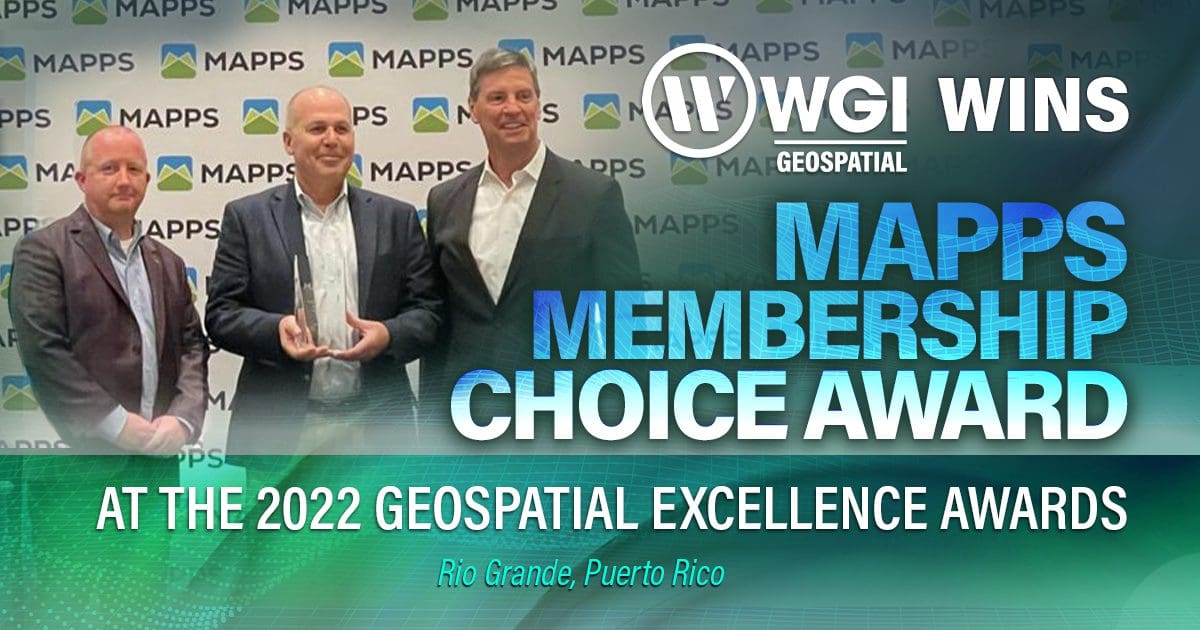 MAPPS Presents the 2022 Geospatial Products and Services Excellence Awards
Celebrating Innovative Companies Making Impact in Photogrammetric Surveying
Washington, DC (February 2023) – MAPPS, the preeminent association of geospatial firms in the United States, honored members with the 2022 Geospatial Excellence Awards as part of its 16th annual awards ceremony on Wednesday, February 22, 2023. The Awards were held in conjunction with the 2023 Winter Conference at the Hyatt Regency Grand Reserve, Rio Grande, Puerto Rico.
MAPPS is dedicated to comprehensively supporting, advocating, and promoting the business needs, technical and professional education, geospatial policy, and legislation interests of its members. MAPPS' member firms are thought leaders in mapping, surveying, photogrammetry, satellite and airborne remote sensing, aerial photography, hydrography, GPS and GIS data collection and processing services, technology development, and geospatial products.
The Geospatial Excellence Awards spotlight and honor the members' important and impactful work addressing planning and design, and construction needs with geospatial solutions. The honored members produce innovative technologies, software solutions, and ancillary services that aid global companies and government agencies in the development and/or restoration of the places critical to growth.
The Geospatial Excellence Awards are presented annually to member firms whose entries exemplify the professionalism, value, integrity, and achievement of the firm's staff as demonstrated over the previous year. A distinguished and impartial panel of judges evaluated the submitted projects from five categories and selected a winner from each: Data Acquisition & Processing, Surveying/Field Data Collection, GIS/IT/Remote Sensing Analysis, Small Projects, and Technology Innovation/Licensed Data Products. Two additional awards are presented for the Grand Award and the Membership Choice Award, selected by the voting membership.
MAPPS presented:
Data Acquisition and Processing: Dewberry, Peninsular of Florida Lidar Data Acquisition and Processing Project
Surveying /Field Data Collection: NV5 Geospatial, Lower Laguna Madre, TX – Mapping Hydrography in Extreme Shallows
GIS/IT/Remote Sensing Analysis: Michael Baker International, Inland Branch Emergency Cleanup Response Program
Small Projects: SurvTech Solutions, Inc., Centennial Bridge Data Acquisition and Processing
Technology Innovation/Licensed Data Product: Stantec, Flood Predictor
Grand Award: Dewberry, Peninsular of Florida Lidar Data Acquisition and Processing Project
Membership Choice:  WGI Geospatial, White Sands National Park 2021, and Woolpert, Mission-Critical Data Delivery for Geohazard Defense
Overall, MAPPS presented seven Geospatial Excellence Awards. To learn more about MAPPS and the Geospatial Excellence Award Program, please visit https://www.mapps.org.
About the Management Association of Private Photogrammetric Surveyors
Founded in 1982, MAPPS is an organization dedicated to the business aspects of surveying, mapping, remote sensing, and GIS. MAPPS's primary objective is to develop strength and unity on matters affecting the interests of its member firms through advocacy, convening, and best practices. As a business association, MAPPS is dedicated to developing the growth of its member firms. MAPPS provides a forum for the advancement of the profession and the promotion of its members by providing valuable interaction with government, academia, and the technical programs of ASPRS, NSGIC, COGO, URISA, GITA, and other professional organizations. To learn more, please visit www.mapps.org
Click here to read the original press release from Lidarnews.com.
Contact WGI's Geospatial experts today to learn how we can help make your next project an award winner. 
Learn more
about our
services
You've been searching for a place like WGI. We look forward to meeting you soon.