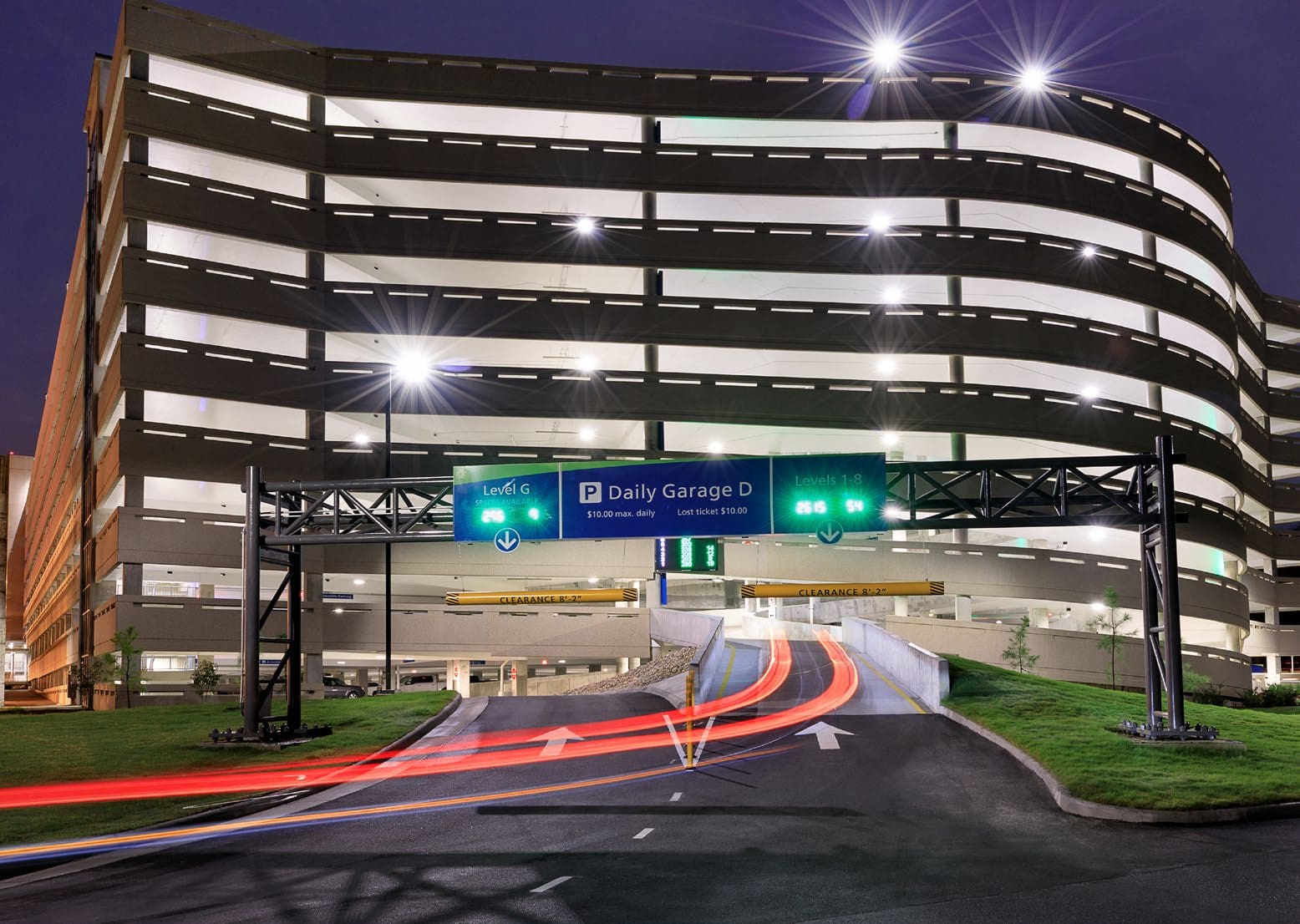 Download this publication as a PDF 
When you think about sustainability, parking for thousands of cars probably isn't the first example that comes to mind. But in the 2020s, parking must be designed with the environment in mind. There are always systems to promote sustainability through design, even in the largest structures.
Norfolk International's new Parking Garage D is the perfect example. Norfolk International Airport is one of America's top 100 busiest airports, with nearly 4 million passengers and nearly 77,000 flights in 2019. Located in a city that's perhaps better known as the home port of the U.S. Navy's Fleet Forces Command, Norfolk International Airport is also a powerful economic engine for the region, generating over 17,000 jobs with a payroll of $775 million, and total economic output of $2.2 billion in 2019.
Yet, that's only part of the story. The airport is located in one of the most scenic, environmentally important parts of the nation, situated adjacent to Norfolk Botanical Garden, a 158-acre botanical garden and arboretum that's home to thousands of azaleas, rhododendrons, rare flowers, and trees. The site includes a Japanese garden, desert plants garden, colonial garden, and rose garden, and it's listed on the National Register of Historic Places.
It's an extraordinary setting, and any new development needs to be managed with extreme care. That includes, of course, the development of new parking facilities.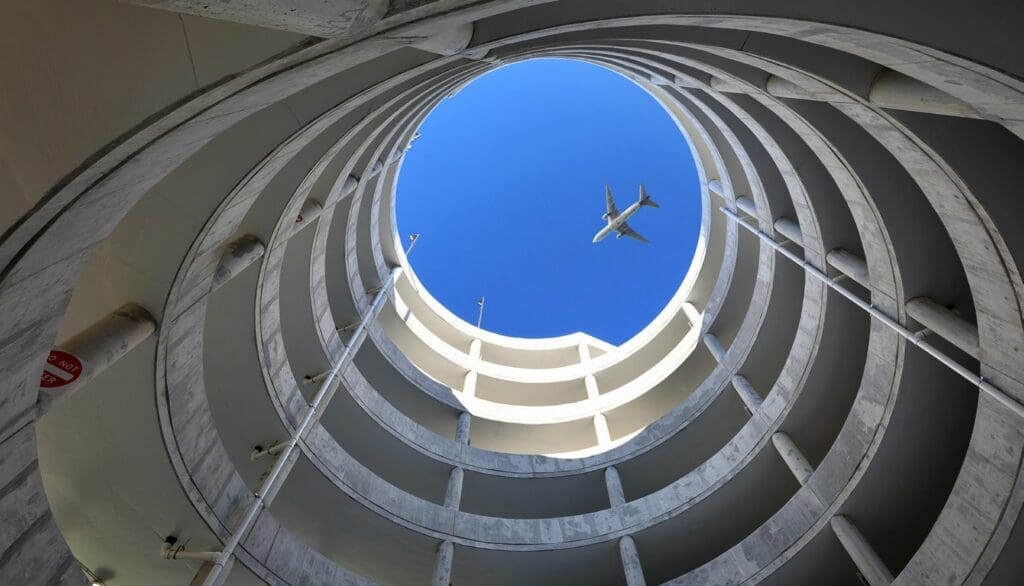 EXPANDING NEEDS
To meet growing parking needs, the airport recently turned to WGI and Gresham Smith to design a new garage, Garage D, with 3,200 spaces of employee and long-term passenger parking. Located between Garage C and the exit plaza, the new nine-level garage is constructed of cast-in-place, post-tensioned concrete, with a double-threaded spiral helix ramp for vehicle circulation. 
The design is notable for several reasons, including a tight site constrained on three sides. The garage's south side is located directly adjacent to the arrivals building, the east side fronts Garage C, and the west side is just a few feet from the existing parking area exit plaza. Through a creative process, the design team squeezed a very efficient, user-friendly garage into the available space.
The garage ties into the arrival building's existing nine-story stair/elevator core, constructed 20 years ago in anticipation of the new garage. While preservation of existing construction is the ultimate sustainable practice, building onto the existing tower required substantial modification and retrofit, including replacement of the existing elevator and the addition of two more elevators.
The new garage incorporates comfortable 9 feet by 18 feet wide parking spaces with 25-foot drive aisles. All parking is on flat floors with 8 feet, 2-inch minimum headroom clearance throughout for maximum visibility and accessibility. This required shallower-than-normal beams to accommodate the floor-to-floor dimensions of the existing elevator tower.
We live in security-conscious times, and the new garage is designed to promote safety and security. In addition to the open design with no interior wall or obstructions, glass-enclosed stairwells provide visibility both into the stairwells and to the outside. Sustainable LED lighting on motion-activated sensors provides enhanced visibility within the garage while limiting light trespass outside the facility. A blue light emergency phone system was installed to permit staff and visitors to alert authorities to emergencies, and elevated security kiosks are centrally-located on
each floor. Finally, because of the garage's proximity to the airport's south runway, rooftop aviation warning lights were installed.
Architecturally, the precast concrete façade is designed to match the color and geometry of the existing architecture façades of surrounding buildings, including the adjacent garages. The garage also provides corrals so travelers can easily and conveniently return luggage carts after loading their vehicles.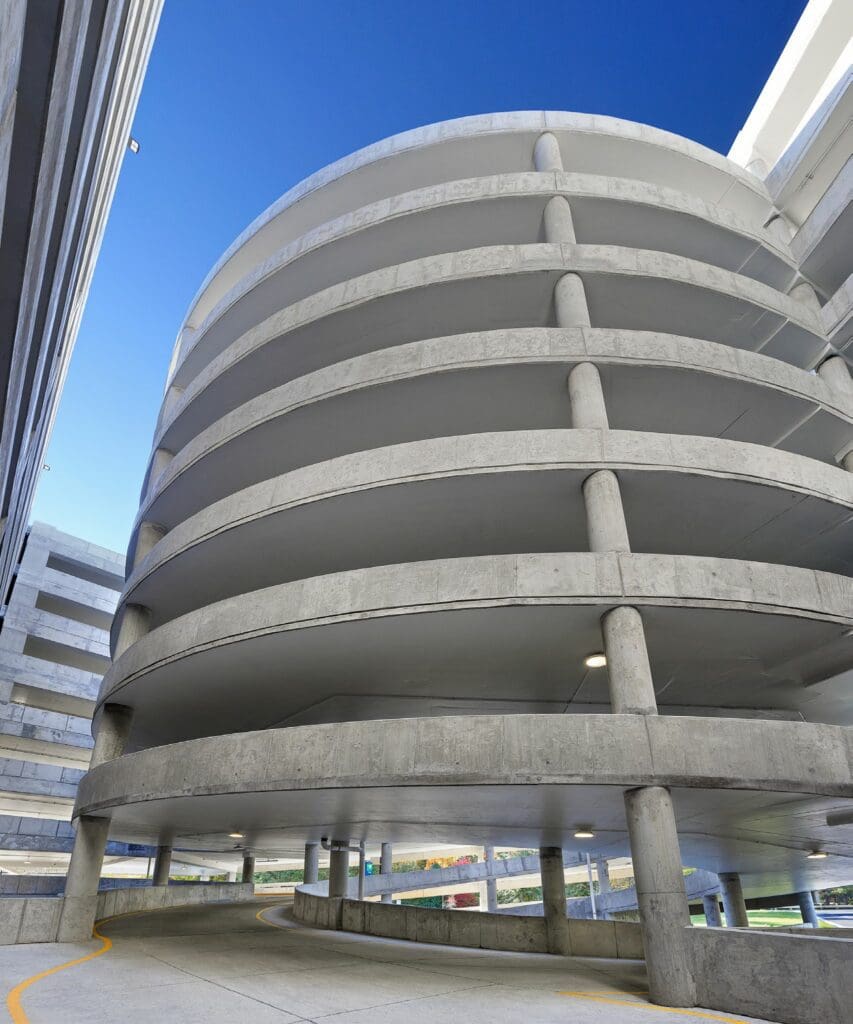 GREEN DESIGN FEATURES
Given its natural setting, it's easy to see why environmental stewardship is an important element of the airport's parking management and planning. Additionally, as a long-term asset with anticipated 50-to-60-year service life, the airport authority needed a durable, low-maintenance garage… one of the basic tenets of sustainable design.
The garage features multiple sustainable design elements, starting with the use of high-performance concrete for durability and natural ventilation throughout the garage. Energy-efficient lighting reduces the amount of power needed to keep the garage illuminated, and a parking guidance system further promotes sustainability by eliminating excess vehicle idling and search time for spaces. Finally, 12 EV charging stations are included in the garage's design.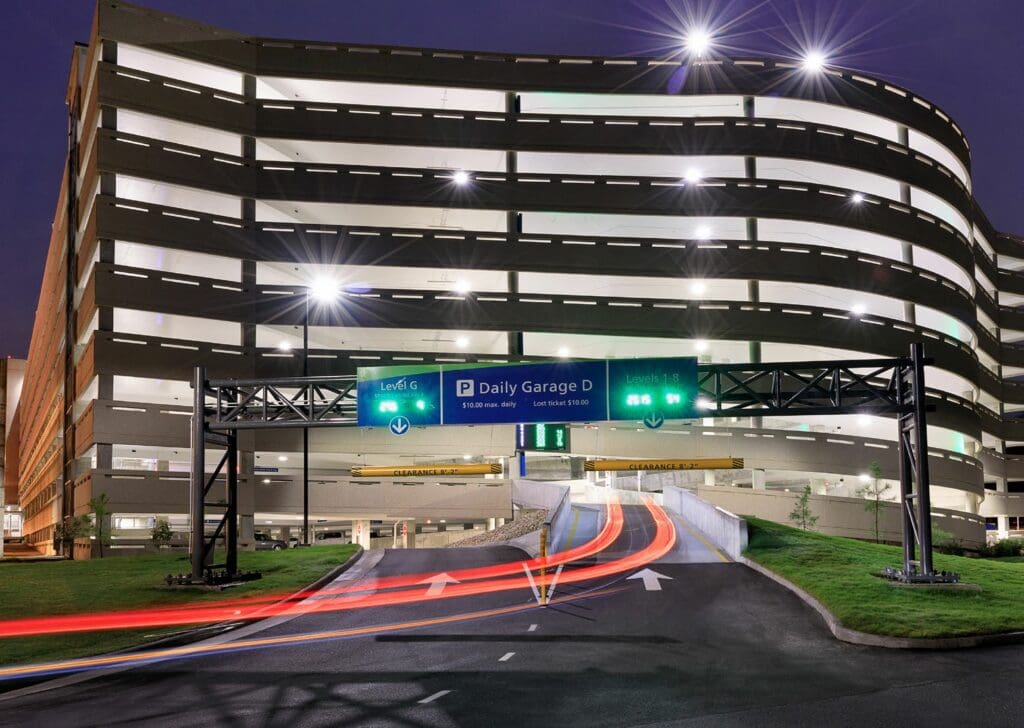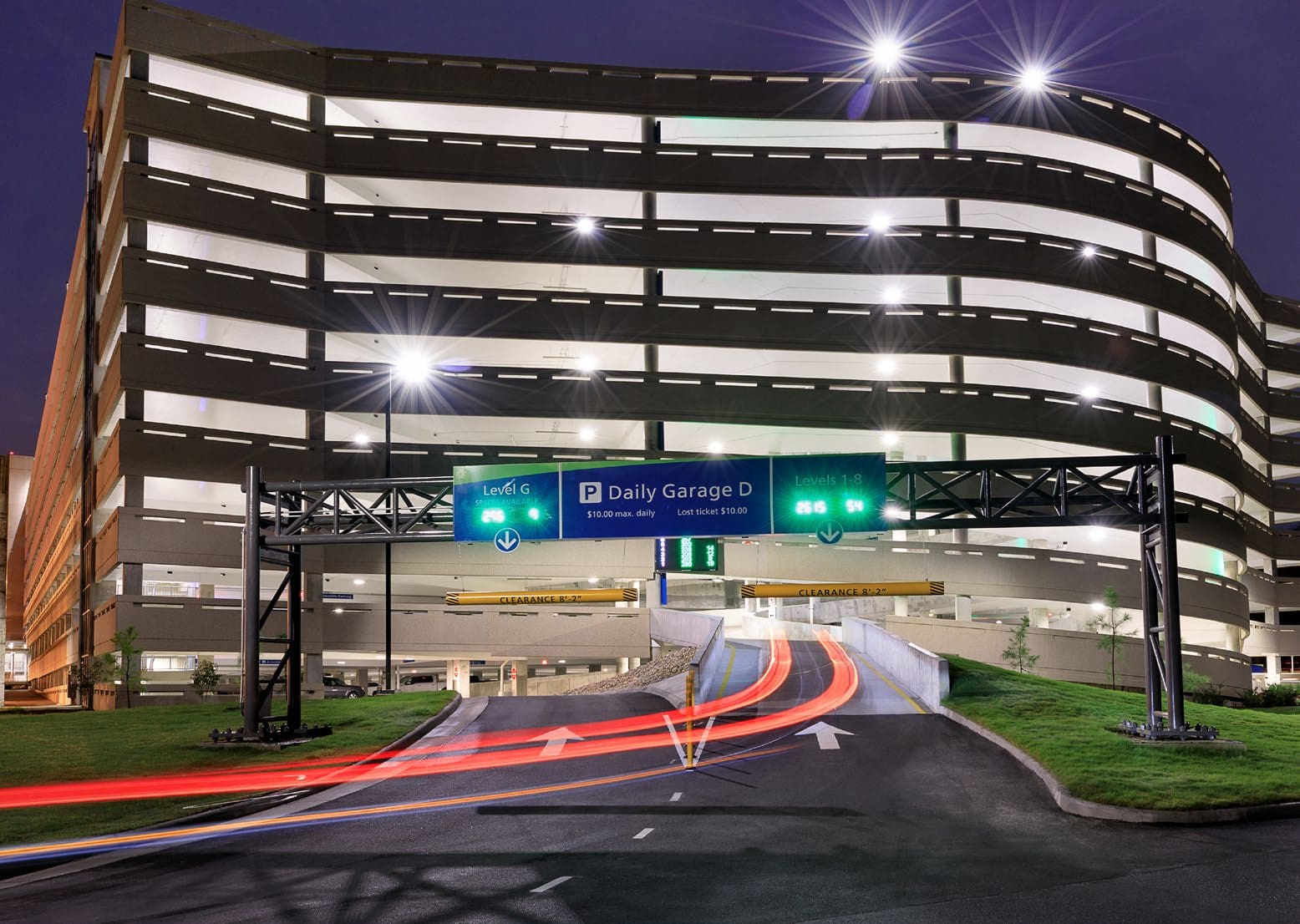 TECHNOLOGY
As with any contemporary parking facility, technology plays an important role. Airport-wide, all parking facilities had their PARCS equipment upgraded. Cashier and credit card self-service lanes
are open 24 hours a day, as are self-pay kiosks. The PARCS equipment accepts all major credit cards, and Visa and Master Card debit cards. The technology suite also includes a reservation
feature that allows travelers to pre-book and pre-pay for parking to enjoy a touchless entry and exit.
The new garage also includes a level-count parking guidance system. As mentioned earlier, this is an important sustainability feature, but it's also an important parker amenity. As airports continue to recover from the pandemic, more people are driving themselves to the airport rather than taking public transit or TNCs. The parking guidance system tracks vehicles as they enter
and exit the garage and analyzes real-time current occupancy, transmitting that information to strategically located signs. As travelers approach the garage, the signs tell them how many spaces are available on each floor at that moment. The system can significantly reduce the amount of time it takes to find parking by directing drivers straight to areas with available spaces. This is a
very popular amenity, particularly for flyers who are running late and need to park their vehicles and get quickly to their flights.
Norfolk International Airport's new Garage D is a creatively designed facility that fits seamlessly into its surroundings. As important, it was accomplished without impacting the fragile surrounding ecosystem. The garage truly does combine form and function.
WGI's experts can work with your team to strategize and recommend the best options to ensure you maximize the value of your investment when planning, designing, restoring or installing a new parking facility. Contact our team today and let us put our expertise to work on your next project.
Learn more
about our
services
You've been searching for a place like WGI. We look forward to meeting you soon.