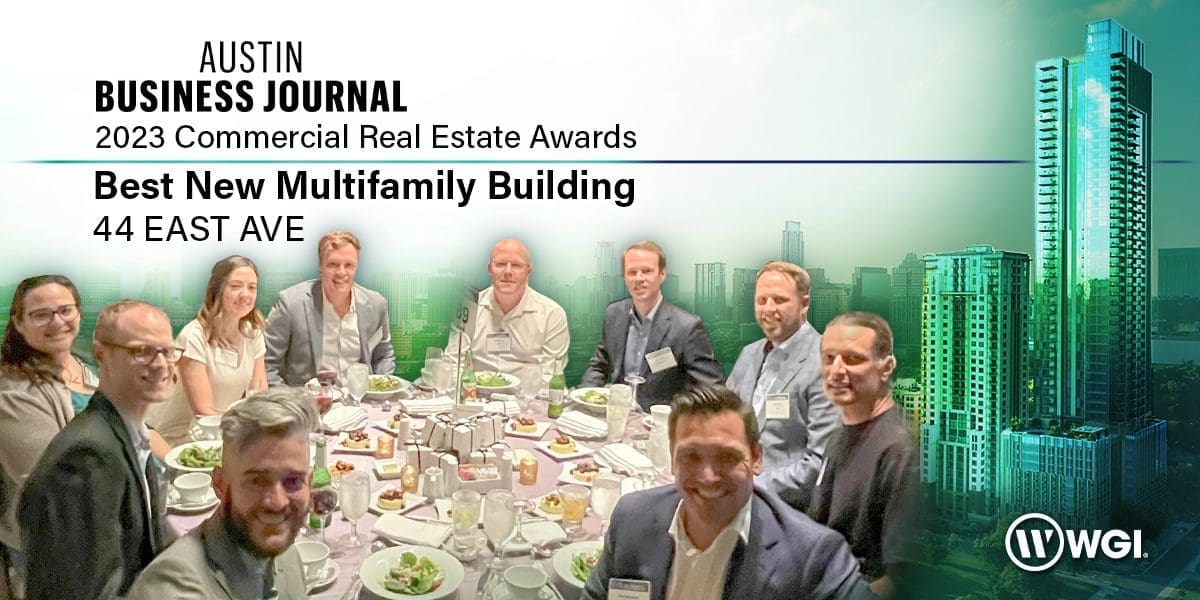 Held at the Four Seasons Hotel Austin on Wednesday, May 24th, the Austin Business Journal hosted its 2023 Commercial Real Estate Awards ceremony to recognize the projects and the people/companies behind them that have had the greatest impact on the Austin, TX, community, and exemplify best practices in building and development.
WGI had the pleasure of attending the 24th annual Commercial Real Estate Awards program, where six of our team's projects were nominated for awards/recognition for services provided in Civil & Mechanical Engineering.
Of the six projects, WGI was honored to be recognized for the "Best New Multifamily Building," alongside the entire 44 East Ave team for their work on the upscale residential project.
About 44 East Ave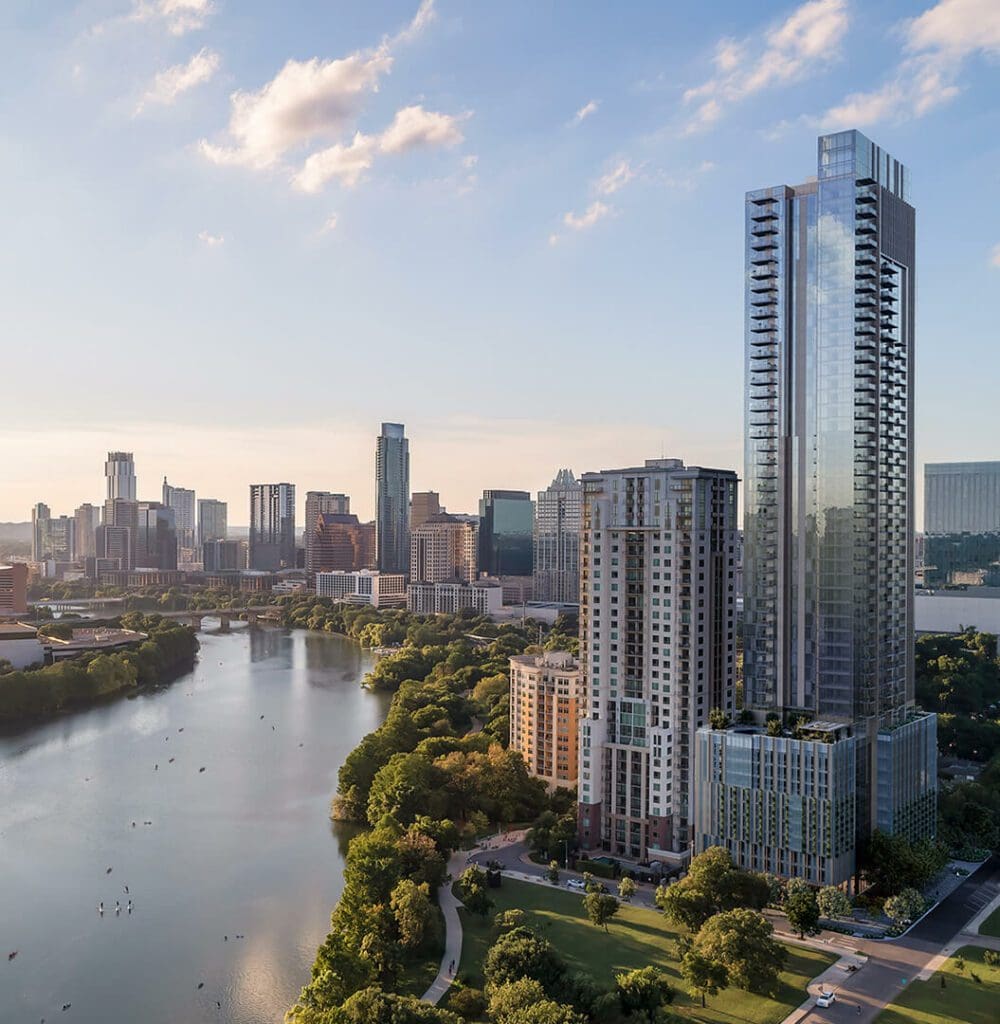 At the foot of Rainey Street, 44 East Ave by Intracorp is an upscale 49-story residential structure in Austin, TX, offering one to four-bedroom homes to hundreds of potential residents. Nestled on the edge of Lady Bird Lake, the structure provides a second-to-none downtown lakefront living experience. Designed by Page Southerland Page, Inc. and Michael Hsu Office of Architecture, the astounding structure boasts a stunning architectural design alongside a stylish interior. Residents can enjoy an array of amenities, including a concierge, fitness studio, games room, outdoor pool deck, and so much more. In addition to over 300 residential units, the structure also features 3,500 sqft of retail space overlooking the park and lake.
The 44 East Ave development not only enhances the neighborhood but also serves as a significant funding source for the Rainey Street Trailhead Project. As a collaborative effort with The Trail Conservancy, and having planned for the expansive parkland south of the tower, the anticipated positive communal impacts that the 44 East Ave structure will have on Austin, TX, are immense – benefiting both residents as well as the neighborhood as a whole for all who visit.
WGI's Service Offering
As yet another testament to WGI's commitment to Being the Change We Seek, our team provided planning, design, permitting, and construction phase services throughout the tenure of the 44 East Ave project.
You can learn more about the Austin Business Journal's 24th annual Commercial Real Estate Awards and all of the award-winning/recognized structures making headlines in Austin, TX, HERE.
Let Us Help You Transform the World
Contact Us today, and let's discuss how our passionate team of professionals can help your next project become an award-winner!
Learn more
about our
services
You've been searching for a place like WGI. We look forward to meeting you soon.