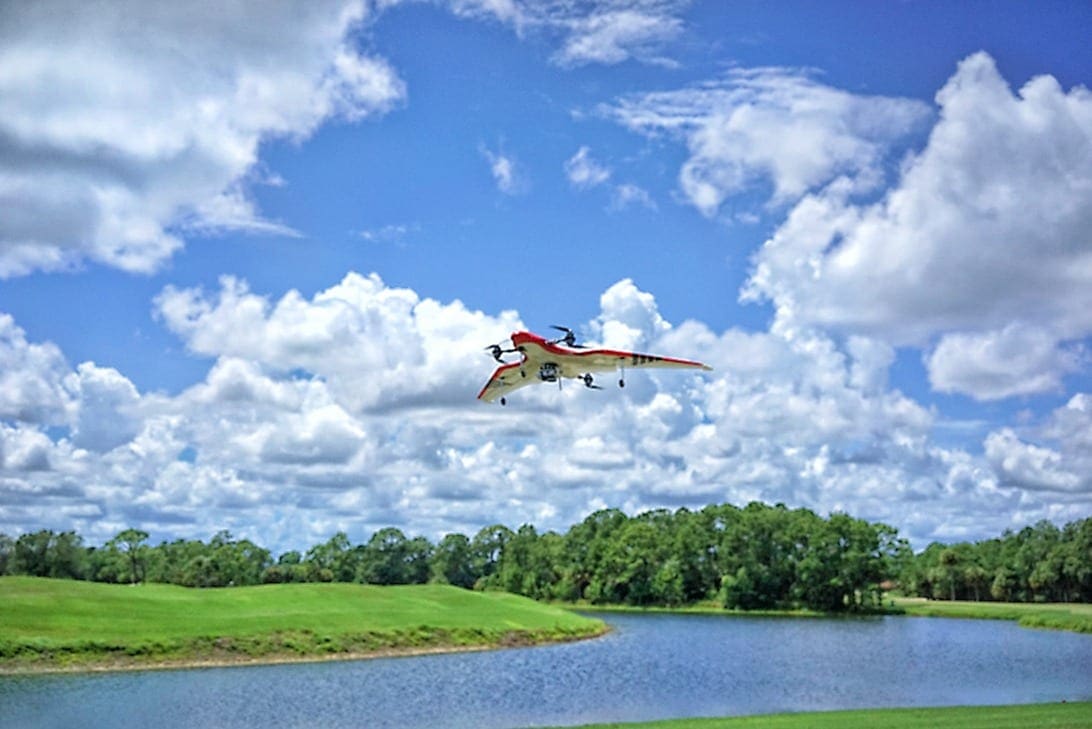 In early August, the WGI Unmanned Aircraft System (UAS) team was deployed to the Jonathan's Landing Old Trail golf course property in Jupiter, FL. Our mission was to acquire and process a new 3-dimensional surface to be used in redesigning some signature holes along the course. Typically this type of work would be carried out by field survey crews in a "boots on the ground" effort over a period of days. The problem with this approach is that these crews can interrupt play and/or distract golfers — neither of which the course managers wanted.
Working with golf course designer Kipp Schulties of Kipp Schulties Golf Design, Inc., it was determined that an aerial mapping approach would minimize time onsite and create very little impact on golf course activities. Aerial mapping minimizes the "boots on the ground" portion of surveying by using a series of overlapping images and mathematical calculations to correct for the position of the aircraft, lens distortion, and terrain relief, producing a map of the earth's surface. That surface is then re-projected to a local coordinate system via aerial targets provided by ground-based surveyors. These are the white painted crosses or chevrons you often see along the highway or in intersections.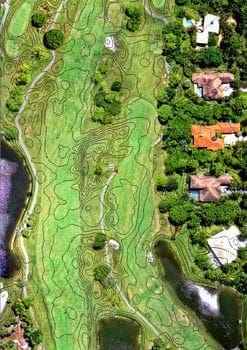 Traditionally, this work would be contracted out to a local aerial photographer or aerial mapping company to fly a small aircraft, such as a Cessna 206, with a hole in its belly carrying a very expensive aerial mapping camera. Unfortunately, planes with such modifications and the cameras they carry are very expensive to own and operate, making their use cost prohibitive for smaller projects. WGI offers our clients a more cost-effective solution through the use of UAS, aka drones. The WGI UAS team operates many types of drones, each designed for a specific purpose.
For this project, the team chose to use a delta-winged FireFLY Pro 6 RTK drone with vertical takeoff and landing (VTOL) capabilities. The benefit of this system is that there is no need for a runway or open space to take off and land. It goes straight up, transitions into forward flight, and goes about its mission. When it's time to land, it transitions back from forward flight to hover and descends vertically right back to the spot from where it took off.
Prior to flying the drone, the team was on site for two days setting 20 control points and painting them as aerial targets. These were loaded into the drone prior to each mission, allowing it to perform the "lawnmower" pattern flights unaided by the UAS pilot. A total of three missions were planned to acquire the entire 500-acre site. Once each mission was completed, the drone returned and landed. The imagery captured was then downloaded, QCd, and stored for processing before the next flight.
The team's only challenge was a private non-towered airport just to the west of the golf course property. In Class "G" airspace where the airport is non-towered, the FAA requires that UAS operations are coordinated with the airport operator. Fortunately, our team coordinated and maintained contact with the airport via radio during the entire operation.
Processing, clean up, QA/QC, and delivery took place the following week in our Tampa office. The project was a complete success, demonstrating the value of UAS for projects of this complexity and size. Launching and landing our FireFLY Pro 6 RTK from well-groomed fairways was an absolute joy — and it's a good thing the resident alligators don't like the taste of Styrofoam.
Learn more
about our
services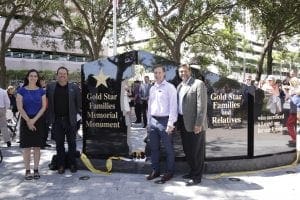 Blog
On Wednesday, September, 25th a new Gold Star Families Memorial Monument was officially unveiled in West Palm Beach, FL.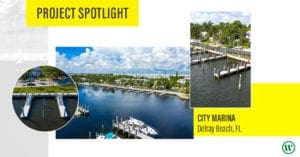 Blog
City Marina has been in operation for over 80 years and was added to the National Register of Historic Places in 2014. Learn how WGI helped the City of Delray Beach implement corrective actions to protect and enhance the historic marina.
You've been searching for a place like WGI. We look forward to meeting you soon.