WGI Unleased Podcast Episode 53 – Chad Riddle, Project Manager
On this episode of WGI Unleashed, we get to know Chad Riddle, Project Manager for our Land Development team in Jacksonville, FL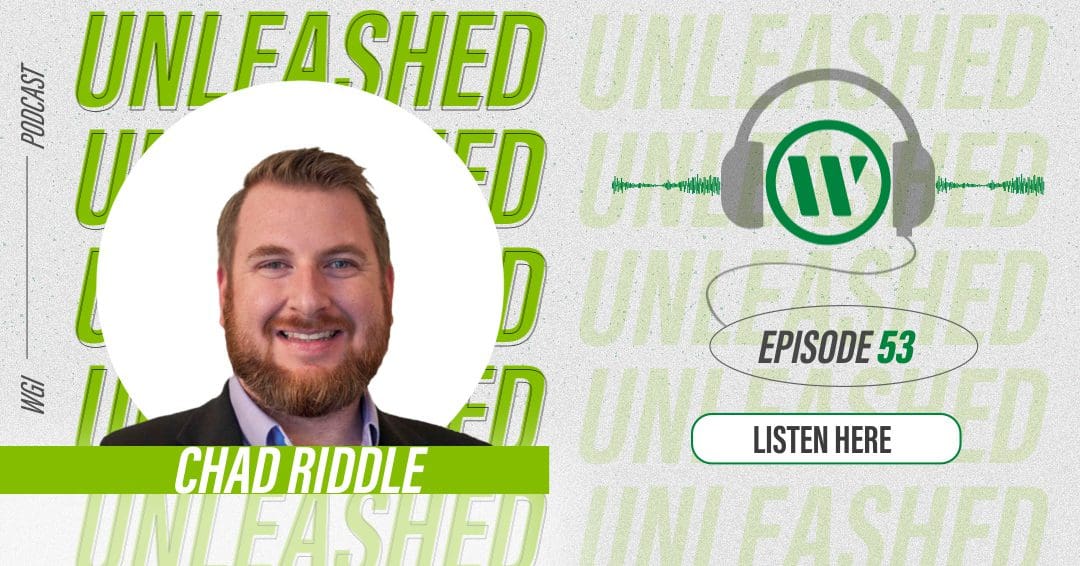 We had an entertaining time this episode talking with Chad Riddle, a Project Manager on our Land Development team in Jacksonville, FL. Chad began his career with WGI in the West Palm Beach, FL office before transferring to our Jacksonville office to help jump-start our land development division there.
Chad talked to us about his childhood in Kentucky and shared some interesting stories about the "local celebrities" he got to hang out with growing up. He talked to us about attending the University of Kentucky, where he started out on an Architecture degree path before discovering his fondness for the outdoors translated better to the Landscape Architecture field. Chad revealed how after graduating with his Bachelor of Science in Landscape Architecture he was given an amazing and rewarding opportunity to do some memorial work in Washington D.C. We also got to hear about some of his travel adventures and the unique way WGI played a part in introducing him to his current travel comrade.
Chad has extensive knowledge and experience in the production and management of design and drafting services on a variety of projects. His range of work includes mixed-use developments, residential community design, and commercial/urban infill. As a project manager, Chad is responsible for site and landscape design, managing projects through the local agency approval process, and assisting clients from concept through construction to ensure their design intent is maintained.
Chad's desire to expand his knowledge and skillset propelled him to go back to school to pursue his Masters's degree and he will be graduating from Georgia Tech this December with his MBA, making Chad even more of a vital asset here at WGI. Way to go Chad!
If you enjoyed this podcast, be sure to subscribe to our show in your favorite podcast app – Apple Podcasts, Spotify, Google Podcasts, or wherever you get your podcasts!