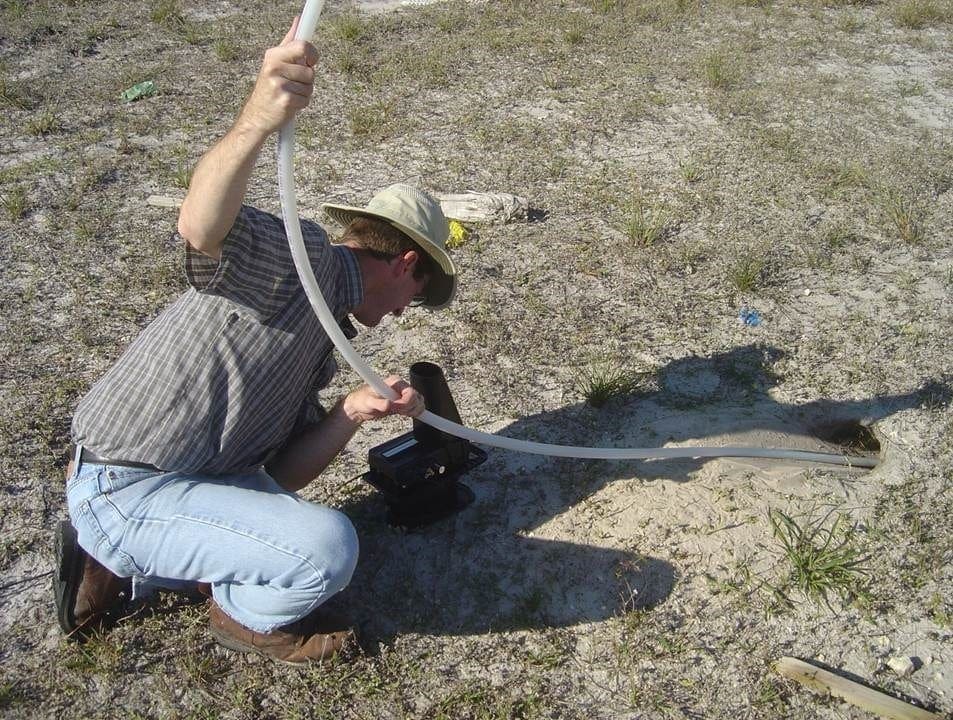 Admired by the public for their small size, long legs, and bright-yellow eyes, burrowing owls are one of the only owls that nest exclusively underground. The Florida burrowing owl (Athene cunicularia floridana) can be found throughout peninsular Florida. These owls are selective in their habitat and prefer well-drained sandy areas with limited understory vegetation for good visibility around the burrows to ensure protection from nearby predators. Burrowing owls are known to inhabit open prairies, golf courses, parks, pastures, airports, agriculture fields, vacant lots, and some urban areas.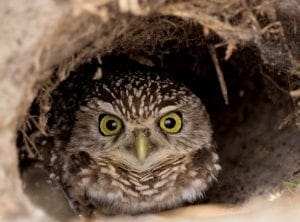 Burrowing owls are a protected species under Rule 68A-27, F.A.C. and the federal Migratory Bird Treaty Act. It is illegal to harass, harm, pursue, hunt, shoot, wound, kill, trap, capture, or collect a burrowing owl, or its eggs. This includes damaging the burrows or land development near burrows (even if the development won't impact the actual burrows) because nearby habitat destruction can impair essential behavioral patterns, including breeding, feeding, or sheltering. There are serious penalties for harming burrowing owls, and violations sometimes end up on the news and result in very damaging media coverage.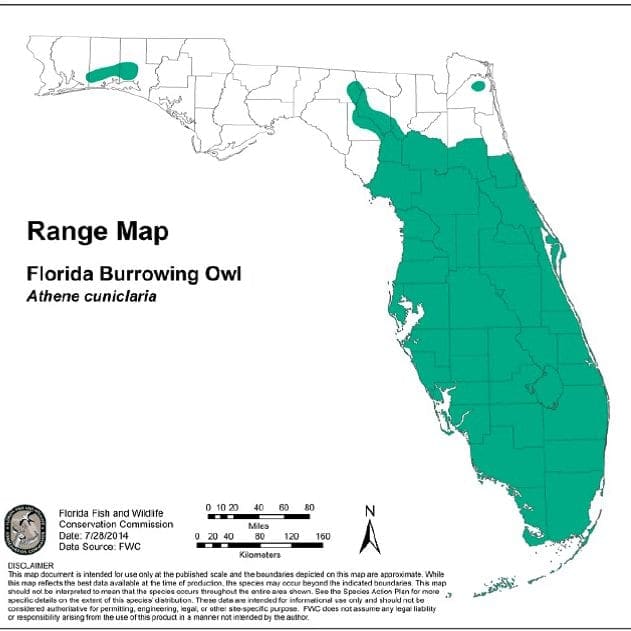 Counties: Alachua, Brevard, Broward, Citrus, Charlotte, Collier, DeSoto, Duval, Flagler, Gilchrist, Glades, Hardee, Hernando, Hendry, Highlands, Hillsborough, Indian River, Lake, Lee, Levy, Manatee, Marion, Martin, Miami-Dade, Monroe, Nassau, Okeechobee, Orange, Osceola, Palm Beach, Pasco, Pinellas, Polk, Putnam, Sarasota, Seminole, St. Lucie, Sumter, Volusia.
Protocols for surveying, permitting, and relocation have become more stringent in recent years. In 2010, the Florida Fish and Wildlife Conservation Commission (FWC) conducted a biological status review of the Florida burrowing owl population. In 2013, the FWC developed a species action plan to improve conservation management of the species, and in 2017 the Florida burrowing owl was officially reclassified from a species of special concern to a state designated threatened species. In 2018, FWC issued the Species Conservation Measures and Permitting Guidelines.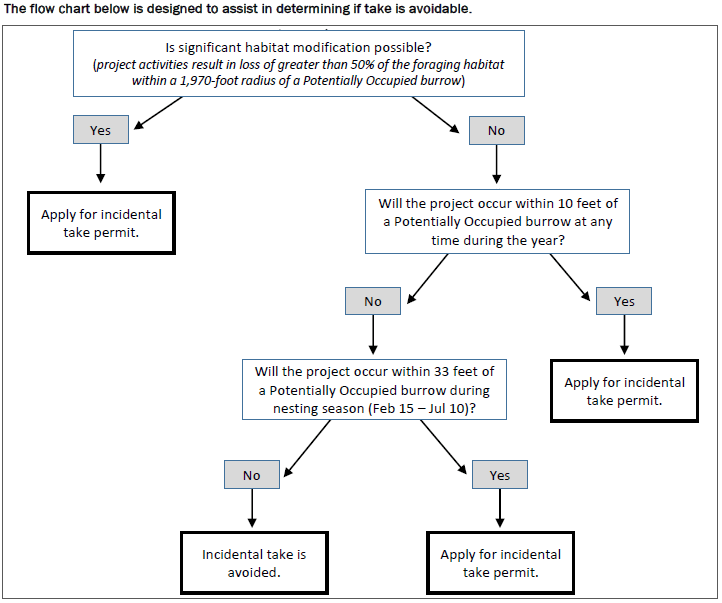 The new FWC Burrowing Owl Species Conservation Measures and Permitting Guidelines specify survey methodologies, minimum buffer zones around burrows, the different types of permits, mitigation options, and recommended conservation practices such as establishing preserve areas with starter burrows. A significant change to the guidelines is the new addition of minimum qualifications for the biologist conducting video scoping and relocating burrows. In the past, this work could be done by most biologists. Under the new guidelines, the biologist must meet experience thresholds for surveying, using a burrow video-scope, and excavating burrows.
If you think you may have burrowing owls on your land, it is important to have a qualified biologist on your team. WGI's professional biologists meet the FWC qualifications to conduct video scoping and relocation of burrows. We can develop innovative solutions that allow your project to "take flight" while avoiding violations and protecting the owls in accordance with the new guidelines.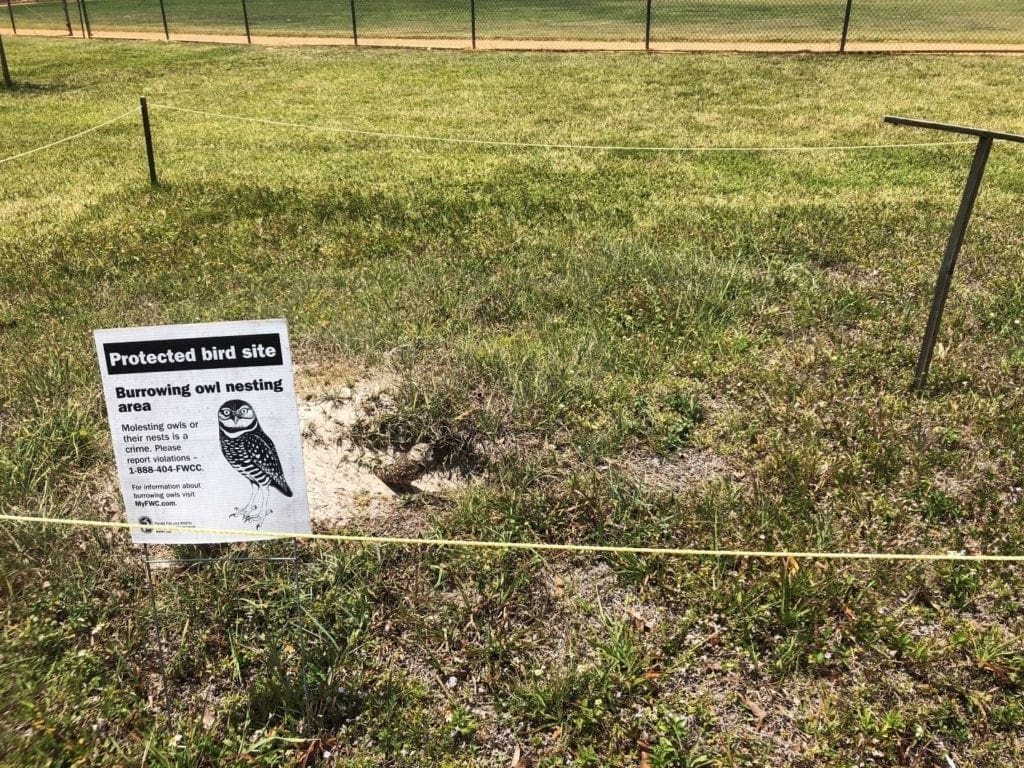 Learn more about our Environmental Services and contact us today to get more information on how we can help with your next project!
References:
Florida Fish & Wildlife Conservation Commission.  2018.  Burrowing Owl Species Conservation Measures and Permitting Guidelines. Tallahassee, Florida.
Florida Fish & Wildlife Conservation Commission.  2011.  Supplemental Information for the Florida Burrowing Owl, Biological Status Review Report.  Tallahassee, Florida.
Florida Fish and Wildlife Conservation Commission. 2013. A species action plan for the Florida burrowing owl. Tallahassee, Florida.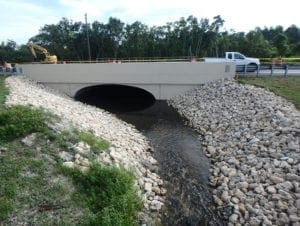 Blog
Collaboration across multiple divisions of WGI was needed to accomplish this small yet complex project.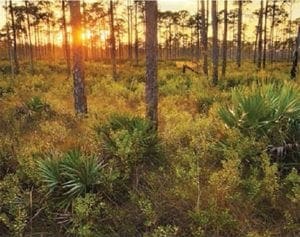 Blog
As with many ecosystems and natural lands in south Florida, the pine flatwood have been susceptible to the impacts of man since Europeans settled in North America.